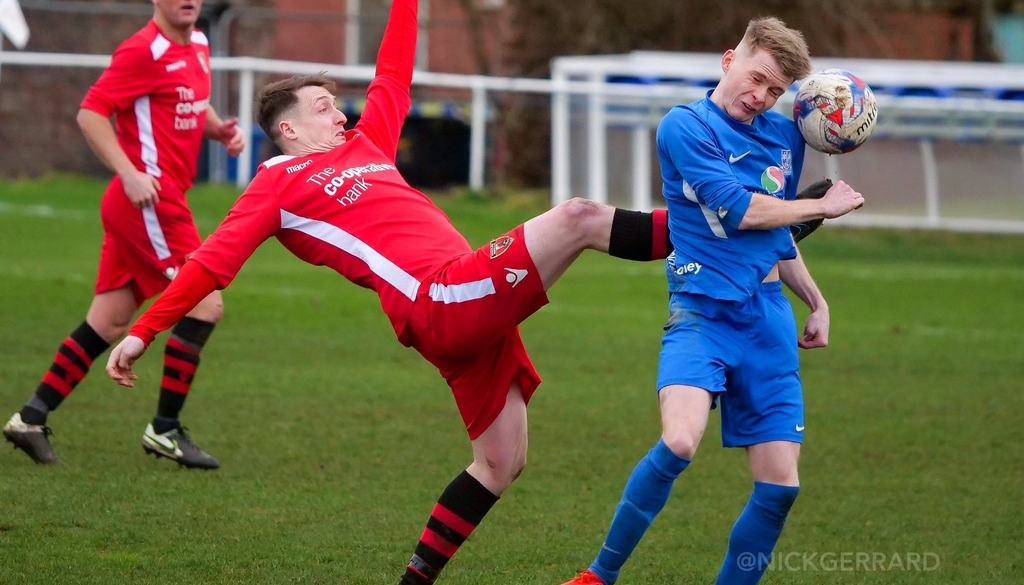 REACTIONS: NWCFL Managers share their thoughts on their results
Sun 23rd February 2020 | Manager Reactions
By Craig Kendall
Macron Cup Quarter-Finals
Shelley manager Ash Berry, "Bit of a scrappy game we should have been 2 up in 1st 2 minutes then went 1 down to a pen got back level inside 5 minutes. Probably just edged it but both teams missed chances."
Ellesmere Rangers manager Connor Courtney, "We battled well for the first half-hour and went ahead with a Jack Briscoe penalty. A mad five minutes saw us let in two sloppy goals.
"Second half we created a lot of chances to win the game, but after missing four or five of them, it comes back to haunt you and fair play to Shelley took their chances well.
"I am proud of the second-half performance from the lads and need to take it into the league starting Tuesday night.
"Well done to Shelley and we wish them all the best in the Semi-Final."
NWCFL Premier Division
Runcorn Town manager Paul McManus, "It was a great result for us today as extends our unbeaten run to 10 games so it's pleasing to stay on the run for as long as possible. Today was for me our best footballing performance all season, we moved them about and played in between lines with a purpose and really could have been more than the 3-0.
"Also extremely happy with the clean sheet as we haven't had one for a while now since Whitchurch I think the first game of 2020 so that was much needed. Takes us nicely into Quarter-Final on Wednesday against Tranmere so again another platform for the lads to show what they are about and extend the unbeaten run which with a win will get us into our second semi-final of the season which again is brilliant for confidence and momentum."
Rylands manager David McNabb, "A tough game today against a very good REMYCA side. The conditions were difficult but fair play to both sides who tried to play the right way. I thought a draw was a fair result in the end and we go again next week."
Litherland REMYCA manager Phil Stafford, "I thought coming into today's game we had to be at our best against the in-form side in the league. Overall I think we are a little disappointed to come away with only a point.
"Rylands are a top side and I'm sure they will be promoted this year but we have shown today that we are as good as most of the sides in this division on our day. We just need to build on today's point and take it into next week."
NWCFL First Division North

Holker Old Boys manager Kevin Watkin, "The preparation this week has been difficult with seven first-team regulars missing through injury, suspension and holidays so a lot of disruption to our squad but the lads that have travelled deserved something I think.
"We set out knowing it would be difficult and there would be periods where it was a case of stick together and stay on the game but they reacted well and stuck together.
"The two goals were well worked by Golcar as they drew us out and then got in behind our fullbacks through a lack of concentration and not tracking runners so could and should have been avoided but we worked ourselves back into the game and Golcar two centre-halves struggled with Brandon Collins pace and directness and eventually conceded a penalty after Brandon drove onto the Golcar box, Sam Joel cooly dispatched the penalty which gave the group a lift at an important time.
"Second half felt a little scrappy and not many clear chances created by either team and it became very stop/start unfortunately which slowed any momentum we were building but all in all to travel with three 16yr olds and two 17yr olds and a another debutant at NWCFL we can only take the positives of how they performed and integrated into the group and can only be a good sign for the squad going forward."
St Helens Town manager David Platt, "A hard-fought game today. We set up to be tight and frustrate them as we know they play football rather than go too direct. First half it worked like a charm, to the point where we had the better chances of playing from our deep block and they found us difficult to get through. Great to see Raj Uppal get a goal on debut.
"Second half AFC went forward much quicker, and as the game went on left men higher. We scored a great second goal and at the point, you'd like to close the game out but we got a bit leggy and lost a bit of shape and they punished us. They did play a lot better and last half hour they looked most likely to score but we still managed to give them a couple of scares.
"Ultimately AFC Liverpool showed why they are up there and the pressure at the end was clear to see but we held on and that's a well-earned point. Good luck to AFC Liverpool with their promotion push."
NWCFL First Division South
Abbey Hulton Utd manager Russell Leadbetter, "Another very important three points for us today. The team performed well again which was pleasing, especially having gone one-nil down against the run of play.
"The lads have bought into the changes we have made and it's proved it in the last two games. I think we should have won by more if I'm honest we missed a few chances and sometimes lacked that cutting edge in the final third.
"But the important thing for us now is to put points on the board regardless of performance, we need to win our games as the teams below and around us have games in hand and the edge on goal difference."
Maine Road manager Ray Barnet, "We took the lead on 15 minutes with a goalmouth scramble before debutant Ryan Eislet got his head on the ball and put in the back of the net but that was about it for the rest of the day.
"We were always second to the ball never really competed. Abbey Hulton equalised a few minutes later as their No.7 carved through the middle and defence as though we weren't there and put a good finish into the bottom corner. They then dominated the game until half time and with some better finishing could have been two or three ahead at the break.
"The second half wasn't any better for Maine Road as Abbey Hulton kept pushing and eventually took the lead after a goalmouth scramble where we had five or six opportunities to clear the ball. As the game finished we were lucky to have had Conrad Betton in goal as he ensured the result looked respectable on paper.
Vauxhall Motors manager Mick McGraa, "A brilliant 4-0 win away from home really comfortable for us it was important to win and extend the gap at the top to 10 points as most games were off."
The main image was taken by Nick Gerrard from Rylands draw with Litherland REMYCA.