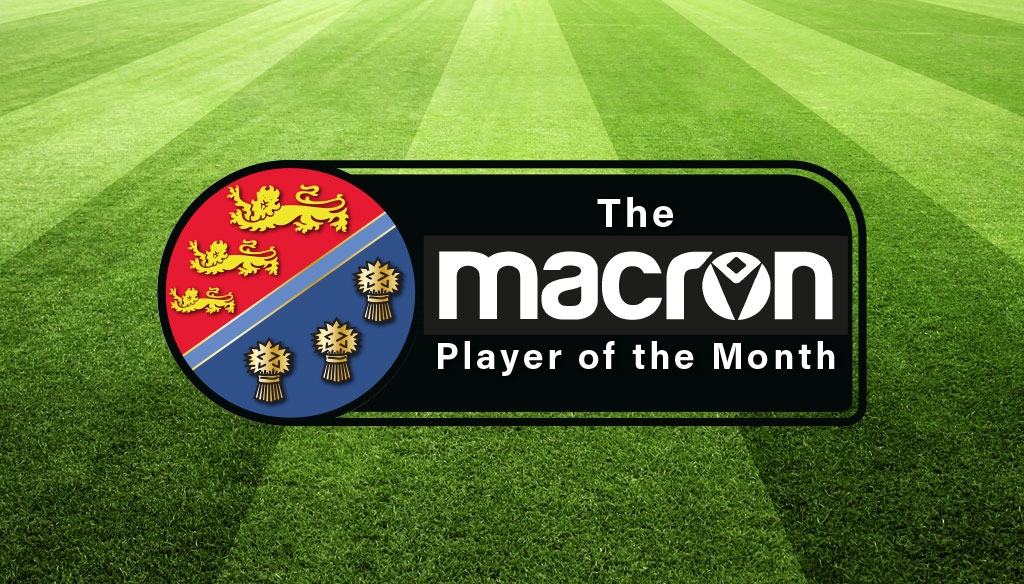 October's Macron Player of the Month Awards Announced
Fri 8th November 2019 | League Awards
By Craig Kendall
The Macron Player of the Month Awards have been confirmed by League Awards Co-Ordinator, Peter Stokes and we are delighted to announce the winners for October 2019.
Macron Club of the Month was announced on Thursday morning and here is a reminder:

PREMIER DIVISION - 1874 NORTHWICH
DIVISION ONE NORTH - AFC LIVERPOOL

DIVISION ONE SOUTH - VAUXHALL MOTORS
Macron Player of the Month for NWCFL Premier Division
Sam Madeley of Winsford Utd

Position: Striker

Games Played: 5

Man of the Match: 2

Goals: 7

Assists: 0

Reason for Nomination: "Sam started four league games in October, and was substituted in the fifth. Quite often playing as the lone striker he scored seven goals including back to back hat tricks. This means he now has three hat tricks this season!
"He scores goals of all varieties: Headers, one on ones and screamers. Oh and a tap ins. He's a natural footballer with great positional awareness and instinctive reactions. The number of times he found the corner of the net was unerring. The Padiham game which Winsford won 4-1 was his first hat trick of the month. The opening goal of the game, Sam, as every good striker does, followed the ball in for a simple tap in when it was spilt by the 'keeper. The second saw him keep his composure and pick out the bottom corner during a goalmouth scramble. The third goal was a brilliant late run into the box, on the blindside of the defence, putting a fantastic cross away at the far post with his head. He also has time to assist with the fourth goal. A skilful run and chip into the box left teammate, D'Arcy O'Conner a simple header into the net.
"For the first goal of his second hat-trick of the month, D'Arcy O'Conner turned provider crossing for Sam to guide his header perfectly into the top corner of the net. A second header and an opportunistic tap in gave him his 2nd and third goals. Sams month has not been all about goals however, he provides numerous chances for colleagues and works tirelessly, defending from the front. I would also give him an assist from off the pitch! During one free after Sam had been substituted, he redirected Sam Marshall who was wandering inside towards the area for a free-kick. Madeley instructed Marshall to go down the wing where consequently he was given the ball and provided a perfect cross for a goal. My point being Sam is a team player both on and off the pitch, with a real passion for playing football and fortunately for us, Winsford United."
Macron Player of the Month for NWCFL First Division North
Jamie Price of Emley AFC
Position
: Defence
Games
Played
: 6
Man of the Match
: 0
Goals
: 0
Assists
: 0
Reason for Nomination:
"Emley AFC are unbeaten in October with five wins and a draw. This has seen progress in the
Playermatch.com
Cup, Macron Cup and moved Emley up to second in the Division One North table. Jamie Price has been instrumental in that successful month. He has played in every game but one since the start of the season and his performances have been consistently 8 out of 10 and above throughout.
"He has played in midfield and defence this season but, in October, dropped back into central defence due to injuries. He is a combative player but his aggression is always controlled. Despite this aggression, he has only picked up two yellow cards this season and none in October. He is more of an 'unsung hero' in the team. Doing the hard running, organising and mopping up allowing the players around him to gain attention for goalscoring and attacking play. As our club captain, he has high personal standards and, by leading by example, instils that in the players around him – especially the younger ones. He is an exceptional leader and everyone in and around the team respects him.
"As captain, he shows respect to the match officials and tries his level best to work with them to maintain his team's discipline and avoid any unnecessary bookings or incidents. Since a reshuffle to our management team, as a senior player, he has stepped up further in October to support the manager and assistant manager and is a great link and sounding board when management needs to discuss player issues."
Macron Player of the Month for NWCFL First Division South
Aaron Knight of Sandbach United

Position: Forward

Games Played: 6

Man of the Match: 2

Goals: 4

Assists: 3

Reason for Nomination: "Aaron is a deserved winner of the player of the month, he has gone from strength to strength month on month this season drawing the attention of 6 clubs including an EFL club where he has been selected to train with the first team. With six games which included four goals (a hat trick), 2 MOM awards make him stand out.
"For anyone who has seen Aaron play his style is quite dazzling and incredibly skill full. His ability to control the ball in seemingly difficult conditions is second to none and his gazelle-like stride unique. In the FA Vase loss, Aaron scored a superb free-kick lauded on social media by many and then replicated it in the next game almost making it three in a row but the third sadly crashed off the bar.
Not only has Aaron scored four games in six games but assisted in three further goals terrorising New Mills and Stockport town in the process for which they rewarded him with MOM In the last game on the 28th against Maine Road away Aaron played a full 90 minutes for Crewe Alexandra U23 team in the afternoon but still made the effort to turn out and play his second game for Sandbach in the 2-1 away victory - This shows the dedication and commitment which puts the icing on the cake.
In the last six-game (Aaron has scored a winning penalty in the shootout against Cammell Laird, scored in the Buildbase FA Vase 1st round, a hat-trick in the league and played two full 90-minute competitive games in the same day."
A big thank you to all the clubs for their nominations.