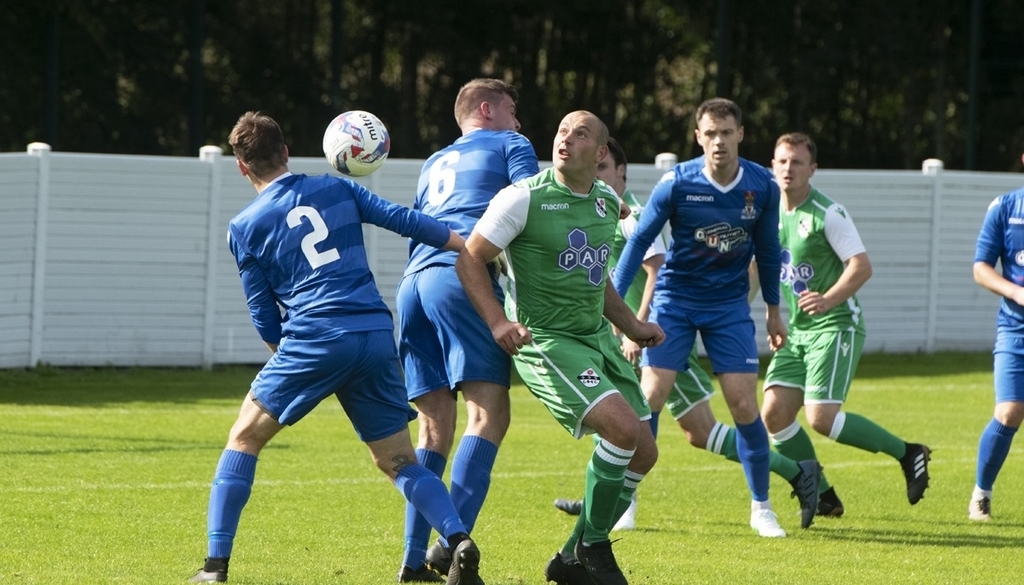 REACTIONS: NWCFL managers open up on their Cup results
Sun 8th September 2019 | Manager Reactions
By Craig Kendall
Emirates FA Cup 1st Qualifying Round
(Main photography by Alan Walker of Charnock Richard)
Charnock Richard manager Ryan Donnellan, "4-0 flattered Irlam as we had most of the possession throughout the game but a key decision that went against us really dented our rhythm. Saying that, Irlam took the chances they got and punished us. It's been great competing in this competition as progressing as far as we have done which is great for the club. Now we concentrate on the league and getting where we should be."
Irlam manager Michael Dodd, "We are delighted to match our club record achievements from last season; getting to the 2nd qualifying round once again. It is a testament to the players' efforts on the pitch and all the work from everyone behind the scenes. It is a great day for the whole club. It sounds obvious but our players were brilliant again. To win 4-0 away from home at this stage is such a strong statement.
"Charnock are a good side and had decent spells of possession, especially at the start of the second half, but we probably just had too much on the day and we looked threatening whenever we went forward with any quality. We knew the obvious threat they carry with Grimshaw upfront, but Ryan Ledson and Karl Cassell were outstanding for us today and snuffed out everything thrown at them. The goal from Buckley to get us in at 2-0 at the break was massive. We then soaked up a bit of pressure after the interval to be fair, so it was great to see us click back into life after an hour and score a couple of goals on the break to finish the game off. We have a great group and go into the next round with huge confidence against whoever we face."
Runcorn Town manager Paul McManus, "Today was a follow on from Wednesday night, losing at half time and winning at full time is no accident. The lads work rate and commitment is first class and we have fully deserved the progression in the FA CUP so far. Congrats to the lads and onto the next round."
1874 Northwich manager Wayne Goodison, "A good solid performance from the whole team. We had a game plan set out and credit to the players for their ability to see it through."
Northwich Victoria Manager Steve Wilkes, "Really pleased with the lads today. To be honest we're a little disappointed not to have won the game on chances created, but I'd have snapped your hand off if you'd offered me a replay before the game. To come to a team 7th in there league, which is two divisions above our league, is a great achievement and a huge effort by the lads. We hadn't played for 12 days and looked a little rusty early doors. We haven't done anything yet, but we're in the hat on Monday, which is always nice. Once again, a massive thanks to the fans for the support. They've sang for 90 minutes."
PlayerMatch.com Cup First Round
AFC Blackpool manager Martin Baird, "Brilliant win yesterday for the lads they deserved it. Holker is always a tough trip due to the distance you have to travel so with eight lads missing yesterday it was an even bigger ask but what is the most pleasing thing from the summer is whatever side we do put it is a strong side now.
"We wanted to push on from last weeks great win in the Vase as we have another big week coming up that everyone wants to be involved in. It's getting to a good period for us now with lads starting to come back after being out for so long with a an extra couple not far off. We were very sloppy in first half yesterday we made 24 unforced errors on the ball which indicates how far off we was.
"We managed to get a goal against the run of play through Billy which he took really well, second half again we took our chances and when you look back on all three goals, they were good finishes which was pleasing. With 8 missing and having to play a numerous of lads out of position because of unavailability of others in the team then you can reflect and say it was a great day for us. We have Prestwich at home Tuesday who are always up the top end of the table and are on a good run at the minute so we will have to be at the top of our game that night but we are all looking forward to this week and month going forward.
"We haven't quite got the results we have been looking for so far but apart from the St Helens game where we didn't produce we have had plenty of chances to turn a lot of games into wins. After two cup wins were looking to put that right on Tuesday."
AFC Liverpool manager Chris Anderson, "Great result today. The boys did very well, and I believe we played some great football at times. I thought we were on top for large parts of the game and to go 1-0 down, was frustrating but the lads reacted brilliantly and got back into the game and then once we got the equaliser, I thought we were going to win the game, which we went on to do. We're all now looking forward to next week's game against Nelson."
Abbey Hulton United manager Russell Leadbetter, "Another win for us today in the cup. It was good to get 4 goals but it could have easily been more as again we missed a lot of chances. We had another changed team which doesn't help matters, but then shows the depth we have at the club. I was disappointed to concede but the lad for Ellesmere took his goal really well, there was no stopping it. It was a good debut for Ash Coclough who came in today without even training or meeting the lads before as he got 2 goals.
"We now go into a massive week where we face a very good Westdidsbury on Tuesday night, and then a very organised Alsager Town in the FA Vase on Saturday.. We need to be at our best for both games to stand a chance of coming out of either with a result, so I'm counting on the lads to make that happen. But today another consecutive win was what we were after, so a job well done by the lads."
Lower Breck manager Gary Moore, "A more than deserved win it has to be said but from three-nil up we should have been out of sight but credit to Vauxhall they came out second half and had a good go for 20 minutes but once we woke back up we took the game away from them once again and with two outstanding goals one from Mitchell Culshaw from inside his own half and Jamie Henders lobbing the keeper from 35 yards.
"Sounds strange but we want at our best today and the lads were honest enough to admit it but it shows the desire is there to dig deep when it's needed. We hadn't played or trained since Bank Holiday Monday to give the lads a little break after a hectic August so to beat the top team in the South division and doing it whilst not all firing its most pleasing for me."
Eccleshall manager Kyle Adams, "We were fortunate to go in level at the break after one of the worst 45 minutes of football we've played for long time. They understandably came out wanting to make an impression with new management and new players so you have give them credit for playing at that intensity. We spoke at length about the need to improve second half, only for us to go out and concede within a minute.
"You can't do anything about the 40 yard free-kick thunderbolt really but I thought after going 3-1 down we responded really well. We fought our way back in the game and once we were level I lost count of how many chances we had to win the game. Penalties are a lottery of course but when you've got a keeper like Lou McCarthy you've always got a good chance and he's pulled off two good saves to send us through.
"Although we were poor for a large portion of the game, the lads deserve a lot of credit for showing good character and getting themselves back into the game. It'll be good to get back to league action next week but we know we must learn to start games quicker or get punished by the opposition."