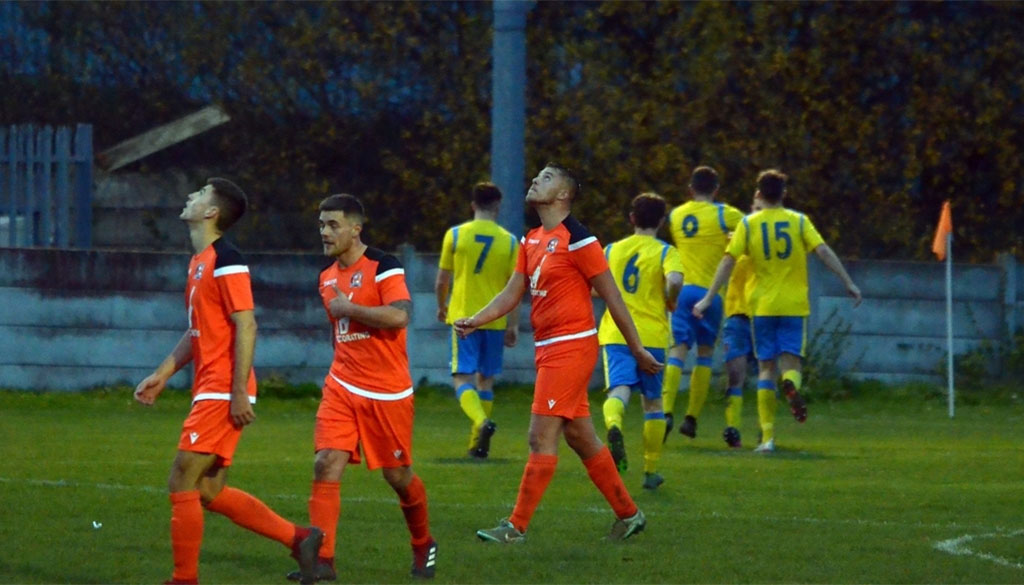 REACTIONS: NWCFL First Division managers react to their league results
Sun 17th November 2019 | Manager Reactions
By Craig Kendall
NWCFL First Division North
Atherton LR manager Mark Robinson, "Pleased with the three points considering we didn't play well for large parts of the game.
"In possession, we generally struggled to move the ball around effectively, but when we did we a looked dangerous and creative in the final third. You could see that both teams were struggling with the surface. Our backline defended well under pressure, but to be fair we rode our luck a few times towards the end when Blackpool had opportunities to grab a draw.
"Overall though I'm happy to grind out a win when not playing well, especially considering our growing injury list. Blackpool certainly made it difficult for us."
Chadderton manager David Fish, "A disappointing result yesterday that didn't reflect the balance of the game, with the two goals in stoppage time suggesting a dominance that want there. Lower Breck was my preseason tip for the title and nothing I have seen has changed that, but yesterday we matched them all over the pitch and it was telling that late on the were playing into corners and looking to run down the clock.
"The big difference was decision making and execution in the final third. Lower Breck tested Jordan Hadlow several times whilst their keeper didn't need to dirty his gloves. Our inability to take points from games like this and the Ashton Town game means the pressure is on us now. We need a run of wins if we are to get back on contention and I've told the lads that we need 12 points from the next four. We have the quality but now need to apply ourselves better to get back on track."
Lower Breck manager Gary Moore, "I am delighted with the win today as we were down to bare bones with no fewer than five changes from last week (three from our usual back four missing also). We also had debutant starting who only met his new teammates just over an hour before the game who had to step up in what was going to be a tough away day at a very tough place to go.
"With the game at 1-0 we had to dig deep and it was good to see the lads come through a hard ten minute spell with balls being pumped into the box but we defended very well and I thought we were more than good value for the win and even though we grabbed two goals late on to flatter the scoreline it was the Chadderton keeper who kept them in the game throughout which some cracking saves.
"The question now is can we repeat the performance with a quick turnaround playing Monday night at Daisy Hill."
Nelson manager Andy Harrison, "First half was two teams set up very similar being a little bit over-cautious for me. Very Few chances for either team and we just cancelled each other out I suppose.
"Half time came and we said to the lads that the team with the most determined side would win the game, by being brave and doing the basics right in good areas. And that was pretty much the story of the second half we went one-up, started well.
"Daisy woke up and for 10 minutes and battered us scoring two. At that point, it would have been easy for us to roll over and they'd have got a third or fourth but we dug in, got a great equaliser and from that point we were never going to lose the game it was all about could we win it. And with a couple of minutes left we've carved open their defence with a great bit of play on the edge of the box and Sam has scored the winner.
"Second half was a great game to be fair, happy to have edged it in the end. Great people down at Daisy Hill always got time for that club. Wish them all the best for the rest of the season."
Daisy Hill manager Brian Hart, "A bit disappointed not to see the game out after coming from behind to lead 2-1 and paid price for not taking any of the three great chances to put the game to bed.
"They kept on pushing to be fair and did what we didn't which was take their chances. We're still work in progress and still learning but we'll dust ourselves down and go again on Monday versus Lower Breck."
St Helens Town manager David Platt, "This was the toughest game we've played in my time in charge. Darwen tested us in a way other teams haven't and the lads were brilliant to stand up to that. The first half wasn't our greatest performance but we took our goals well.
"Level at half time seemed fair but we did well in the second half. We reduced their number of chances and stifled supply to their dangerous centre forward. Great to get the win, four points from six and we move on to the Shelley game which will be a massive test midweek."
Holker Old Boys manager Kevin Watkin, "Today's game we went into it needing a positive reaction from the last few results, we haven't maintained the intensity we started the season at.
"I thought we controlled the game for the majority and created several good chances but unfortunately didn't make them count which invited pressure for the last 10 to 15 minutes which was tough but managed to hold on.
"It was always going to be a tough test because as a team Prestwich always likes to get the ball down and play with very good movement so the main positive from today is the clean sheet and a huge scalp to take six points from such a good team."
Bacup Borough Manager Brent Peters, "From a football point of view and for the neutrals in the ground this game was full value for money, but it certainly was not that from a manager and coaches point of view witnessing some of the decisions some of the lads made which honestly was beggars belief.
"It is beginning to wear thin now because it is every game these situations are happening where we are beating ourselves. We got off to a positive start with a quality finish from Kyle Siddal from an equally quality cross from Matty Bryan, then we let Garstang back level following a ridiculous decision and shout from our keeper.
"We get back in front again following a good early ball from Ogden to Matty Bryan who finished well, we see the half out winning 2-1, then another bad decision from our keeper to lead with his feet rather than diving and smothering with his hands lets Garstang back level again, then when our defender was being beaten by pace, he makes a mad decision to try to win the ball from the side which led to a stone wall penalty into goal.
"Then two different defenders overplayed between each other before our left-sided defender slipped on the ball gifting Garstang a two-goal cushion, all of those goals without taking anything away from Garstang's finishing was extremely poor and certainly avoidable. But on the flip side to all of this, our strikers more than did their bit, we went with a positive line up and they certainly repaid this with four good goals, besides all of the lads showed great character to come back from a two-goal deficit.
"It would have been sacrilege had we have come away with nothing, in fact given we had a 2-1 half time lead, it was sacrilege we did not manage the game better to get the three points. But given Garstang turned the game around and had a two-goal cushion, I suspect their management were disappointed they did not see that out, but credit to our positivity at the top end of the pitch was the reason we got back what we did."
Steeton manager Roy Mason, "When your lucks out it's out - nothing is going our way whatsoever. We had to make four changes from Tuesday's game at Barlick and we were forced to throw in a couple of debutants. The early exchanges were close but we didn't create enough going forward. The second goal killed us and going down to ten men gave us a mountain to climb.
"It's proving to be a difficult season for us and I can't quite put my finger on what's going wrong, but we will keep fighting and keep working hard as we look to get ourselves out of the situation we find ourselves in. Credit to Emley who had that bit more quality in the final third."
NWCFL First Division South
Cheadle Heath Nomads manager Andy Gray, "We knew that Eccleshall would be a well-organised team coming into the game today and that we'd have to work hard to get anything out of the game. I asked the lads to continue the recent form and build on a great away win on Monday night.
"The weather and the heavy pitch meant it would be a battle but we have proved that no one gets an easy game against us, we battle for each other and today was another great example of that.
"It was a very even game overall I think and when we took the lead through an Ashley Stott penalty I think it was one of the few shots on goal in the half. 1-0 up at the half time break it was all about the clean sheet and in my opinion, there was very little danger in either goalmouth second half.
"We defended superbly when needed all over the pitch and it's another good 3 points for the lads Eccleshall are a good team and we wish them all the best for the season."
Stockport Town manager Adam Jones, "A reaction is what I asked for at the beginning of the game and that's exactly what I got. I thought 2-0 flattered them and apart from a chance at the start of the second half that Josh Ollerenshaw saved well they never really threatened.
"We have added players this week and they made a difference to us we looked stronger, quicker and more organised all over the park. Was chuffed for Aaron Dwyer too, a brace on his first game back but that's why I brought him back because he's a match-winner.
"We are by no means a finished article yet but we are close to getting to where I want to be in terms of personnel in the squad and I'm looking forward to another week to implement the style of play us a management team want."
New Mills manager David Birch, "I thought we played well! It could have been four or five at half time but it was a difficult pitch and the lads have seen the game out second half and it was a comfortable away win."
Wythenshawe Amateurs manager Martin Ivison, "Well coming in to today's game I was fearing the worst looking at Vauxhall's recent results where they have despatched Premier Division sides with ease, but taking nothing away from our lads we've come a long way in such a short space of time since I took over and this result shows that.
"Vauxhall's winner came in the 94th min with us being down to 10 men after 70 minutes. I thought we worked hard in the first half and took a well-deserved lead through Travis Boyles only for Vauxhall's to equalise some five minutes later. Again in the second half, we took what seemed to be a 2-1 lead with Danny Egan tapping in only for it to be ruled out for offside.
"The game changed in the 70th minute when the referee sent Luke worth off for what seemed a 50/50 and nothing more than a yellow in my opinion. However, we fought to the end and Vauxhall's strength shown through in the 94th minute, leaving our lads devastated.
"I'm proud of every single one our lads and being honest we are 2/3 players away from being a really good side and it says something when Vauxhall's Manager says we're the best team we've played this season. It is onwards and upwards for this bunch of lads and I can't thank the Management Team enough Rob Byrne Rob Brown and Fran Egan who work tirelessly behind the scenes. We go again!"
Vauxhall Motors manager Mick McGraa, "It was a very tough game today in difficult conditions. It is always nice to win the game in the last minute but I thought both teams battled hard and tried to play when they could. It was great to get another three points and it's 10 in a row now!"
Wythenshawe Town James Kinsey, "We took the lead thanks to a very well taken goal from Will Shawcross. Going down to ten men before half time was a blow and very harsh. I thought we were a very good value for our second after half time which put us in the driving seat. We were in control and never looked like conceding.
"Tom Wilson has got a bad injury by the looks of things after 75 minutes and the Referee decided to abandon the game shortly afterwards. We await the official decision whether we have to play the game again or not."
Maine Road manager Ray Barnet, "A disappointing day for Maine Road and if the lads have any ambitions this season they have to get rid of these Jekyll and Hyde performances. We can't go from the performance last week to what we saw yesterday. We took the lead with a good finish from Jack Coop against the run of play as Abbey Hey started well and we struggled to put more than 2 passes together and held onto half time The 2nd half wasn't any better despite asking the lads to take better care in possession and stop giving the ball away so easy.
"The equaliser came from poor defending on the halfway line and the No.2 got away far too easily and delivered a wonderful cross curling behind our centre half's and a good header back across goal into the far corner. We made a couple of substitutions to try and get some kind of pattern to our play and Danny Burgess did make an impact but Abbey Hey clinched the 3 points through another mistake as we failed to get the better of a bouncing ball in the air and the Abbey Hey player laid the ball off to the supporting player who was clean away with no defenders in sight and finished well.
"This was a game we thought we could have got something out of having watched Abbey Hey midweek but we didn't execute the plan, didn't shut down the playmakers and made mistake after mistake when in possession which all in all made for a day we want to forget quickly."
Cammell Laird 1907 manager Phil Burton, "First half performance was worse I've seen this season, we just didn't get going and at 2-0 we changed the shape just to get us in at half time so we could change it around.
"Second half the players were excellent and that's what we all expect from them. Credit to my management team who came up with a second-half game plan. Barnton in the first half played some great football and had chances second half."
Main photograph by James Lobley, taken during Atherton LR's 3-2 away win at AFC Blackpool.