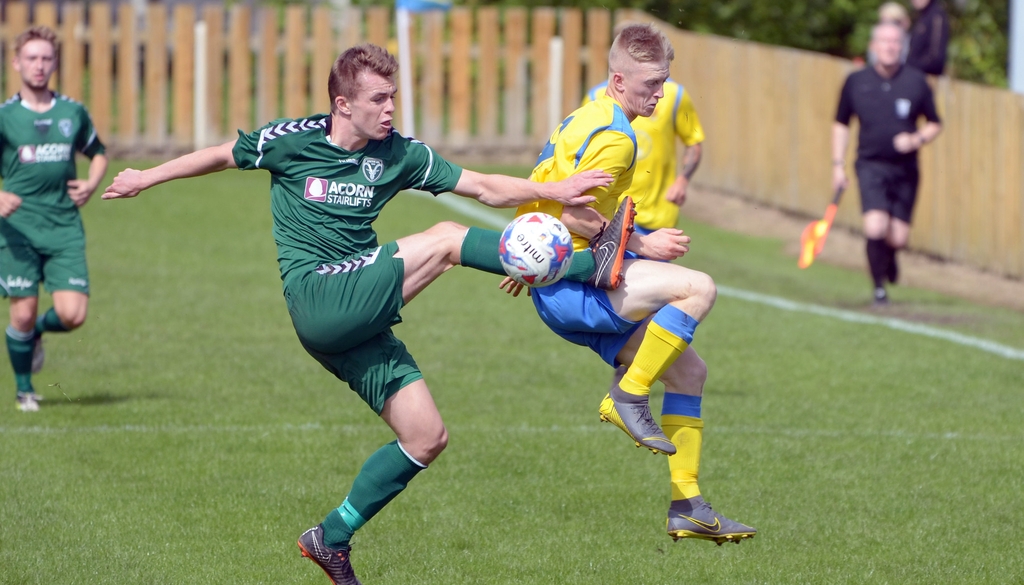 NWCFL First Division North & South Managers react to Saturday's results
Sun 18th August 2019 | Manager Reactions
By Craig Kendall
(Main photograph by James Lobley)
Lower Breck 4-1 Nelson
Nelson boss Andy Harrison, "Today was always going to be difficult with the number of injuries we had. We played the whole game without a centre forward and the scoreline reflects that. The lads that did a job up there worked tirelessly and to their credit caused the Breck defence problems.
"Our keeper was outstanding first half and if we didn't give the Breck striker freedom of the park with one minute to go till half time then we go in at half time 1-0 up, but instead with the last kick we concede a poor goal from our point of view but take nothing away from the lad it's a great strike.
"Second half we didn't look interested and an early second for Breck was the final nail in the coffin really. But they're a good side and we aren't going to dwell on this too much. We will dust ourselves down and go again."
Abbey Hulton manager Russell Leadbetter, "Brilliant performance by the lads, the last two games have led us up to this game and scoring that many goals. We're creating chance after chance so it was nice to see us come away with a number of goals we actually deserved to score.
"Away from the goals though the lads worked their socks off in every area and we defended well when we had to. Brilliant for Morgan to come on for our injured keeper and save a penalty a few minutes after.
"A pleasing performance all round, but now we have to take it into a difficult week where we play three fixtures. Consistency will get us where we want to be, come the end of the season."
West Didsbury manager Brad Cooke: "Really pleased with the result. We have had a tough week with six players getting injured during the week against Stockport and two away on holiday. We really had to dig in and the lads have shown what a strong squad we have.
"It wasn't pretty at times but our grit and work rate seen us over the line. Fair play to Abbey Hey who are a very good side, they have got a good side together and will no doubt cause a lot of teams problems this season."
Ellesmere Rangers 1-2 Vauxhall Motors
Vauxhall manager Mick McGraa: "Today's game first half was very one-sided with us camped in the Ellesmere half most of it. We had a lot of possession and half chances but made the wrong decision in the final third. Ellesmere we're taking there time with goal kicks and throw-ins trying to frustrate us and it worked as we went in 0-0 at half time.
"Second half was the same again, we camped in there half and missed some good chances then we scored on 80 minutes then, to be fair to Ellesmere they scored off their first corner on 87-minutes.
"We kept pushing for the winner, then eventually got our chance on 94 minutes which we took 2-1 - four wins out of four!"
St Helens Town 6-0 Cleator Moor Celtic
St Helens Town manager Lee Jenkinson: "We needed to get to winning ways quickly after two defeats and those first games we starting creating bad habits which needed to change and today we started really well. The game-changer was Cleator Moor missing a penalty which would have made it 1-1 but after that, we totally controlled the game and should have scored more but the scoreline will mean nothing if we cannot take that into Wednesday's game away AFC Liverpool."
Atherton LR 3-1 Steeton
Steeton manager Roy Mason: "It was probably the most disappointing game I've had as Manager for a long time. Really frustrated with the performance; we're a lot better than we showed. We didn't show any heart or desire or commitment, unfortunately, to win the game of football and, if you're not going to show those basic qualities, you're not going to win football matches.
"It gave us a lot more questions than answers today, as well. The players let themselves down badly today and they let down the club down badly. We've got a lot of work to do over these next few days.
"No, it's not a disastrous start to the season. We've been very unlucky in that we've had some injuries to some key players for us and they're looking like long-term injuries as well. We have a thin squad and probably the strength of the squad has been short today to what it is. We desperately need some reinforcements bringing in.
"I just felt today too many of our players maybe looked at Atherton and the fact that they'd struggled last year and thought this might be an easy three points but, unfortunately in this League, there's no such thing as an easy three points. I thought Atherton thoroughly deserved their victory today."
Alsager Town joint-manager Dan Davies, "Reflection on today's game against Wythenshawe Amateurs - we started off very slow but got into the game as the half went on. I thought both teams really cancelled each other out a couple of chances from us not much from them going forward change of shape.
"Second half I thought we did a lot better and feel like we should have got more out of the game but that's football - we go again Tuesday!"
AFC Blackpool 2-0 AFC Liverpool
AFC Blackpool manager Martin Baird: "Thought the lads stuck to a game plan today and executed it really well. They [AFC Liverpool] will be up there this season no doubt about it but I thought the lads were well organised today and kept the shape. We are all really pleased with the result but there is so much more to come from us especially with lads too come back in from injury.
"The lads worked really hard today and deserved the clean sheet as that gets you points so credit to them we take it into Tuesday. As we all know now this league is so unpredictable we can't wait for the next game to improve each week what we are wanting to achieve as we aren't the finished article."
Ashton Town manager David Dempsey: "In regards to the game as a whole 90 minutes, it was a perfect watch for the neutral, let's put it that way. The only thing it was missing was a red card and a sin bin and it would have had everything! As a manager, it was a very frustrating first 45 minutes and fair play to Brent's Bacup side, they simply wanted it more and worked harder than us.
"Bacup will upset a few this year, in my opinion, and have their threats. These threats forced me into making two changes on 35 minutes and a change of shape which worked tremendously well. The boys reacted to the half time team talk and they did exactly what was asked of them and more. My sides resilience and endeavour to get something from the game at 2-0 down were really pleasing to witness and as a manager, you can't ask for much more.
"To score five goals in any half of football is a great thing to do, but under the circumstances of being behind in the game and the expectations and pressures the players have put on themselves, to then go and win the game in the manner they did was credit this groups character. We have had a decent start to the season and it is important everybody stays humble and grounded. After all, we are only 4 games in. We are looking forward to welcoming AFC Emley on Tuesday evening who I am sure will pose a few threats themselves."