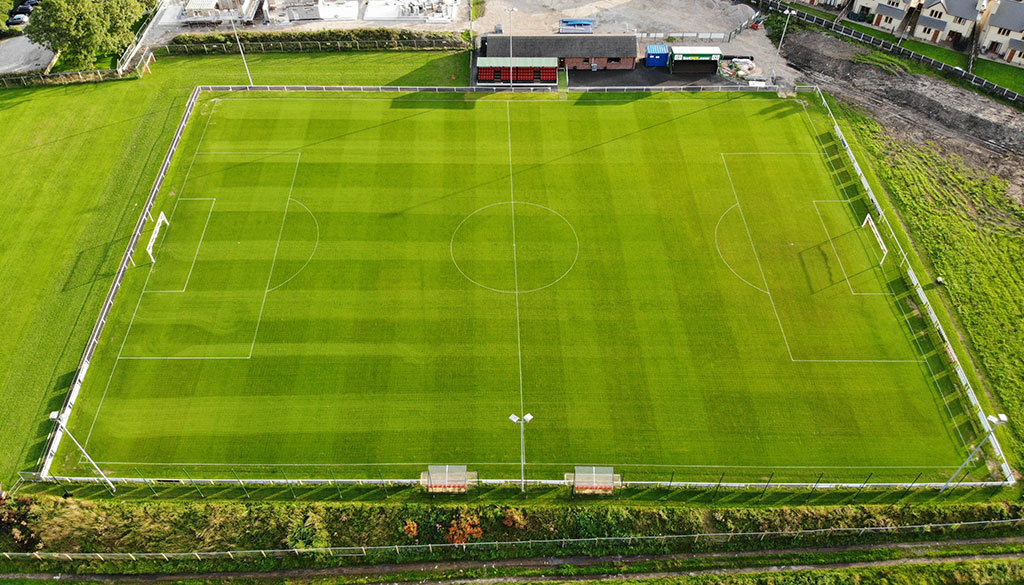 Longridge Town looking to establish themselves as a Premier Division Force
Sun 9th January 2022 | Longridge Town
By Jay Cooper
Looking back and leaning forward – Longridge Town
The last time Longridge Town were afforded a full season of NWCFL football,, they won the Division One North title after Avro fell to defeat against AFC Liverpool on the final day of the 2018/19 season. It was likely that the fans would be optimistic ahead of the upcoming season in the Premier Division going in to 2019/20, but then March 2020 came around, and with that came COVID-19.
With the pandemic seeing to it that both that season and the following one were curtailed early, the 2021/22 season promises to be Longridge Town's long-awaited first full season of NWCFL Premier Division football since their dramatic Division One title victory, almost 2 full years ago now.
It was almost the case that Town wouldn't have actually completed a NWCFL Premier Division season. After 2 very strong half-seasons that were derailed by the Coronavirus pandemic. Upon the league system being restructured ahead of the 2021/22 season, Longridge were offered the chance to play Evo Stick League football, but refused the chance, and remained a NWCFL Prem team.
In justifying this decision, manager Lee Ashcroft stated that "I just think we're not ready as a football club. We've got to establish ourselves at this level for the next 2 or 3 years, maybe longer. There's some big clubs at the level above, and some big clubs at this level too who've been around for years, and were just new to all this. We will surprise teams, but to finish mid-table would be good for us with what we've dealt with this season."
As of now, they've made good on their first full season. Town currently sit in 11th in the Prem after 25 games played. Mid-table comfort is typical of a club that have only recently been promoted, and they exemplify that this season. The goals are largely coming through club captain Moses Yoak, and top scorer Jack Anderton, and despite not making themselves title contenders, they have certainly been able to hold their own against some of the high flyers – they've beaten Macclesfield and Burscough at home, Skelmersdale away and done the league double over old rivals Avro.
Examining these victories, Ashcroft said, "On the day, it's about being consistent. Once you make one mistake in those games, you get punished. We still play good football, but gifting goals away gives the other teams something to hold on to. If we go behind early doors, they can sit back and we would struggle to break them down, but, if we go a goal in front, we're a different animal. We've had 8 or 9 injuries in the last 6 weeks, but they're gradually coming back, and if you can beat Skem away and the runaway league leaders at home, then you're doing something right".
To kick off the new year, Longridge faced Ashton Athletic. These particular opponents haven't fared as well as their hosts when taking the whole season into account. Ashton are one place above the relegation zone. With Litherland 10 points adrift at the foot of the league, Runcorn are the team breathing down their necks from the wrong side of the dotted line, hoping for any chance to leapfrog them.
These two sides have already played one another twice this season. In the first encounter in mid-November, Ashton Athletic ran out 4-2 winners in a game that saw Longridge dumped out of the Lancashire County Cup – this being Athletic's most recent victory. In the league, the two sides met 11 days prior to Christmas for a more evenly-contested encounter at Brocstedes Park. A thrilling opening 11 minutes saw the home side take a 2-1 lead thanks to a Richard Brodie brace overshadowing a Daniel Forbes strike for Town. It would take until 5 minutes from the final whistle for the 4th and final goal of the afternoon when Daniel Wilkinson scored the equaliser for Longridge, and the match finished honours even.
Longridge had failed to pick up a win over Ashton this season – this game, in the bitter cold under the floodlights at the Mike Riding Ground, would go on to buck that trend.
Town got the better of the early chances, with debutant Jake Connelly having an effort deflected onto the outside of the post, and then heading inches wide after beating Ashton goalkeeper Jake Aspinall in the air from the resulting corner. It took 13 minutes for Town to break the deadlock, with Connelly again receiving the ball on the left, in a deep crossing opposition. He unleashed a powerful cross-come-shot that sailed directly in over a back-pedalling Aspinall.
Ashcroft offered his thoughts on his side's first goalscorer post-match. "The opportunity came last week to take Jake for a month, and I said "too right I will". I want him to come here and enjoy it, get him buzzing again. He's had a number of league clubs looking at him, he's a young boy who's got unbelievable talent, and unbelievable pace and he had a fantastic debut."
Four minutes later, and Town doubled their lead - and what a goal! Jack Anderton won back possession after initially losing it on the half way line, drove past three blue shirts and slotted the ball under Aspinall, with the last-ditch block attempt from the recovering defender only seeing it further into the top corner. Only five minutes after that, it was 3, with Daniel Forbes getting in on the early rout. Longridge's number 11 delightfully chipped the on-rushing goalkeeper after being slipped through the middle and saw the ball kiss the bar on it's way in.
The first half was all Longridge – Jack Anderton didn't stopped running, the wide play from Town was absolutely devastating to their opponents who barely got a sniff in for the entire 45 minutes, and it could very easily be more than a 3-goal cushion by the time the referee blew his whistle.
The gaffer was full of praises for his number 9's performance. "At this minute, he (Jack Anderton) is absolutely massive to me, and he's getting better and better. He's got an unbelievable turn of pace, he's a goal threat – he must be a nightmare to defend against. If we can just work on him sometimes going outside rather than inside and get his right foot a little stronger, there's a fantastic young footballer there."
The second half started slower than the first, but Longridge nearly made it 4 Wilkinson rattled the post, and a half-clearance by Ashton saw the ball fall to Forbes, who tried to score his second chip shot of the afternoon from the edge of the box, but was unsuccessful. Not long after that, the game would start to turn.
On the hour mark, Longridge goalkeeper Paul Cooper got a little too rough with his marker whilst trying to catch the ball in mid-air, and the referee pointed to the spot – Ashton Athletic captain Josh Nicholson stepped up and placed the ball firmly in the bottom left corner. Suddenly, there was a contest.
The penalty decision clearly shook Longridge a little, and Ashton took full advantage. Four minutes after dragging one back, 17-year old Longridge right-back Charlie Alston had his pocket picked on the left by Conlon, who squared it for Josh Nicholson again to beat Cooper low at his near post. The visitors had truly woken up, and suddenly it was game on.
Longridge's lead, which had looked so comfortable at half time, was now hanging by a thread. One more Town goal would've put some fears to rest, and they thought they had it on 78 minutes. Both Anderton's and Connelly's wide play had been a headache for Ashton all evening, and the two combined again, with the former supplying a pinpoint deep cross from the left for Connelly in acres of room. The first-time volley was expertly diverted over Aspinall and into the far corner of the net, but the linesman's flag quickly silenced the celebrations. Almost immediately after, the ball would clip the Longridge bar on it's way over the top when Ashton went on the counter attack.
The tension built as the game crept into added time, with the referee appearing to allow play on way past the natural stopping point of the match. Right at the death, Ashton's Carr had the ball come to him in the centre of the box, in plenty of room. Disappointingly for Ashton, his volley wasn't the most venomous, and Cooper got down well and held on as the final whistle mercifully went.
"It sums our season up, really – first half, as I said to the lads before the game, "someone's going to get a hammering", and, to be fair, it should've been them (Ashton)", said Ashcroft on his reflection of the game as a whole. "We had a brilliant first half, to come in at half time 3-0 up was disappointing – it should've been 5 or 6. But, no halves at this level are ever the same. It was 3-2 with 25 minutes to go, but we did play better for the last 25 minutes and I think we won quite comfortably in the end."
From one night at the Mike Riding Ground, it's clear to see that Longridge Town are a team for the future. The likes of Jack Anderton being so pivotal for a team at such a young age, as well as 17-year old Charlie Alston being shoehorned in at right-back and looking like he'd played there for years – there is so much potential for Lee Ashcroft and the staff at Longridge to examine. The last few seasons have been stop-start for every team in the NWCFL, and with injures and tragedies befalling the club this campaign, that statement goes double. However, it wouldn't be ludicrous to suggest that when Longridge do start kicking again, even a global pandemic might struggle to stop them.