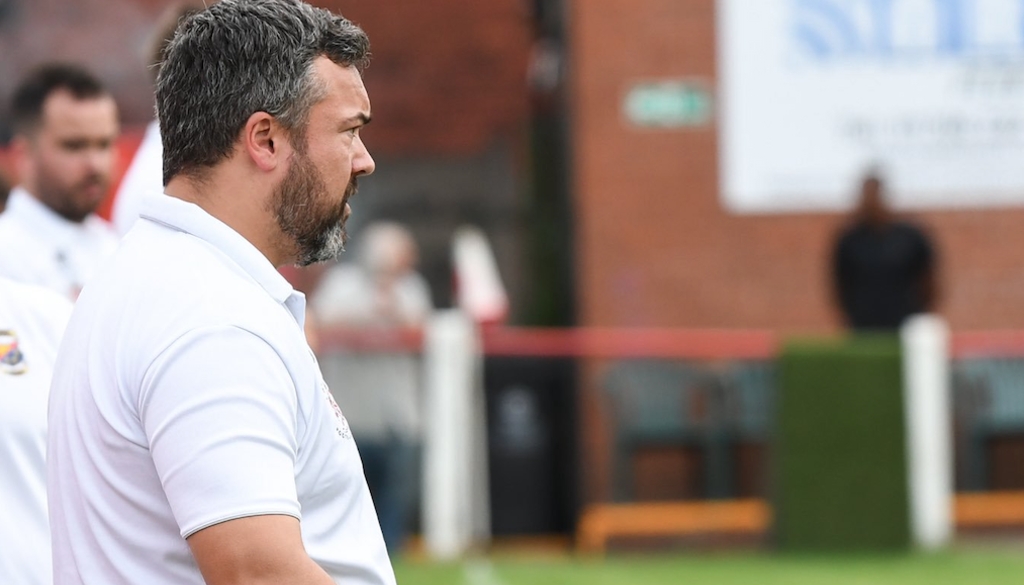 NWCFL First Division North & South Managers react to Saturday's results
Sun 25th August 2019 | Manager Reactions
By Craig Kendall
Golcar manager Ashley Connor, "It was a frustrating game, we had enough chances to win the game but it wasn't to be. We have to be more clinical in front of goal, it's good that we're creating so many chances but we need to be ruthless if we're going to compete.
"We dominated the first half, but Cleator scored the opening goal on 44 minutes against the run of play. Second half was much of the same really and we got back in the game through some good play down the left from Ben Burnett where he set up Ryan John-Mackay to equalise on 79 minutes. The final 11 minutes saw us have a good go but the Cleator goalkeeper was in outstanding form. It's a shame we couldn't finish the job off as we had great support again.
"We now prepare for our first local derby against Emley on Monday."
Chadderton manager David Fish, "Lower Breck away was always going to be a tough test. Before the season I picked them as favourites for the title. Our performance against Prestwich on Wednesday gave me confidence. On the day too many players underperformed and we were beaten by the better team. We had a good 15-minute spell before half time and had we taken those chances it may have been a different result, but on the balance of the whole game we didn't deserve anything.
"Our performances to date have been too inconsistent, it's important now that players start "turning up" for every game starting on Monday."
Lower Breck manager Gary Moore, "Absolutely delighted with today's performance bouncing straight back from a awful midweek showing at Pilkingtons when we was a shadow of our usual selves. We asked the lads to go out and give a proper account of themselves and they done that all over the park with the work rate and desire there for all to see. Chadderton had some decent moments in the first half and a great save from Josh Molloy kept them at bay but second it was all about us and i thought we controlled it really well and scored some really good goals with Conor Roberts capping a great performance bending in a cracking free kick.
"It up-to the lads now to show they can put these performances in on a game to game basis and make performances like midweek a rarity."
Nelson manager Andy Harrison, "We new what to expect with Shelley today. They always battle and work hard with a constant goal threat with the lad Billington up top. We tried to minimise his involvement and got men around him to win the second ball, and I think we did that.
"First half was fairly even, both teams went close but second half we bossed it in my opinion. We were wasteful in front of goal and were denied a stonewall penalty which was I believe the lad handballed balled it. But Shelley hung on for a point and I'm not too disheartened.
"The lads never stopped, it just didn't quite fall for us. Looking forward to Monday already!"
Maine Road manager Ray Barnet, "It was great to get back to winning ways, I suppose every manager says the same but our problems from the first game of the season has been finishing. We should be in the top 3 with the only disappointing performance for me was the Tuesday game against Wythenshawe Town.
"Today we were back to our best in the first 25 minutes and well worthy of a 2-0 lead with goals from Danny Burgess and Matty Morgan and in control of the game. We had a drinks break on 25 minutes which took the pace out of the game and we didn't hit the heights and we conceded again. A poor goal with 3 players all having a chance to clear the ball before a looping effort beat the keeper, then almost on half time we got a penalty which looked harsh as the defender made a great tackle but having asked the ref he saw the shirt being pulled before the tackle and Louis Edwards slotted home.
"Second half we knew Nomads would come out strong, and the next goal would play a crucial part on the end result. We defended really well but struggled a little bit with possession until the drinks break. We then had some good spells of football, as Nomads committed players forward in search of a goal we had two great counter attacking chances as Matty Morgan in one on one with keeper but didn't take them but he didn't miss his 3rd chance to kill of the game.
"We defended magnificently in the second half which is so pleasing as many see Maine Road as a team who want to play football going forward but we are developing and maturing as the games go on and bringing all the elements into our game. A lot of credit to Cheadle Heath Nomads as this was a great entertaining game."
Eccleshall manager Kyle Adams, "It was a fantastic three points against a good outfit who will undoubtedly cause teams problems during the season. The lads were on a high after Wednesday evening but we stressed the importance of being consistent and playing with that same hunger.
"We certainly did that but I actually didn't think we were great first half - we were just clinical and scored goals at the right time to go in three up. We knew they'd step it up second half but we weathered a bit of a storm after conceding early and the lads dug deep to defend well and then kill the game off.
"Yet again we've had lads coming off the bench to impact the game for the better."
Bacup manager Brent Peters, "To be honest it was daja vu with how all of our previous games have gone. We have dominated possession, created numerous opportunities, without taking them. But I would rather pay attention to crediting the performance of the Pilkington keeper, this rather than blame our front lads. In previous games we have broken the deadlock before half time but due to their keepers performance this was not the case in this game as the half ended with it being nil-nil.
"The second half did follow a similar pattern as the first forty-five minutes whereby we were dominating possession again. Lads from both sides were working hard in hot temperatures, Bacup in possession, Pilkington trying to contain us, it was inevitable all three substitutes would be used due to the heat and lads feeling the heat.
"I decided to take our French prodigy out of the starting line up in order for him to learn the game sat between myself and Dave Felgate in terms of where to be out of possession, the boy has tremendous talent but needs to understand roles and responsibilities, something we were able to do by the fact he was sat with us.
"On 55 minutes we decided the time was right for the boy to enter the action, we know he has goals in him, and today he did not disappoint with a terrific strike which was struck has sweet as a nut with precision and power giving their keeper no chance. Following this goal Pilkington had their best spell in the game where they then started to have a bit of a go at us, pushing men forward, the difference in this game compared to previous games, we saw the game through, defended well, worked hard in every department, to finish with three points and a clean sheet.
"A pleasing performance with a pleasing end."
Cammell Laird 1907 manager Phil Burton, "It was certainly game of two halves. Pleased with the game plan in the first half and we hit them on the break a few times and played some really good football. We deserved to be leading two-nil at half time.
"But in the second half we were poor. We asked to deny them any space for 15 minutes and within three they had the goal they needed. From then on it was one way traffic and two mistakes cost us with the penalty and then over playing at the back allowed them to take the lead.
"We then had a good response and deserved to equalise. We should good character going behind as heads could have dropped. But overall it feels like two points lost rather than a point gained against a really good side who I think will be challenging this season."
Joint Emley AFC manager Richard Tracey, "Frustrating game today following a good performance midweek. We started really well, delivered several dangerous balls and missed a few chances which allowed them to grow in confidence.


"We then struggled to get any fluidity in our play and turned the ball over too often. I was pleased to get the initial goal but we need to improve to compete with Golcar on Monday."