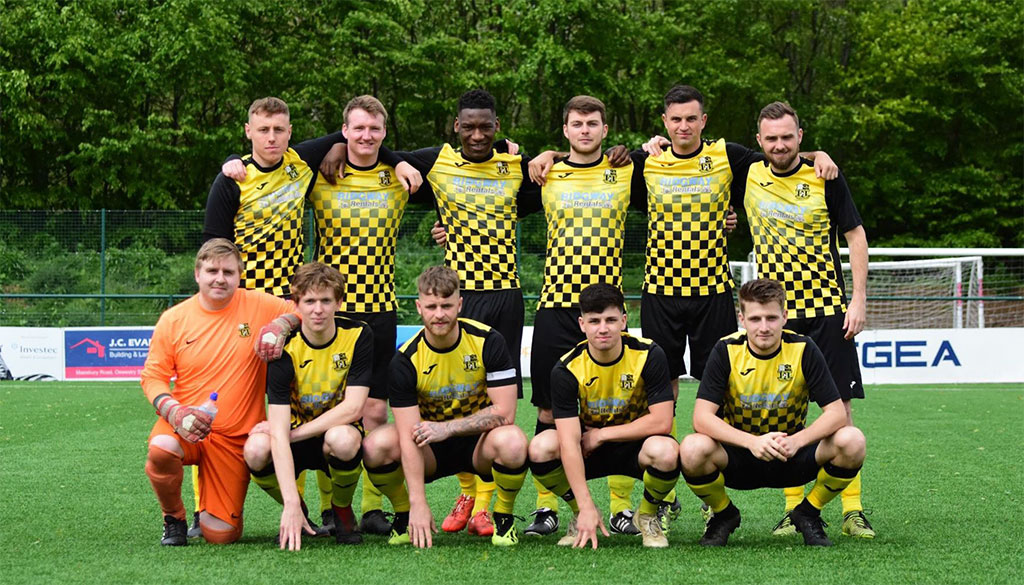 Moore cannot wait for season to start
Tue 2nd July 2019 | St Martins
By Craig Kendall
One of the newest appointed managers is St Martins' boss Paul Moore who has been at the helm for just over a month at SY11.
The vastly experienced man has had a relatively quiet first few weeks in the role and has stood back and watched other sides around them acquire players, "Players say they've signed or clubs say such-a-body has signed and we all know that that can't be the case until such time that the forms come out on 01 July. It's frustrating in that way because you'd like to get lads signed and sealed and done so nobody else can get hold of them.
"Really, as a club, you're getting targets, if you like, or speaking to players. With us, we've got competition from Ellesmere and Oswestry so it's a case of not who can offer the best – because we're a limited club and can't offer a King's ransom to people – but is working on the basis that lads who were here last year enjoyed it and show that allegiance to the club.
"With a new manager coming in it is important that we get a good understanding. We've already had two meetings with the players, which have gone well. We tentatively got a session together last Tuesday night; an icebreaker, really, nothing strenuous. They just net up, do a little bit of gym work then went out and we got involved with the youth team lads and had a kickabout. Making friends more than anything. We saw one or two new faces come in and I know a lot of the older lads who were there last season.
"Some of them are going on holiday – I go away myself – so I'm sure every club's got it and every club's going to be in the same boat. It's one of those things where you just can panic far too early. I've done this a number of times now so I tend to wait for a bit and see what it's about and see who wants to commit to us first. I see what we've got then okay, what do we need to go and find? That puts me in a good position.
"The first three weeks have been pretty quiet. I wouldn't say we've done a great deal, apart from the three meetings that we've had: one with the Board, one with the players and the meeting together on Tuesday."
The side finished 11th last season but after being top after ten games, Moore reveals they were ultimately disappointed, "I think what happened last season was they started so well that they were quite surprised at how well they started, then with results and a few injuries; they had such a small squad. What they were saying was their home form was good at the beginning of the season then dipped so that really cost them. Last season they would have thought to themselves that a top ten finish wasn't beyond them with the way that they started.
"After the first ten games or something like that they were top of the League and doing very well so they were disappointed with the finish because they started off so well. However, because it was their first season at that level, you've got to look at it as a success to finish eleventh in the League.
"I think our expectations are to try for a promotion. Everyone wants to be in that position and we're no different. You don't start a season with the mentality of "I think we'll finish tenth". We're realistic. We know it will be difficult for us to win the League. We know that we'd have to have a lot of good fortune to win the League and that things go our way but it's not insurmountable. We're just going to enjoy it and see where that takes us.
"We would like to try and have a reasonable couple of results in the FA Vase. We'll just take it from there. We've got some good cup competitions that we're involved in. There's no stress; nobody's putting any pressure on anybody. We just want to try and have a good season."
The former Clitheroe, Leek Town, Kidsgrove Athletic, and Warrington Town boss was the first choice at The Venue, "First and foremost I've been involved in Division One and the in division above. I've managed teams three divisions up in the league so I've got not only the experience of managing at that level but I've also got the contacts as the club goes forward. I've also helped set up an academy before when I was at Congleton and we've got lots of links now with youth clubs and youth setups so I can help with that. That is something that we're massively progressing.
"We're looking forward to as a club. Hopefully, in the coming years, we'll have some really exciting news with respect to moving forward so it's all good and I have the experience of all those things. I'd like to think that I can extend that experience on to help them progress as a football club, however long that may be.
"I don't really need to go looking for jobs in that respect because, for me, it's not about that anymore. I used to be very ambitious about wanting to progress up the ladder in the football circle but I've done that. For me, now, it's about enjoying the game, even enjoying seeing lads progress. That's what I can hopefully bring to the table at St. Martins and the players who are at the club.
"We're massively looking forward to the season. I can't wait for it all to begin. I've got to say I absolutely detest preseason! It's so boring and the amount of work! It's one of those things and I just want to get to the season and start but we've got to go through that process and I understand it. We're just looking forward to it now and getting going!"