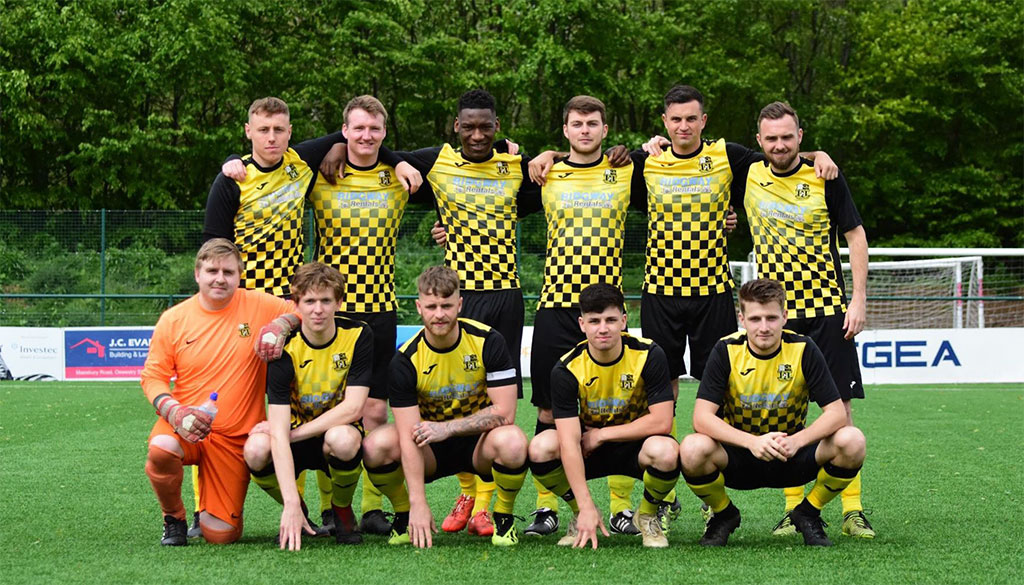 Terrific two year turn around for St Martins
Wed 30th January 2019 | St Martins
By Ian Templeman
Two years ago, the future of St Martins FC was under serious threat.
Struggling at the bottom of the West Midlands Regional League on a long losing streak, and a new committee getting to grips with the running of a football club, the committee had to ask for a two week break from league action while they sorted themselves out.
However, with a new manager in place and a new infrastructure off the field, they regrouped and two years on, the picture is a whole lot brighter.
A successful application to our league has seen them compete at Step 6 for the first time, and a bright start has seen them sitting near the top of the First Division South table for most of the season.
St Martins General Manager Craig Rogers has been involved in the club in various roles for over ten years, and says that everyone at the club is enjoying the Hallmark Security League adventure.
"We've had a few months to adjust now, but when we first came in we found the standard between this league and the West Midlands League we were in before was a big jump", said Craig.
"That is no disrespect to the West Midlands League because I'm sure they run it as they see fit, but the general professionalism of this league is very impressive.
"The committee are strict, but they are strict for a reason and I understand the reason behind that, it's to run a professional league.
"A lot of the grounds are very impressive, really good and the standard of refereeing is a lot better too.
"It's been a really enjoyable experience so far, although we have been having a tough time at the moment with results.
"But being in the top half of the table in January is pretty good going for a club that doesn't have a budget, and I'm sure we will start getting positive results again soon".
Saints' position at the top end of the First Division One South is a far cry from the dark days of two years ago, when the club was struggling in the West Midlands Regional League.
But the appointment of current manager Dan Stevens was a key moment in the club's fortunes, and Craig is quick to acknowledge the work Dan has put in to move the club forward.
"Dan is a fantastic coach, and he analyses the game very well. He came in at a very tough time when the clubs was on its knees, and we had to ask the league for two weeks grace to try and sort ourselves out a bit.
"It was a situation where we could carry on getting hammered every week and probably fold, or take a two week break to sort ourselves out.
"I made a promise to the league that they would see a different St Martins, and we stuck to our word.
"I said at the start of this season that as a committee, we had to make sure that we supported the manager and the group of players, because they came to us when we were playing in a lower league and were in trouble.
"But they shared my and the committee's vision for the club and where we wanted to go. They are a good group of players, and they play because they enjoy playing for the club, and playing for each other.
"Dan and the players have performed really well, we have played some good stuff, and we also have Calum Williams, who has come in this season as first team coach and he has been fantastic as well".
With the on field results giving cause for optimism, there is no shortage of activity going on behind the scenes either.
The club was forced to move out of their home village of St Martins a few years ago, and play their home games at the Venue in Oswestry, which of course is also the home ground of FC Oswestry Town and Welsh champions TNS.
But the club is keen to maintain links with their spiritual home, and Craig says that plans are in place to find a new home back in St Martins village.
"The old pitch we used to play on was a council pitch, and the club at the time had to make the decision either to stay or to move and try and progress", explained Craig.
"We have been working very closely with the parish council and they have been allocated some land for recreational purposes.
"They have said they would like to put a 4G pitch down for us with a club house and changing rooms, which will be in conjunction with the local school.
"The council are speaking with consultants now about the design and the layout, and we have specified that we don't want a multi-purpose facility, what we are after is a pitch, a stand and a club house.
"We do make sure we spend as much time in the village as possible. Our meeting up point for away games is Stan's Superstore, who is a sponsors or ours and we make sure we go and spend money in there.
"We use the local pubs for events, and do what we can to make sure we do have a presence in the village, and we do have some good sponsors who are based in St Martins".
Another key development that Craig is working on is the setting up of an under 18s team, which he says is an important element in the club's future progress.
"An under 18s team needs to happen, because we only have the one team at the moment and we need to make sure the manager has a supply line of players.
"The long term aim, in say about 10 years, is that I'd like to have youth team football running through the different age groups, and a ladies team as well, but the immediate aim is to get an under 18s and we are hoping to sort that for next season".
But overall, the outlook for the club is bright, and while Craig says everyone is delighted with the position they find themselves in, he is also cautious about making sure they don't overstretch themselves too quickly.
"The progress in the last two years has been fantastic, but we can't be one those clubs that have two good seasons and then fall away for whatever reason", said Craig.
"We need to get a bit of stability, and need to be sure that our off field progress matches that on the field.
"There is no point in having a successful team on the pitch if financially you can't sustain it, and we've seen many clubs go to the wall because there were no foundations in place.
"We are making sure we don't do that, we are in it for the long haul, and hopefully we will be in the North West Counties for a good few years yet.
"I can't speak highly enough of the committee and the work they do. We have committee members who go and watch training because they want to go and be involved, and see what's going on.
"We do try and emphasise that we are a family club who all look out for one another, and we'll carry on doing so.
"We have had players offered money and they have turned it down because they want to stay with us, and that is always nice to hear.
"We have also had players approach us, which is good as it means the word is getting around, and that is why we try and build a family feeling to the club".
Looking ahead to the coming weeks, Craig is sure that the poor run of results that the Saints have had recently will soon come to an end.
"Winter's been a bit of a slog and I can't tell you the reason why", he admitted.
"Even though November was a tough month results wise, we had some good performances, but going into December we played a bit more sporadically and having some free weeks didn't help us.
"But I know we will snap out of it, because I know we have two good individuals in the management team who will help us progress.
"We are building a reputation of being a good side, and we just have to get out of the bad run we are in at the moment and get back to winning regularly".