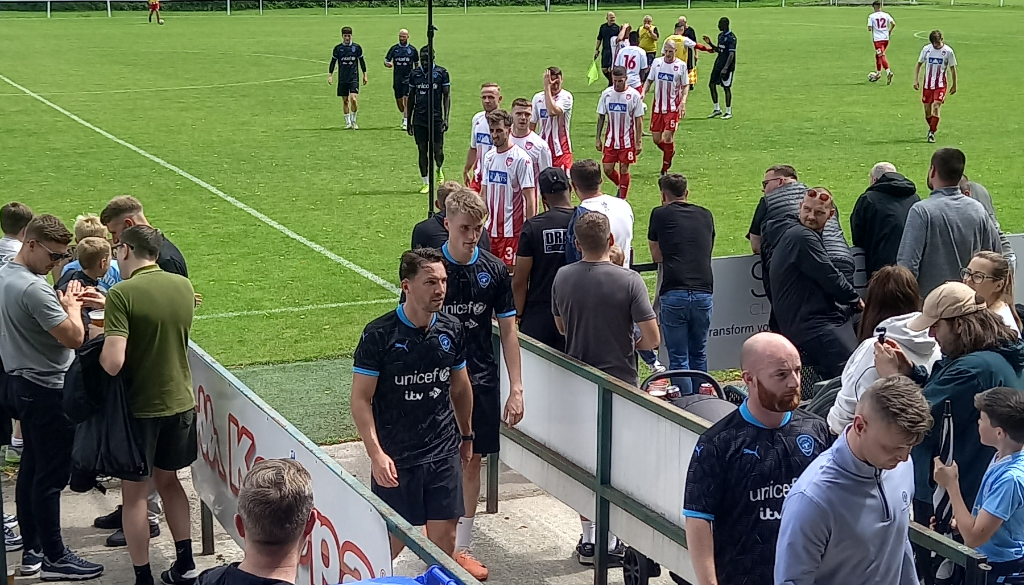 A Close-Season Celebrity Chinwag at Cheadle
Fri 21st July 2023 | Cheadle Town
By Jay Cooper
In last season's NWCFL First Division South, it looked as though the two teams that would earn promotion were set in stone, with how far ahead they were of the chasing pack. Stockport Town and then-called Wythenshawe Amateurs were neck and neck right up to the final day. In the end, it would be the Ammies that took top spot, and Stockport were condemned to the play-offs. No matter, they had home advantage, and a 13-point gap on 3rd place. Surely, they were going to smoke the play-offs, right?
Enter, Cheadle Town.
The Park Road side had managed a more than respectable 6th place finish, comfortably inside the play-off places, but were given a slim chance on paper at overcoming Stockport, who had finished the campaign 22 points better off than they had. And yet, 2 late goals from Ryan Usher and Martin Pilkington stunned the hosts and saw Cheadle advance to the final against Sandbach United. There, two further goals from Usher, and a second 90+7th minute exclamation point from Pilkington in two games, confirmed their promotion to the Premier Division for 2023/24.
Whilst the promotion party was surely a memorable one (or maybe it wasn't depending on just how hard those involved celebrated), with July came the official start of pre-season. And Town started in style, dismissing East Manchester FC 4-0 in their first friendly of the 2023/24 season. Their second match was scheduled to be an away visit to Bollington Town, but that game was called off the day before it was meant to be played.
They also haven't been shy about bringing in some new names. In a conversation with manager Paul Marshall, he told me that "the new signings we've brought in have added strength to what we've already got. Brad (Byrne) and Connor (Brotherton) have come from higher up, from Wythy Town, and had really great seasons last year. Ollie McFadyen, I believe, will really kick on in his career. We've done well to get him from Runcorn Linnets. I think they'll all make a big impact next season."
So, what came next on the itinerary for this amped-up Cheadle Town side? Oh, you know, just returning to Park Road for the first time since the club got promoted for a game against an all-star side put together by former Manchester City, Aston Villa and Newcastle United player Stephen Ireland. Nothing too grandiose or anything.
It would be the second year on the bounce that Cheadle played host to a team put together by the former Ireland international, and the match ahead of this season did not pull its punches with featured names – to the point where I knew I wanted to attend in person.
Ireland himself would be joined by former Everton, Man City and England defender Joleon Lescott; Premier League winners with Leicester in Danny Simpson and Danny Drinkwater; and former Newcastle fan favourite Papiss Cisse – all of whom were kind enough to pose for a photo with me and others at the game.
Other famous names that featured included former Everton and Hull striker Oumar Niasse; former Brighton and Hove Albion stalwart Dale Stephens; and former Manchester United and Sunderland right-back Phil Bardsley; who, to their credit, were also happy for a picture or two with fans. But did any of them still have it on the pitch?
In short, yes. Especially Danny Drinkwater. The former Leicester and Chelsea midfielder was spraying passes around, bossing the midfield and even threw a roulette or two into proceedings when he had the space for it. He was eventually rewarded for his efforts when he stepped up to give his side the lead from the penalty spot just before half time.
In the second half, Papiss Cisse found his shooting boots, scoring two of what would eventually be five goals for Stephen Ireland's XI, which was the team's official name on the day. However, those goals weren't without reply. In the 75th minute, Cheadle won a penalty of their own, which was buried by Jordan Lazenbury, and 4 minutes later, play-off hero Martin Pilkington continued to raise his own bar of special moments by beating Joleon Lescott for pace and finding the bottom corner. It finished 5-2 to the visitors in the end, but the game wasn't necessarily about the scoreline, and even if it was, Town had by no means embarrassed themselves.
Post-match, Marshall seemed to agree, stating that "it was a great test for us, and a great experience for the lads, because it's rare that they'll play against teams that good, or players that good. Our lads looked strong, to be fair, I think it's a bit false today because of the opposition, but against anyone from the same level, we'd definitely give them a good game.
"It was more about mentality today. Our lads were probably beaten before they kicked a ball, and when you give the ball away against these types of players you don't get it back for at least 10 minutes. I think the lads felt that, but the big positive is that it was a really good run out in terms of fitness."
It's also worth mentioning that this game was not the only instance of name value players and teams going up against NWCFL sides this pre-season. Just 2 weeks ago, Bury FC played host to EFL outfits Bradford City and Preston North End in back-to-back days*. Marshall understood what these kinds of games can mean, suggesting that "it's great for the clubs at this level, to get more fans in to watch, especially in pre-season. The main thing for me was that this game was more for the club than the players, to bring some revenue in, but for the players, it was a big experience."
Of course, the main reason for these pre-season games is to prepare for the new season, which Marshall himself said he's "ambitious" for. "Maybe it's unrealistic, but I want to push for play-offs. I do believe in my team, that they're more than capable of doing that, so I would say a big push for those places. I know where I want to aim because I believe my team is good enough." A statement of intent if there ever was one.
Since this match, Cheadle Town have faced NPL side Radcliffe in a 2-0 pre-season defeat and have one more match (at the time of writing) against Atherton LR to go before kicking off their NWCFL Premier Division campaign at home against Charnock Richard. Their first 8 matches consist of Town going up against fellow new faces in the Prem, including Wythenshawe FC, Pilkington, Skelmersdale United and Colne. If Paul Marshall wants to be true to his word about a push for the play-off places, the way they begin proceedings may prove crucial.
*Bury FC: NWCFL | After 4 long Years, Bury FC Are Home - feature article