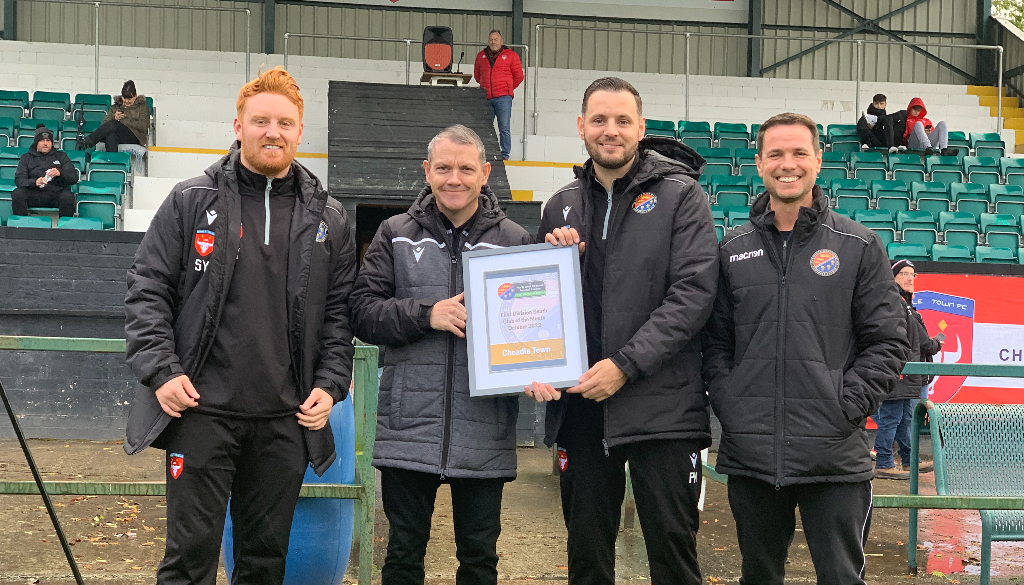 Cheadle Town First Division South Club of the Month October 2022
Fri 20th January 2023 | Cheadle Town
By Martin Fallon
Cheadle Town have been presented with their Club of the Month award for October 2022.
League Chairman Paul Lawler recently went to Cheadle and presented the award to the Cheadle Town Management Team [Steve Yarwood & Paul Marshall] and Chairman [Craig Brennan].
It was a strong month for Cheadle who beat Rocester 7-2 in the league before a 4-3 win at Sandbach United in the Edward Case Cup. A 6-1 victory over Rocester in the Macron Cup was followed by a 4-2 win at Barton Town in the FA Vase who play one division higher in the NCEL Premier Division. A 3-1 win at Foley Meir made it five successive wins, and despite a loss at Wythenshawe Amateurs in the final game, they topped the averages for the month.
| | | |
| --- | --- | --- |
| 01/10/2022 | Cheadle Town 7-2 Rocester | Home win against a team from the same division: 3 points |
| 08/10/2022 | Sandbach United 3-4 Cheadle Town | Away win against a team from the same division: 4 points |
| 15/10/2022 | Cheadle Town 6-1 Rocester | Home win against a team from the same division: 3 points |
| 22/10/2022 | Barton Town 2-4 Cheadle Town | Away win against a team from a higher division: 6 points |
| 26/10/2022 | Foley Meir 1-3 Cheadle Town | Away win against a team from the same division: 4 points |
| 29/10/2022 | Wythenshawe Am 2-0 Cheadle Town | Away loss against a team from the same division: 0 points |
Total Games played in the Month: 6
Total Points won in the Month: 20
Average: 3.33