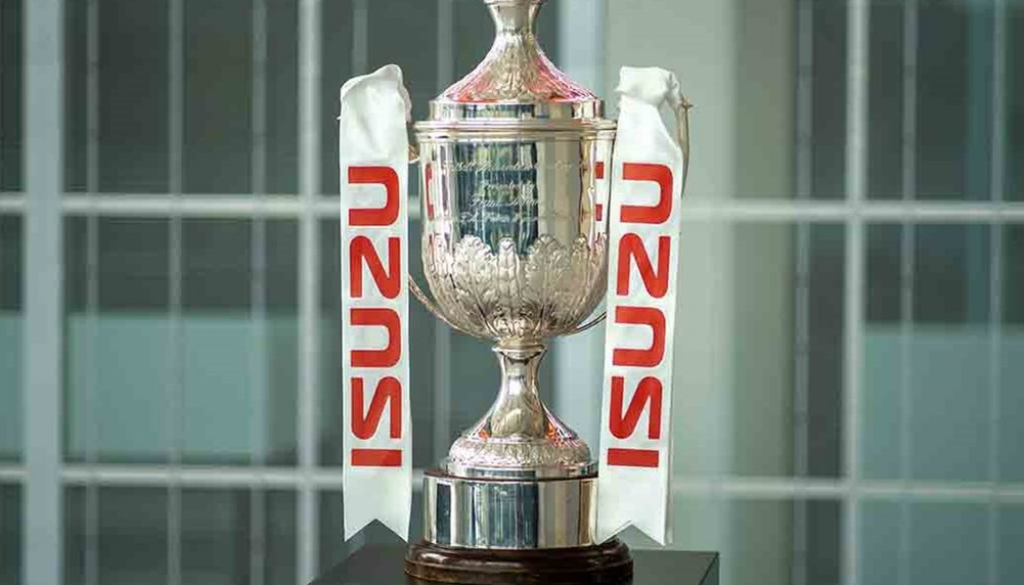 The NWCFL's Isuzu FA Vase Venturers - feature article
Thu 16th March 2023 | FA Challenge Vase
By Jay Cooper
Cast your minds back to last season for a moment. Do you remember when Loughborough Students of the United Counties League were the thorn in the side of a pair of the NWCFL's flag-flyers in the Isuzu FA Vase? In the 5th round, First Division South side Abbey Hey were beaten 3-0, and then in the quarters, Premier Division Wythenshawe Town came up short in a match that finished 2-0.
Well, this season, with Loughborough Students not being an issue this time, the NWCFL teams in the competition have fared even better. This season, Wythy Town have been very much focusing on the league title race they have been in, and Abbey Hey have been recovering from the hangover of reaching the play-offs last time out. Their cup exploits were replaced by those of three teams from the NWCFL Prem.
And, up first, we have West Didsbury and Chorlton.
Just as West had to do, we'll start from the beginning of the season. And there would be two qualifying rounds to go through for Chris Rowley and his players, and the first of these was a home tie against fellow NWCFL alumni Ashton Town, of the First Division North. They ran out 3-1 winners against their lower league opponents, with goals from Benjamin Elliott, Ben Hampson and Callum Jones being enough to outdo a Matthew Corness goal in added time for the visitors. In the second qualifying round, West, again at home, faced off against Nostell Miners Welfare, or Nostell NW, from the NCEL Division One. This game again saw Elliott on the scoresheet, as well as Lewis Boyd, and that was enough for them to run out 2-1 winners.
The home fixtures kept coming, and it would be a member of last season's NWCFL First Division North that ventured to Brookburn Road in the first round proper. Golcar United were put to the sword by an own goal in the 2nd minute, and a penalty from (who else?) Benjamin Elliott. It took until the 2nd round proper of the tournament for West to finally be given an away draw, and First Division North (again) side Bacup Borough would prove to be their toughest test yet. Ezekiel Eme and Liam Delaney both scored in a 2-2 draw, and, for the first time, West were taken to penalties. They needn't have fretted in hindsight, as they dismissed their opponents 4-1 in the shootout and advanced.
They would have faced off against fellow NWCFL Prem side Prestwich Heys in round 3, but Heys had fielded an ineligible player in their 2nd round win, and so were removed and replaced in the hat their opponents on the day. Those opponents just so happened to be Whitley Bay, also known as the most successful side in FA Vase history, with 4 tournament wins under their belt. Not that this would prove to be a significant problem for West, who, again the visitors, took the Seahorses to the limit in a 1-1 draw thanks to an equaliser from Curtis Miller with a minute of normal time remaining. A second consecutive 4-1 penalty shootout victory followed, and the 4th round was in sight.
Back at Brookburn Road, Rowely's men would comfortably defeat Horden Community welfare 2-0, thanks to goals from Darren McKnight and Joel Swift, and moved onto the 5th round, one shy of the quarter finals, where they took on Coventry Sphinx. The United Counties League side were the hosts for this one, but West, as they had done in all their away fixtures in this competition this season, fought to a hard-earned 1-1 draw featuring a goal from Thomas Westall, and won on penalties for the 3rd time in 4 Vase games. This time the score was only 3-1 in the shootout, but they all count – bring on the quarter-finals!
And the quarter-finals did really bring it on, with Ascot United arriving to Brookburn Road as the visitors. A fortunate Billy Matthews opener for West was cancelled out by an equaliser from Ascot's Brendan Matthew, and here we were at penalties, once again. This time, however, for the first time, the opposing side against West would score more than once. In fact, they scored 4 times, and that would be enough to see them secure a place in the semi-final, as West fell to a 4-3 defeat in front of over 1,300 fans. A phenomenal run, mind you, and one that Rowley and his players ought to be incredibly proud of. And, if nothing else, next season, they certainly won't have to start in the first qualifying round off the back of this stellar Vase venture.
West were 1 of 3 teams from the NWCFL that made it to the quarter final stage – who else did we have? How about a trip to North Manchester from South Manchester, and let's talk about Bury AFC.
Andy Welsh and his players romped to a title victory in last season's NWCFL First Division North league season, and whilst expecting the same in the Premier Division would be ambitious, it would be hard to say they weren't dreaming of a Wembley appearance, given the trajectory of their Vase campaign. They began their Vase venture 2 rounds ahead of West Dids, having done well for themselves in the tournament in 2021/22, and smashed Bishop Auckland 3-0 the week before Halloween, with goals from Niall Cummins, Connor Comber and Harry Brazel sealing their place in the hat for round 2.
They were drawn away in the 2nd round to Hallam, and I almost feel like I'm repeating myself here when I tell you that they fought to a 1-1 draw before emerging as 4-1 victors in the ensuing penalty shootout. In a similar vein to how West would get through their matches in the tournament, Connor Comber was again on hand to score as Bury AFC gutted their way to the 3rd round. This one would be a more routine win for the Shakers, as they faced Abbey Hey in a coincidental rematch of last seasons' 3rd round tie, which Abbey Hey convincingly won 4-1. This time, not so much – Niall Cummins and Jonathan Hunt got the goals in a 2-0 win for the hosts.
Fourth round time, and it would be another NWCFL team travelling to the Neuven, with Holker Old Boys travelling to the Neuven for the first time since Bury AFC's First Division North title win last season. After the initial date for the game, January 14th, was forced to change to January 17th due to a waterlogged pitch, Bury AFC would smash past their lower league opponents in a commanding 4-0 win that saw goals from Harry Brazel and Lewis Gilboy sandwich a goal each for the Vase-loving duo of Comber and Cummins.
More travelling was in order for the 5th round, as AFC made their way to Tring Atheltic, of the Spartan South Midlands League Premier Division, which is a mouthful. At the Grass Roots Stadium, goals from Benjamin Wharton and, ever in the mix, Niall Cummins either side of a Godlove Oppong consolation for the hosts, were enough to see the Shakers stride to being one game from the semis. In the way, however, would be Congleton Town – an all NWCFL Premier Division clash. Over 1,000 people were in attendance at the Cleric Stadium as the home side took the lead through Daniel Needham just after 10 minutes, but a Jonathan Hunt equaliser 4 minutes later set up a very tense 75 minutes of play before the game went to penalties. This would be the end of the road for AFC, as the Bears ran out 5-4 winners in the shootout to set up a meeting with current holders Newport Pagnell Town in the last 4.
Bury AFC really did themselves proud in this competition this season, and manager Andy Welsh was quoted after the quarter-final defeat as saying "it hurts, but that's cup football… …I thought it was an absolutely outstanding performance away from home, at a tough, tough place to come. It's a moment, and if we'd gone through and won it, it would've been a moment. We're still in an unbeleiveable position in the league, at the minute we want to continue that. We've had a superb season. I'd also like to say that the fans were great, the turnout was outstanding, and one thing I said when I first came to this football club is that I won't have a team who won't leave it all out on the pitch, and they ran themselves into the ground today." Plenty of positives for the Shakers to take into their late push for promotion, especially with their million games in hand that they still have.
So, Congleton Town then. What about them?
As the previous entry has spoiled ahead of time, the Bears are the sole remaining NWCFL representatives left in the FA Vase for 2022/23. This is not exactly unprecedented, as, in last season's competition, they did quite well for themselves, reaching the 4th round alongside the likes of Wythenshawe Town, AFC Liverpool and Abbey Hey, before they were shown the door after a 2-1 loss away at Whitchurch Alport. This season, the Bears have made themselves a real advert for cup competitions.
Before they even featured in the Vase this campaign, they'd already featured in 8 FA Cup games, including replays, before their exit in the 3rd Qualifying round to AFC Fylde in early October. By the time Coventry United came to CW12 for the 2nd round proper of the Vase, the Bears already had their claws sharpened, and were brushed aside in a 2-1 win that saw a Thomas Pope brace cancel out an earlier own goal. The 3rd round, however, would prove to be more than just a test. Again at home, Town went into half-time 3-2 to Midland League Prem side Lye Town. They flipped the game on its head in the second half, with an 85th minute strike from Ethan Hartshorn seeing them over the line.
The 4th round, where they fell last season, would prove to be much more of a walk in the park this time out, with another home tie against Pinchbeck United, of the United Counties league Premier Division, proving academic. Goals from Shakeel Jones-Griffiths, George Sankey, Ryan Read and Thomas Pope were enough to see the Knights put to the sword in a 4-0 drubbing. A much more tense 5th round tie saw the Bears finally play on the road in this competition, and they were forced to grind out a tense 1-0 win against AFC Wulfrunians. Daniel Needham's 23rd minute goal was the difference maker.
Up next would be the quarter-finals against Bury AFC, and we know how this one ended. In the semi-finals, Town will go toe to toe with Newport Pagnell Town, who not only made it to Wembley last year, but smashed past Littlehampton Town in a 3-0 win to lift the trophy. Looking ahead to such a monumental clash, Bears gaffer Richard Duffy said that "obviously, first thing is that it's a home draw, so we're delighted about that, but we do know we're up against the holders and probably the join-favourites, up there with Ascot (United)… …I think, when you get to a semi-final, it's only fair for it to be a two-legged game. But we knew that before the draw, it was what it was… …without the fans it does become even tougher. Both sets of fans put a show on (against Bury), and there's no doubt we'll fill the park out with our fans, we know they'll get right behind us from the start, and hopefully we can give them something to shout about, because they deserve it."
That's praise from both managers about the atmosphere for last Saturday's game between the Bears and Bury AFC, and, ultimately, that's a fundamental part of these competitions. Fans at this level of non-league are devoted, they're there week in and week out, and for their club to win the FA Vase, at Wembley no less, is such a huge boost for all involved. And, as a NWCFL fan myself, I don't think it's too scandalous to say commiserations to West Didsbury and Chorlton, and to Bury AFC. And, COME ON, CONGLETON TOWN!