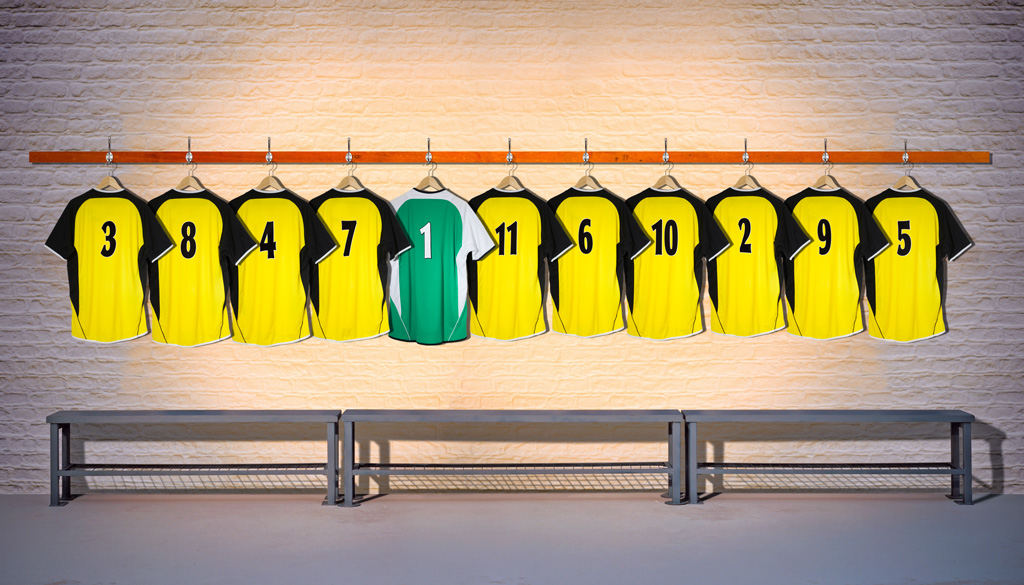 Player of the Month Awards announced for February
Tue 8th March 2022 | League Awards
By Alex Thrower
Remarkable performances across the NWCFL made the choosing of February's Player of the Month awards difficult, but the three eventual winners are more than deserving of this recognition.
The year's shortest month did little to stop these players making the most of every minute on the pitch; in the Premier, Deane Smalley (Wythenshawe Town), in the First Division North, Abimbola Obasoto (Bury AFC), and in the First Division South, Paul Taylor (Sandbach United).
Premier Division
Wythenshawe Town striker-turned-centre-back Deane Smalley has had a quite astounding month. Signed originally as a striker, a string of injuries saw him drop into defence, where he has excelled in helping his side to sit 3rd in the League and reach the Quarter-Finals of the FA Vase. His nomination read:
It has been a remarkable month for Deane Smalley and in the three matches played he has been voted Man-of-the-Match for all three, the vital league match against Skelmersdale United, the FA Vase Tie against Anstey Nomads and the other important fixture against Avro. He has made the central defender's spot his own and there's no doubt, he is one of the best pivots in the league. Deane had a long Football League experience before coming to non-League and in 257 professional matches scoring 39 goals his clubs included Oldham Athletic, Chesterfield, Oxford United, Plymouth Argyle and Chester and this experience has been notable on the way it has influenced the younger players at the club. He hasn't lost his goal touch though and his strikes have been the main reason for Wythenshawe Town's progress in the FA Vase with goals against Litherland, a brace against Billingham Synthonia and the equaliser against Anstey Nomads that took the club to a penalty shoot-out and victory. In recent games he has taken over the captain's role and his leadership qualities have been clear for all to see. If Wythenshawe Town do fulfil their ambition of promotion and victory in the FA Vase, no-one will have contributed more to their efforts than Deane Smalley.
First Division North
Bury AFC's talented left-winger Abimbola Obasoto turned in three man-of-the-match performances in as many games in February, as his continued their charge at tthe top of the First Division North. His nomination read:
Fan favourite Abimbola Obasoto has collected the player of the match award from all three of Bury AFC's opponents in a weather-restricted February, assisting with both goals in the opening match and scoring a goal in the final game of the month. A new signing for this season, Abs has demonstrated consistency throughout. A very talented, tricky winger, he has impressed supporters and opposition alike with his explosive pace. In what is Abimbola's first season in open aged senior football, his stats so far are impressive; played 29, scored 12 goals, made 11 assists and picked up seven Man of the Match awards.
First Division South
Paul Taylor has proved something of an assist machine this February, setting up four goals despite Sandbach United's poor run of form. His nomination read:
Taylor has played 3 games in February whilst carrying an injury and playing out of his natural position, yet still obtained two MOM awards. In the first game against Ellesmere, he commanded the midfield as a number 8 controlling the play and assisted in two of the four goals and was unlucky not to score twice himself save some exceptional goalkeeping (Who incidentally was the opposition MOM) that denied him 2 goals on top of the two assists. Taylor played the game with an historical foot injury yet still dazzled with silky control skills and demonstrated his prowess around the edge of the box with some stinging crosses. In his second game against Maine Road, Paul again played with injury and once again dominated the play in the second and final third assisting in a through ball to Barton to win a penalty. With Taylor on the pitch, it looked like a Sandbach win was destined but that changed when he was substituted with the injury late on which changed the game. In his third game Taylor was again close to being MOM and was instrumental in the awarding of a penalty with his direct and accurate pass through to Fitzpatrick causing the defence to bring him down in the box. Taylor again playing out of his usual position glided around the pitch his experience showing in the way he looked up and provided telling passes although let down by others having a poor performance on the day.
Congratulations again to all three winners on their impressive achievements across February.