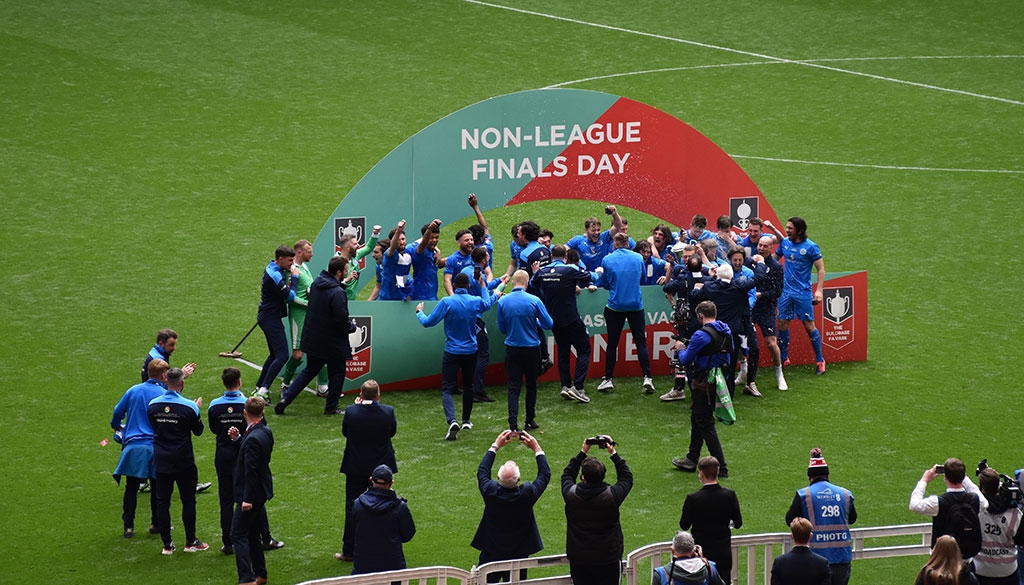 Warrington Rylands Lift The FA Vase
Sat 22nd May 2021 | Buildbase FA Vase
By Martin Fallon
An Elliott Nevitt hat-trick helped Warrington Rylands win the Buildbase FA Vase goal after a 3-2 win over Binfield.
Nevitt put Rylands ahead with a shot on 25 minutes that bounced past keeper Chris Grace, with Liam Ferdinand heading an equaliser on 42 minutes for Binfield.
However it was 2-1 at the break after Charlie Doyle was brought down in the area, with Elliott slotting the penalty into the bottom corner.
On 57 minutes it was 3-1 with Nevitt grabbing his third after a superb corner from Joe Coveney on the left.
Ferdinand reduced the arrears on 67 minutes with a lovely finish from the edge of the box that found the bottom corner.
However it was Warrington Rylands day and after six minutes of stoppage time, referee John Busby blew the whistle to give Dave McNabb's side their most famous win.