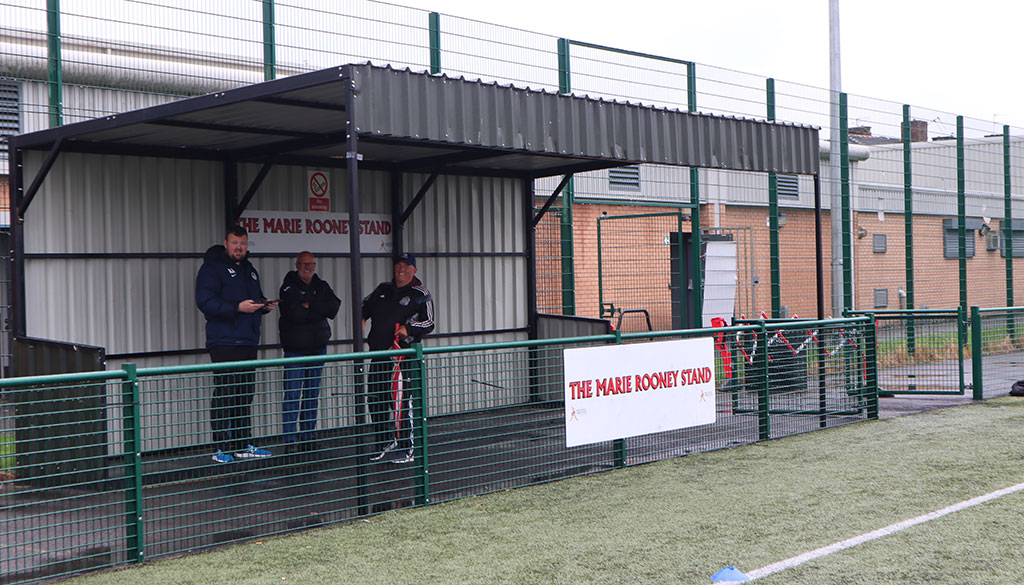 Lower Breck looking to progress on all fronts
Thu 22nd April 2021 | Lower Breck
By Gary Langley
With many clubs around the Country starting to play football again, albeit behind closed doors or on open facilities watched by 75 dog walkers, there is a general feeling that Non-League football is slowly starting to get back up to speed. A number of clubs have started to prepare for the summer, many are already signing players on, and of course there are a number witing on the outcome of a proposed FA restructure.
We have spoken to a number of clubs over the last few weeks who fit many of those brackets and we have also spoken today to Gary Moore, Manager and the man who has made things happen at Lower Breck Football Club. The club started in the Grassroots leagues in Liverpool and then burst into the North West Counties League Division One a few years ago and have missed out on promotion a couple of times during the pandemic through no fault of their own. Circumstances around the world have just been against them. However, there is a slight air of optimism at the club and we have asked Gary about how the club handled lockdown and what the future holds for Lower Breck.
We started by asking how lockdown has been for Gary himself?
Lockdown wasn't ideal to be honest, I don't think it was for most people and like many I have had people who I care about at risk and it has been difficult to bring out that self restraint not to go around to relatives to see how they were. At the time that lockdown came in, my dad had not been too well and we were all concerned about the impact of the pandemic.
Work-wise, I work nights in the week and then do DJ work of a weekend so all of that dried up which in-turn meant it was a struggle to get bills paid. We were like many others who have had the same problems though. We have got through so far, just before the pandemic I had bought my own house and that has been my lockdown project by way of completing a loft conversion. My wife works on a farm as well so we have a horse, named Marbreck Ruben, so that has been our release from the pressures and restraints of lockdown. When the weather is nice you can get out and at least appreciate the small things and our health and well-being is our own and we need to look after it.
What about the club, how did lockdown treat Lower Breck FC?
In all fairness we are pretty much self-contained and there was nothing much to do. Like every club we have Whatsapp groups ranging from no-holds barred versions with the players to more business-like ones with the coaching staff, so we were all able to stay in contact. We didn't set online training classes or zoom yoga or anything like that, we let the players have a rest within reason. We had the short window towards the end of 2020 where we were able to get a few games in but you could see the writing on the wall for that at the time. The Pandemic had come back with a bang..
There was a phase where I didn't go to the club for three months, there was no point as there was nothing we could do and the venue management took care of any security or maintenance issues.
Now football is slowly coming back on the agenda, how are Lower Breck returning? Are you coming back with a full-hit match programme or are you easing back in?
We had an open mind about it, we had a few irons in the fire by way of a couple of friendly options and a tournament that didn't quite get over the line and when we sat back and looked at what we needed we were quite realistic. Our main aim was to get the group back together and get some game time, we could do that in different ways. We are, and have always been big supporters of local Sunday League and Step 7 football and we have no problem with the lads playing in that, which most of them have been able to do since things started moving again.
As a club, that's us done playing until June, we will come back in the summer ready to train and prepare for whatever Step we end up in and get ready for a strong pre-season in July and hopefully a full season after that.
Lower Breck this week announced that further positive talks had taken place between the club, the Liverpool County FA and the Football Foundation regarding the facility at Anfield Sports. What's the plan with that?
Yeah we have a very positive meeting with Daniel Green who is the new head of the Liverpool County FA and Tony Smith who is the Development Officer at the County FA where we were all able to talk about the aims of the facility at Anfield Sports Community Centre and the aims of Lower Breck Football Club. We are big supporters of this facility, there aren't many like this in the whole city, let alone L4/L6 which is the historic spiritual home of Grassroots football for many in the area.
We sat down and looked at the potential space in and around the facility and discussed what options there are for progressing and developing the facility. We are an ambitious club and are not ashamed of aiming for Step 5 or Step 4 football but obviously the higher we go, we need the facility to match. We are Lower Breck football Club and playing in the Lower Breck area is massive to us. It is great that Daniel, who is a former Football Foundation man himself, the Football Foundation and Tony Smith are all under the same banner and have the interests of the community at heart.
Will the club be taking up any invitation to apply for promotion if offered?
Certainly will! I could leave that like that as it sums up our aims but to be fair, when it was announced that the FA were going ahead with their re-organisation and the proposed methods to do so it was a massive boost for everyone at the club including the Coaches, players and fans alike. We started off well in the North West Counties but came so close to promotion a couple of times, only to be denied by a Global Pandemic.
We were one of a number of clubs who were caught out and whilst there is a bigger picture about the human toll and impact of the pandemic, in football terms we were disappointed that the work and efforts of everyone did not count. We are hopeful that this re-org will acknowledge the work put in by a number of progressive football clubs and of course, help the FA with its own overall pyramid objectives too!
If you were to go up, would Lower Breck challenge at Step 5?
Yes, I strongly believe we would. We have retained a large part of the squad that we were hoping to and of course we will tweak a few things here and there, we have 4-5 players who have win the Step 5 division before so they know how it's done. We would do that irrespective of what division we are in but we will be setting up a very competitive squad for the new season and we will be setting up to challenge at the right end of the table.
Last but not least, can you see a full season taking place for 21-22?
I am confident but I have also stopped watching the news on TV! All clubs will have issues behind the scenes about getting games on, getting players in and so on but should another wave hit and make a significant impact it should be a complete stop. It's difficult having a number of clubs who have the resources and facilities to play on no matter what when there are many who rely on their facility to generate income and community access. Fans want to watch and support their team, this has been demonstrated at the very top of the game only this week.
Will we get a full season in? That's the million dollar question….. I'm quietly confident.