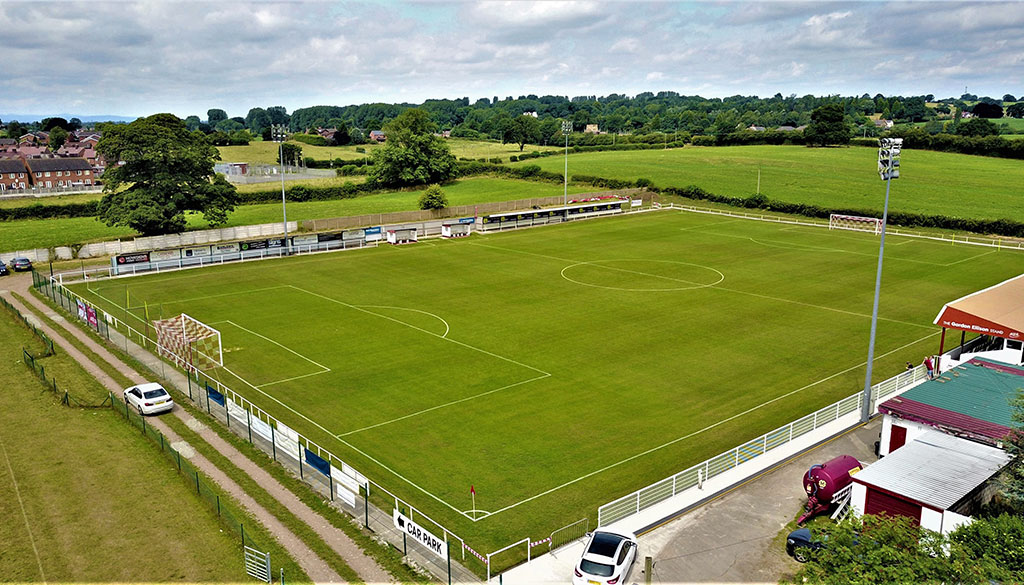 Goddard opens up about potential lateral movement at the end of the season
Tue 28th January 2020 | Whitchurch Alport
By Craig Kendall
With the second phase of The FA Non-League re-structure just five or so months away, we caught up with the most southerly Premier Division club in the NWCFL, Whitchurch Alport, and discussed the season so far with their transition and also the possibility of a lateral move come May.
Luke Goddard started the 2019/20 season off as manager at Whitchurch but decided in December to go "upstairs" and take the role as Chairman at Yockings Park and with the club sitting in 9th position, Goddard is relatively pleased, "Realistically we're fine with probably eighth or maybe seventh, with the likes of Bootle and Northwich Vics in the League but we're a long way off after such a good start. We've gone through a lot of change from the club's point of view. A lot of changes that have tested the club and I think we're coming out of that in the right way.
"It's got to be realistic. Our idea was to try and get promoted in those three spots this year. We started very well in August and September but I probably made a mistake myself in terms of stepping down when I did, when we were third or fourth in the League. I suppose back then it was the right thing, so I could concentrate on the million tasks that I do each day.
"It had a knock-on effect. Our chairman stepped down. We've found ourselves a Chairman now so we've gone through a lot of change and, naturally, at first it took its toll. We haven't hit the ground running as we wanted. We've only won one game in twelve or thirteen so we're in the bottom two of the in-form teams at the moment.
"We've got to work on but, if we can get up a little bit of momentum, the top eight would be our aim and that's an improvement. It's still a good season from where we finished last year, in our first year when we finished fourteenth."
However, it hasn't all been smooth sailing with results on the field dropping, "It's not gone as to how we'd planned, which is a little disappointing for the season, even batting so-so. We've still got a lot of improvement to be made in terms of performance and consistency because we know, on paper, we've got one of the better squads in the division. We currently haven't got the winning mentality that we had at the start of the season. Currently, we're in the top two losers, as such!
"We've got a reputation from home games, where we're always fairly competitive, apart from a couple of games a few weeks back against Charnock and Runcorn. Against Longridge we put on a good one, then Bootle yesterday but we seem to be in those top two losers! We're a nice team but, sadly, those nice teams are not always the teams that go on and win."
Goddard is delighted and very proud with his sides attendances this season, and boast the second-highest average in the league, "Yes. We only had two Saturday games from August to January so, to have two Saturday home games in the League and to still get those sorts of numbers is fantastic. On a Monday night, you're not going to get as many, unless it's a team that's coming down here with some fans, like those 74 who came down.
"For us to have an average of 240 with two Saturday games early on in the season, especially when the weather's still good, we're very proud. I said it to a lot of the people yesterday, watching the game: for us to be a seventh-placed team recently promoted from the First Division against some well-established clubs in this League – like Bootle, Congleton, Ashton, Vics – and to be competing with attendances that high gives us scope to start with and even more to try to build on that attendance. It's important to us.
"It's about winning games but we are very much a family community club and I like to think that probably 15% of the fans that come to watch us on a Saturday probably don't even like football but they've come up because there aren't that many things to do in town. They come up on a Saturday to have a drink and see family. It's something important to everyone."
With the lateral movements only a matter of months away, Goddard is concerned, "It's not ideal. We decided to come into the North West Counties and we've built our reputation in the last four and a bit years. We've built a lot of things off the field based on the League that we are in, from recruitment to many things.
"For me, it's the unknown. I always think it's always something you don't find out until late and we're going to be putting foundations in place already now, for next season. When you don't know what division you're in, it will be a massive amount of shifting to do.
"I hope they move forward and we gain that clarity because, if we do get moved, there's a lot of question marks to be answered in terms of personnel involved. I couldn't see myself having to travel to the Midlands every other Saturday.
"There would be a terrific knock-on, as we would have to change our whole recruitment with players because a lot of our players come from this way. We'd maybe have to start looking towards the Midlands for players so, for the person in charge of the team, it's going to affect them from their location as well. It's not ideal but I guess the FA won't let us have a say in it.
"When I took over here, all my contacts came from the North West and from Crewe and Stoke way. To venture into the Midlands, there are going to be a lot of different constraints. Financially, I'll be travelling a lot further. Our furthest game at this moment in time is like likes of Barnoldswick and Padiham so you're looking at a couple of hours, maximum. If you look at the forecast for that Midlands League, it's not going to be ideal.
"The club is the most important thing and, if we get side-shifted, we shall have to have some big meetings and plan for that. I don't think it will change our outlook. I don't think the home fans will be too interested in what the FA does. It might affect the travel intensity for most games in this division. Whether the supporters would start travelling or to travel in the opposite direction, I'm not so sure but our home attendance certainly won't be affected, which is convenient for the club's finances."
Whitchurch's next game is on Saturday when they face an away trip to Congleton Town in the NWCFL Premier Division.
A big thank you to Luke for the interview, and to Ellie Dalglish for her transcribing skills.