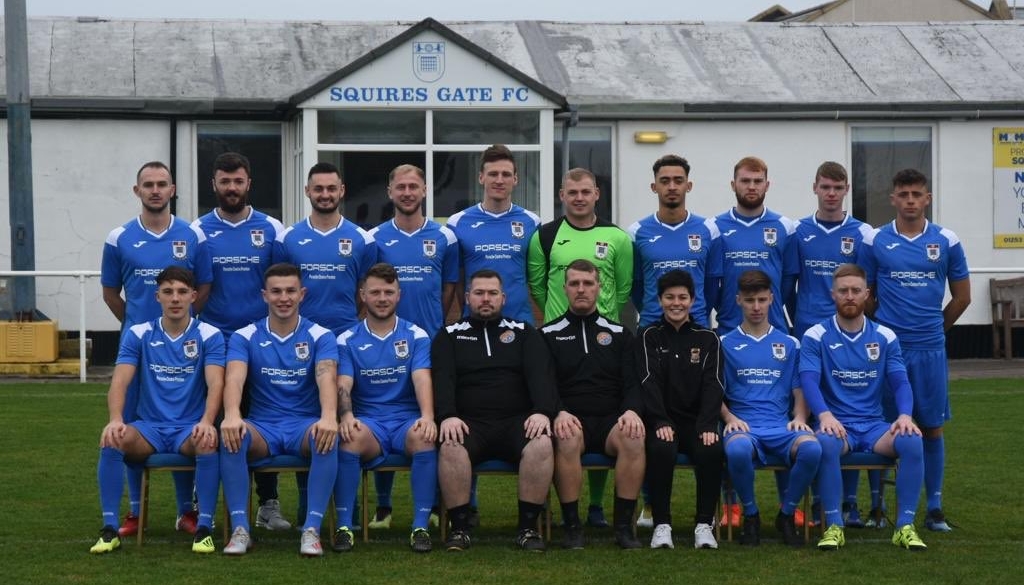 Luke Evans evaluates his first 110 days in charge at Squires Gate
Tue 14th January 2020 | Squires Gate
By Craig Kendall
Languishing at the wrong end of the NWCFL Premier Division table when he took over back in September, Luke Evans took over as manager of Squires Gate knowing that is would be an uphill task - but he is relishing in it.
Just one win in his opening nine games in charge at School Road, but fortunes have turned for the Manchester United Academy Scout, "I think we had a settling in period, which took a few games in order to get across what we were looking for from the players. Since then, we've been really happy with the response that we've had. We've shown that we've been positive with the performances and the results we've had recently.
"It's always difficult to come into a new club and trying to combine training with back to back games; some midweek games as well. There was always going to be a transition period to get what we wanted over to the lads. Certain things have just clicked into place and we've found some things that have worked for us as a team. The simple things - hard work and dedication - from the lads have come to fruition a little bit."
Currently 12th in the standings, Evans is confident at putting a decent run together towards the back end of the campaign, "A fantastic season for us would be finishing in the top six from where we took over. That's what we're going to be pushing towards, now that we feel we've established ourselves as a midtable club. We'll be looking upwards and building the foundations now to push on next season."
And on next season, "That's what we're building towards now [promotion]. We're laying the foundations in order to try to compete for promotion next season."
Undefeated in December was no mean feat which saw his side just miss out on the club of the month award., "It was a fantastic month for us. The only points we actually dropped were away at Skem, where we were 3-0 up at half-time then drew 3-3. It was a great month but, when Friday came about [during their 7-3 defeat to Bootle], we worked very hard but just didn't quite get the luck in front of goal. Bootle were very, very clinical in front of goal. I felt like it was a game where there were about ten chances each and they took theirs a lot more clinically than we took ours."
Success on the pitch, usually reflects in higher attendances and Evans is eying up improving their attendances, "The club's working really hard off the pitch in order to make the matchday experience at Squires Gate a lot better than it has been in previous seasons. We're hoping we can not only reach the attendances we had previously but also eclipse that and push on. That helps with having good results on the pitch but also having something to do and something to take part in when they come to the club.
"I definitely go out to try to win every single game and I just believe in three points being so valuable. At times I would rather, over a five-game period, win three and lose two than draw five.
"I think the League's great with everybody having their eye on promotion but also, as we've seen all season pretty much, evidently in the last few weeks teams at the bottom are beating teams at the top on a regular basis. We've seen Longridge go to Padiham and get beaten. We've seen Litherland beat Bootle and we've beaten Northwich Victoria home and away. It's the same with Congleton so anybody can beat anybody.
"It's just a really exciting League but it keeps you on your toes and you've got to work hard every weekend. There are no easy games in the League."
Leading scorer James Boyd has netted on 14 different occasions this season from 26 starts and Evans had nothing but praise for the striker, "Boydy has been absolutely fantastic since I walked through the door. We've found a position that he feels comfortable in and we feel like he's one of our biggest threats on a week to week basis. He's scoring crucial goals for us at crucial times and, this last month, he's been absolutely fantastic. To score seven goals in five games is absolutely brilliant for him."
With other non-league clubs on their doorstep, Evans has found recruitment difficult, "What I've had to focus on since coming to the club is casting my net a little further afield. We have players who come from Burnley, Bolton, Manchester and Preston and they're coming over to play for us. That's because, as you say, there's only a certain amount of players in the local area and they're spread across a number of clubs, both in this League and also in the lower amateur leagues. It's very hard to compete with just a certain amount of players.
"It's really important to build your network by getting out and watching other games and casting your net a little bit further to try and bring players in from further afield."
Evans day job is working as a scout for Manchester United's Academy and it has a positive influence on his own management style, "I work in a scouting capacity with the Academy at Manchester United. When going out and watching teams and watching players on a weekly basis, it helps to compile oppositions' tactics and formations a lot easier. It's something I'm used yo doing on a daily basis.
"Watching a player in a session, whether he may or may not be good enough to come here and help us out, is something that's obviously going to help because it's something that I'm doing every day."
Chairman Tony Jo is pleased with the progress that Evans has made so far, "Luke has proved to be everything that I hoped he would be. He has superb man-management skills and has created a great spirit at the club.
"His involvement at the club at every level has created a new enthusiasm amongst the player's fans and the committee and myself are delighted with his contribution both on and off the field!"
Squires Gate next game is on Saturday 18th January 2020 in the NWCFL Premier Division against Whitchurch Alport.