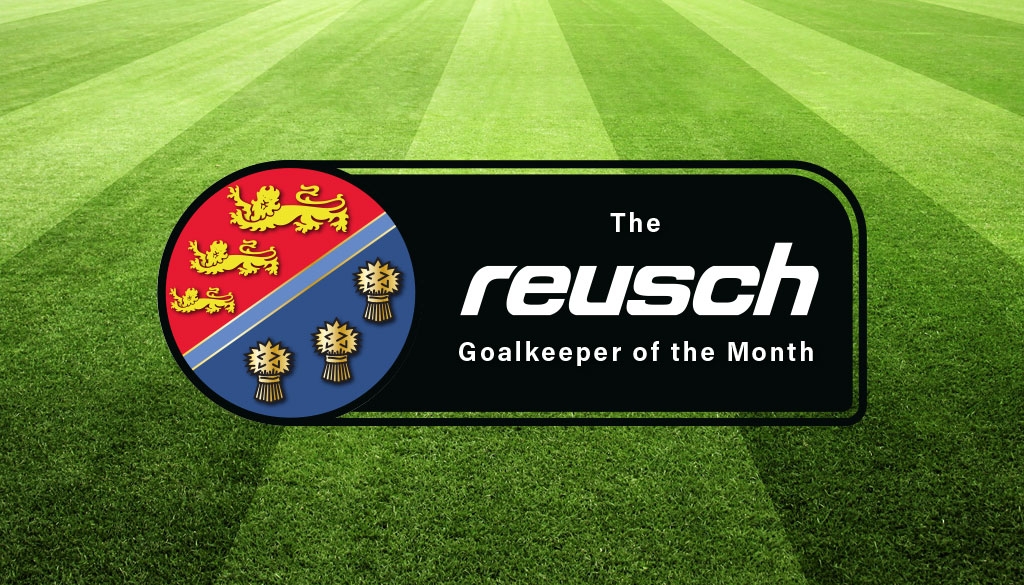 October's Reusch Goalkeeper of the Month Awards Announced
Thu 7th November 2019 | League Awards
By Craig Kendall
The Reusch Goalkeeper of the Month Awards have been confirmed by League Awards Co-Ordinator, Peter Stokes and we are delighted to announce the winners for October 2019.
Macron Club of the Month was announced on Thursday morning and here is a reminder:

PREMIER DIVISION - 1874 NORTHWICH
DIVISION ONE NORTH - AFC LIVERPOOL

DIVISION ONE SOUTH - VAUXHALL MOTORS

Reusch Goalkeeper of the Month for NWCFL Premier Division
Nosakhare Aghayere of 1874 Northwich

Games Played: 6

Man of the Match: 0

Clean Sheets: 1

Conceded: 6

Reason for Nomination: "We are truly delighted to nominate Tony Aghayere. What a player, what an influence he has had! Tony played in all six games during October, saving some big headlines for the final game of the month. The first game saw 1874 dominate at Avro and it took a last-minute bullet header, from a free-kick to beat our custodian.
"In the second game of the month, against Cheshire rivals Congleton, Tony spent the game mostly collecting balls in the area and making good, routine saves to keep the Bears at bay. Their goal, which was another that Tony couldn't do much about, came from a clearance downfield which caught the 74 defenders flat-footed. The ball was quickly played into the box and was scooped into the net as Tony tried to charge forward to collect. Our third game was at Squires Gate and Tony kept his first clean sheet of the month. It was an excellent first half from the Greens, who completely dominated the 45 minutes to race into a four-goal lead however Gate made some substitutions and made life slightly more uncomfortable in the second period.
"Whilst Tony was largely not needed in the first half, he had to be on his toes in the second as they posed more threat. Again, good handling and from our number one. Next up was a home game against Hanley Town, who had hit a bit of form in the League. Tony did everything expected of him and helped to keep a very good two-goal lead until the final minute. The ball was played upfield into the 74 half and in attempting to clear it, the defender completely missed kicking the ball and slipped, leaving two Hanley attackers to pounce and move it forward. With all 74 players left behind, the forward slipped it passed Tony, who had tried to narrow the angle but couldn't keep out a very good finish.
"1874 travelled to Cheadle to start the defence of the Macron Cup and a very professional display against a spirited opponent, saw them win well. Again, it took a very good finish to beat Tony. It was in the final game of the month where Tony made some fantastic headlines! 1874 met higher-ranked Witton Albion in the Cheshire Senior Cup derby away from home and in truth, 74 had to work and defend hard in the first half. A superb strike after 10 minutes saw the hosts take the lead, and a simple tap from an attacker left alone in the box, giving Tony no chance, saw the Bet Victor side take a two-goal advantage into half time. However, 74 came out all guns blazing in the second half and were terrific.
"The team played some fantastic football and with Tony's immense presence at the back, the Greens brought themselves back in the game with a late equaliser to take the tie to penalties. This is where Big T came into his own. He saved Witton's third and fifth penalties to help make it into a nervy, sudden-death situation. After 74 converted their seventh penalty, Tony stepped into the goal and pulled off a fantastic save to win the match. And was subsequently mobbed by his teammates in the ensuing celebration! Tony later said that it was an amazing moment, not only to win a game but because it meant so much to everyone. Tony is a young, calm keeper, big in stature and heart. He is a real favourite at the club and has earned the respect of many. He has developed a great understanding with his teammates and has played a big part in the decent season so far for the team.
"The finger can't be pointed towards him for the goals that the team have conceded. He is a worthy nominee for the award, and we believe he deserves the accolade."
Reusch Goalkeeper of the Month for NWCFL First Division North
George Clarke of Emley AFCGames
Played
: 6
Man of the Match
: 0
Clean
Sheets
: 1
Conceded
: 6
Reason for Nomination:
"Our nomination for Goalkeeper of the Month is George Clarke Emley AFC are unbeaten in October with five wins and a draw. This has seen progress in the
Playermatch.com
Cup, Macron Cup and moved Emley up to second in the Division One North table. George Clarke has been crucial in that successful month – including picking up a MOTM. He has played in every game since the start of the season and is developing all the time.
"Many supporters – Emley or otherwise – struggle to accept he is just 19 years old. Goalkeepers traditionally reach their prime later than outfield players. He is still learning and progressing but his rise has been exceptional. Although we are second in the league, some games have been far from comfortable wins and often we can reflect on a 'worldie' save from George that has saved us from dropping point. Our 2-2 draw with Bacup is an excellent example. A tough game on a poor surface meant our usual free-flowing football was stuttering. At 2-1 down, it looked to be nailed on that the Bacup striker would finish into an empty net. With a cross from the byline, with George covering his near post, he managed to recover across his goal line and save one-handed a well-placed and strong shot. It was amazing but not untypical.
"Off the field, a more mature 19 years old you're unlikely to meet. He is quick to recognise any errors he makes – there are few, but they hurt him. He always thanks supporters for their encouragement both in person and on social media. After home games, George returns from the post-match debrief and always has a kick about or penalty shoot out with the young Emley supporters (the Emley Ultras!). They love it and they love him for it. Touches like that are as important as his performances."
Reusch Goalkeeper of the Month for NWCFL First Division South
Callum Jakovlevs of Wythenshawe Town

Games Played: 4

Man of the Match: 0

Clean Sheets: 3

Conceded: 1

Reason for Nomination: "Callum has long been recognised as one of the top goalkeepers at this level and it was thanks to his outstanding performances that Wythenshawe Town has been able to continue their challenge for promotion.
"He rose to the heights in the first half of the League Game against New Mills when the first period saw the home side in almost continuous pressure with seemingly only the custodian stopping the visitors taking an unassailable lead. As it was the teams went into the break with a two-goal lead for the hosts and the Millers somehow unable to find the back of the net.
"There were also notable performances against Curzon Ashton and Nostell Miners Welfare when Callum kept the hosts out, allowing his club to register two notable victories."
A big thank you too for all the nominations the League received.