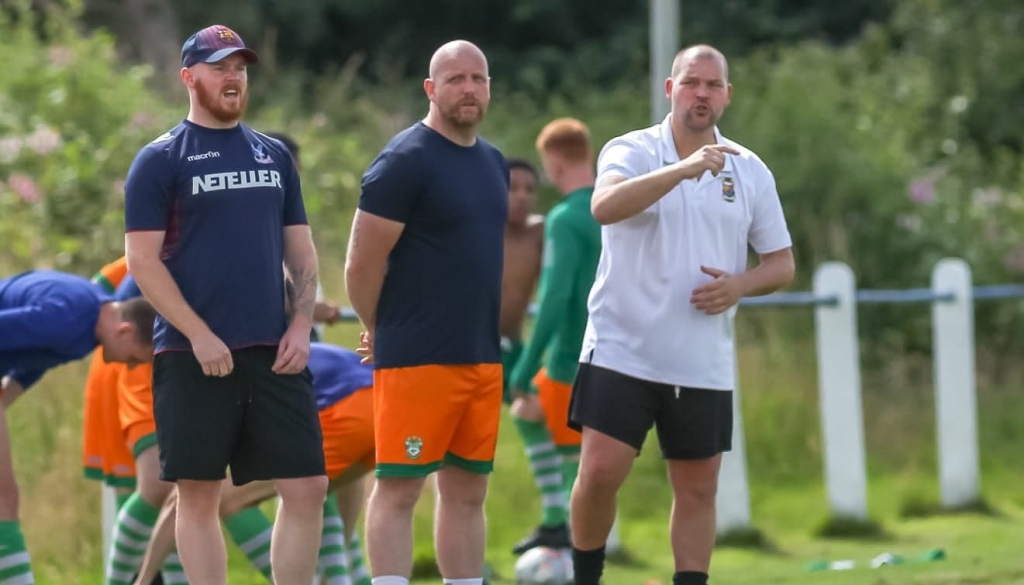 Matthews having to completely rebuild squad
Tue 30th July 2019 | Burscough
By Craig Kendall
43-year-old Nick Matthews was only appointed manager of Burscough around four weeks ago and is has had to completely rebuild his squad ahead of the impending season.
"The first and foremost was retention of the players, to see how many were willing to stay but a lot of the big players", Matthews said. "Terry Cummings, Chad Whyte, Danny Brady, Luke Gibson – had already agreed and left to go to other sides. We were seeing who were willing to stay and it turned out to be two lads: Will Doherty and Peter Henerty.
"We agreed to join the club on a Thursday night and the first training session was the following Tuesday so it was a case of getting on the phone and getting as many lads down as possible with abilities of all kinds and ages. We managed to get about twenty-seven lads for the first training session so it wasn't too bad.
"It's definitely a totally new rebuild of the side. We had two players retained from last season. I've been around the North West Counties for the last eight seasons anyway so it was a case of picking up lads that I know from other clubs that I've worked with before, like St. Helens or Widnes. I knew the style of them and we'd continue from there."
A 12th place finish last season for the club seems to have stopped the slippery slope the club was on after reaching the National League North in 2007, but since then they have slowly dropped down the pyramid, ending up in the NWCFL Premier Division for the last two seasons, "I try to get to as many games as I can in the North West Counties. Every team wants to finish up the table as high up as possible but I think, over the season, Burscough used three different managers. They had Kenny Greenhall, then Dave Sutton stepped in and finally Terry Green so twelfth's probably a fair position in the end.
"Different managers have different ideas and, at this level, players seem to follow managers to their different clubs. We'd definitely like to finish a lot higher than that this season.
"At the start of the season I think every single club in the League would like to say yes, we want to be in the top three but, realistically, you've got to look at some of the clubs like Bootle, missing out by only point last season after having a fantastic end of season; I think it was 21 or 22 wins on the bounce. Northwich Vics had a great cup run in the FA Vase so I should imagine they'll have a decent budget. Rylands seem to be pushing; they've made some really, really good signings.
"Top three, I'd like to say yes but I am a realist. We're going to try! We're going to give it our all. We're not going to say we'll happily finish in the top ten because that's not what we're here to do. We want to try and progress the club as far as we can but the initial primary is getting a young group of players whom we can grow as a team and as a club to continue it, instead of it being a revolving door, which it has been over the last couple of years. Players come in and leave, then others come in… We want to try and build a squad that can stay together."
With a rich history in the Emirates FA Cup, Matthews is hopeful they can recreate some of their past runs, "It's everyone's dream. I've got half a squad here that unfortunately, has never even played in the FA Cup. I've managed in the FA Cup before; it's great, it's the glamour.
"My friend's just taken the Assistant Manager's job at AFC Liverpool: Matt Potter. I worked with Matt towards the end of last season. I had a little break from football and had a few things going on with the family but I helped Matt out.
"It will be good to have a cup run but our priority is, if I'm brutally honest, is if we can get promoted, then get promoted but it is what it is. Every team will have the same ambitions but a cup run's nice. A nice couple of away journeys but then if you a get a glamour tie at home, we can get our attendance up and that would be great for the club as well."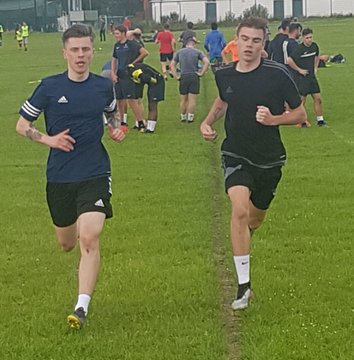 Above: Matthews putting his players through their paces during training.
Matthew's then discussed his previous roles, "My first taste of North West Counties football was Assistant Manager to Phil Greasley eight years ago at Atherton LR. I then joined St. Helens Town. The season that I managed St. Helens Town was the highest league position they've finished in fifteen or sixteen years and finished one point outside the play-offs. We got beaten by Hanley Town in the last game of the season. We needed to get a win or a draw to get into the play-offs and Hanley needed a win to win the League. They beat us 2-0 on the day: two free-kicks by Theo Stair.
"After that, I was approached by Joey Dunn to go in as part of his backroom staff at Widnes, which I ended up agreeing to. We were lucky enough to win the North West Counties First Division and went through then into the North West Counties Premier. Joey left and I did stay under Steve Akrigg and Towey but I was given a chance to come and do a bit of coaching at Burscough prior. I then left the club but I've been given the opportunity here.
"It's a long-term plan and we have the chance of moving to a new stadium and being able to build with the team. We've signed a couple of top young players, who have been at Chorley and Chester so, with some good help from them, we want to progress as a club."
Lastly, Matthews touched on pre-season, "It's gone well. The lads have played well. We are on the lookout for bringing in a couple of more experienced lads. When we've played a couple of the North West Counties sides, they'd got the experienced lads so we need to work a game out. All little things, like a kick out for a throw-in. I always say we can't score from the car park if you've kicked it out there! There will be a couple of new signings hopefully this week, which we're trying to get over the line."
Burscough kick-off their Premier Division campaign this Saturday when they face Winsford United at Victoria Park, with a 3:00 pm kick-off.