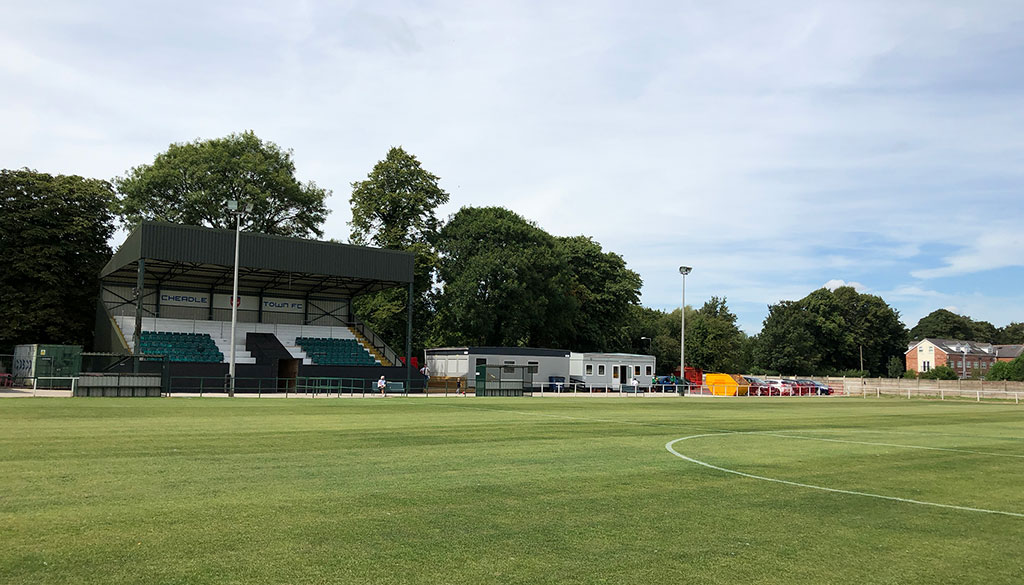 Griffiths sights firmly set on promotion
Sun 21st July 2019 | Cheadle Town
By Craig Kendall
In his first-ever interview since taking over the reins in November 2018, Will Griffiths has been open and honest about Cheadle Town's exploits since he took over - and the future.
Finishing 16th position in the North West Counties First Division South last season, Griffiths was not too happy about their points tally, "Not really, no.  There are a lot of circumstances surrounding that.  From going in in November until the end of the season, I think nineteen or twenty players left or we got rid of.  It was simply down to the standards we'd brought when we came in.  One of the things that we'd noticed when we came into the club was the standards needed to change.  The culture wasn't correct for us as coaches.  We changed the diameter of that, really.
"That didn't help.  We had a lot of young lads who came in with not very much experience in the League.  I'm all about giving youngsters a chance.  It's the only way they're going to get experience, by getting them in there.  It wasn't that we intended on teaching.  Unfortunately, it was just the circumstances surrounding everything that that was where we did end up.
"For the club, I think it's going to be a huge season.  It's going to be the same for everyone with four going up.  I'd be very surprised if anyone in the League wasn't aiming for one of those spots.  That's our aim: simply to get promotion this season, minimum.  Being completely honest, the Chairman wants us to win the League.  We want to win the League this season but the minimum is to get a promotion spot."
If the club did reach the dizzy heights of the top four, then that would be the best ever finish for the club, "I believe so!  It keeps getting brought up.  I try to stay away from these matters.  They're not quite the sort of things that interest me.  We live in the moment right now, we've got a job to do and our focus is to get this season nailed and hit our targets that we've been set, set ourselves or what the Chairman's set us.  I believe we've never finished above the top five or six.
"No pressure at all!  [Laughs.]  It seems to always fall on me, this kind of stuff.  But no pressure at all.  It's football.  This is the kind of environment that we work in.  These are probably the expectations that are on most people.
"It's not just for Cheadle Town; these expectations will be on a lot of managers.  This season the top four go up.  These pressures are going to be on every single manager and I think if you come into football and expect not to be under these kinds of pressures then you're very much mistaken and you're in the wrong business because that's what football's about.  There's  a lot of pressure in it.  It's not always a bed of roses."
With just one win in the FA Vase in the last five seasons, Griffiths is eyeing up a run in the cup, "The Vase is definitely something we want to try to have a good run in - and I'm echoing something that a lot of people have said- simply because it's a good financial stream for us.  It's good to try and get some money into the club.  We're not paying massive amounts.  We've not got all the money in the world that some of the other teams have got so things like that are important to us because it's a chance for us to try and get money in to help us fund our ambitions."
With less than two weeks until the start of the season, preparations are looking good, "It's looking really well.  One of the things we set out for preseason was that we're not going to play teams that we think we'll beat.  The squad that we have is a completely brand new squad.  It's a load of new players but I think we've retained four from last season.
"We've brought in a lot of experience, a lot of quality but, more than anything, one thing we focused on was we weren't just looking for footballers, we were looking for good people.  We can have the best players in the world but if they're not good in the changing room, if the environment isn't correct or they're not creating the correct environment, they're not for us.  We've gone through with a fine-toothed comb and brought in some fantastic players but we've also brought in some good personalities and good characters that we need to have around the club for what we're trying to achieve.
"That's four home games and the lowest team we've played out of those is three leagues above us.  We've played Trafford, Buxton, Curzon Ashton and Chester. We've played some really good teams and we gave a good account of ourselves.  If we can produce those sorts of performances in our League then we should be perfectly fine.  I think we will be great this season and I'm looking forward to getting started now."
Friday night saw Griffiths men lose narrowly to National League North side Chester who travelled the 41 miles to Park Road Stadium, "Yes, I am [proud].  We've become very resilient; we're a difficult team to play against.  They're very hungry and they worked very hard for each other.  They've got a lot of quality that I'm exploiting this season.  I'm really excited for the new season.  It's all going to plan and we should be up there.  I'm quite confident we'll be up there or thereabouts.  I'm pretty sure that we'll take one of the top four.