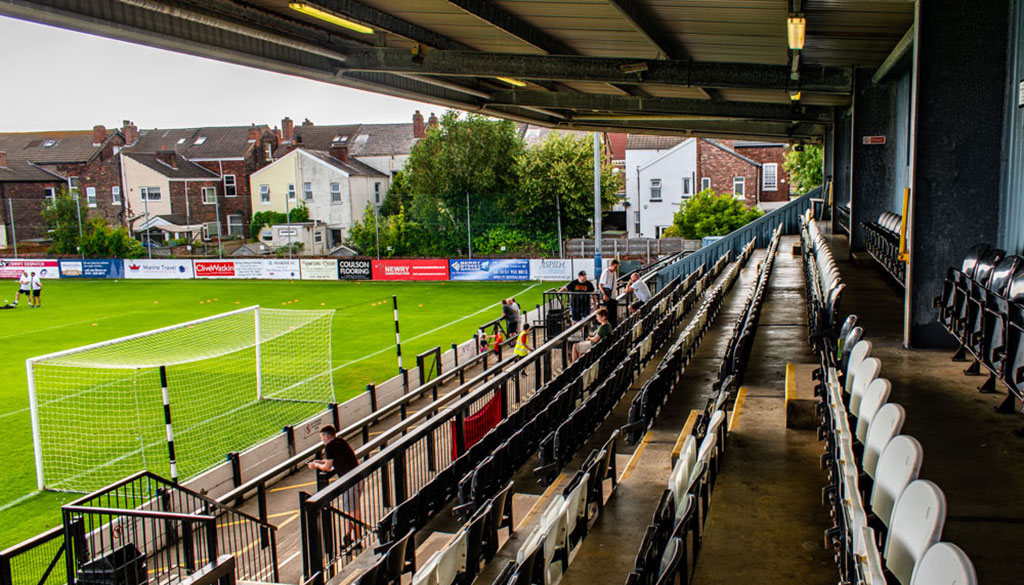 Anderson has something special planned
Fri 12th July 2019 | AFC Liverpool
By Craig Kendall
As you read this, AFC Liverpool and their manager Chris Anderson will be on there way to Alicante on Spain's southeastern Costa Blanca.
They have a friendly on Friday evening against Alicante City, a side Anderson is a Director of and they have even taken over some supporters with them.
Having taken over the role at Liverpool at the back end of the season Anderson started by reflecting on the season has just gone, "It was tough anyway because our Manager, Ben Williams died in November. Three seasons ago I came in as a player. I played that season and got relegated that year. The Manager left halfway through and the Assistant took over, then we got relegated by one point. In the North West Counties, you normally take two down but they took four down that time so we were the fourth bottom and, in a normal world, we wouldn't have been relegated.
"In November I'd gone in as a player-coach at that point. I was still playing but then coaching, helping out. Once Ben passed away, I moved into the Assistant role and the Manager Stu took over on his own. He did that until the end of the season. He'd just had his second kid so he needed to get away from it for a bit. I think his wife was kicking off! He's had a bit of time off so I've taken over now.
"Finishing third, expectations are for us to do as well as we possibly can. We just missed out on getting promotion. It's a bit of a strange one because of the circumstances of what happened with the manager and considering what we went through as a team."
Anderson's target is now capturing one of the top four spots, "Definitely. If we don't then I haven't done my job or the players haven't performed. We're going to try to win it but budgets will depend on where other teams are because there will be a few teams throwing money about. We don't have it to throw it! We've built a team on just lads loving each other, loving the environment and enjoying the environment they're in.
"To be fair, we just need a little run in that [FA Cup]. If we can win a couple of games it's a bit of money for the club. It's good for the lads to play in. I've played in it a few times myself so as a Manager it will be different. It will be a bit of a weird experience, I guess, but it's something for the lads to be involved in and see what we can do with it."
And on the transition between player and manager, " I was always alright in the North West Counties. I've done alright personally, playing at that level. I tried to step up to EvoStik but didn't really get any games so I knew that Counties probably was my level. I was getting frustrated when I was playing, knowing there were fast wingers turning me inside out and I was getting frustrated with that more than what other players can do in our team. I don't get frustrated with that and thinking I can do better. I just know I'm not fit enough and I can't put the time in to get my fitness to where I need it to be to perform at a decent level of football."
"We had our first game on Saturday and won 6-0. We played Newton, who won the Cheshire Prem. I thought they'd be better than what they were, to be honest, but I don't know if that was because of holidays of if their standard has gone downhill but it was an alright little test. Preseason's good. We've had a lot of numbers that have been coming down; some are fresh faces so it's been alright.
"I've signed a few players on but I'm still waiting to see some games and see what's what. We're going out to Alicante on Friday; we've got a friendly out there on Friday evening, which, again, is totally different from what anyone else has done in the North West Counties or the EvoStik. We're trying to change the game slightly, in that respect.
"I own a club with four other lads in Spain so we're playing the team that I own. It was easy enough to set up and, when I put it in towards the end of last season, I didn't know if I was going to be the Manager or the Assistant but I knew that I wanted to do it. As soon as I put it out, the lads were all about it. They've booked on and they've all paid for it themselves. We've got twenty lads – seventeen players and three staff – who are flying out.
"They're looking forward to it. It's just Friday to Sunday. They don't want to take too many days off; the lads work and they'll have all the other commitments of family time as well. There are about ten fans flying over, which is class. They've bought into it. They're loving that it's a little European tour. It's mad to think that we'll have a few fans. The game's probably going to be live-streamed as well so the people who can't watch it over there can watch it online.
"Alicante City, the team that we're playing, don't start the season until later so their squad isn't going to be fully there but it will be a good thing for exposure for Alicante City. It's a good thing to do for the lads and, again, be a little different in trying to get a USP.
"I'm looking forward to the season ahead and it should be decent, with the four promotion places. When we got relegated it killed us with that, then, the year after, there were no play-offs. If we'd have had a play-off system, we would have been in there. It's not to say that we would have been promoted. The last game of the season we beat Avro so we stopped them from winning the League, then we drew with Longridge so we were hitting good form at the end. I think we were sixteen unbeaten.
"It was decent to get to the point but it will be better now because there are four positions but a lot more teams are going to be going for it. It's good, as it makes things a lot more competitive."
A big thank you to Ellie Dalglish for transcribing.