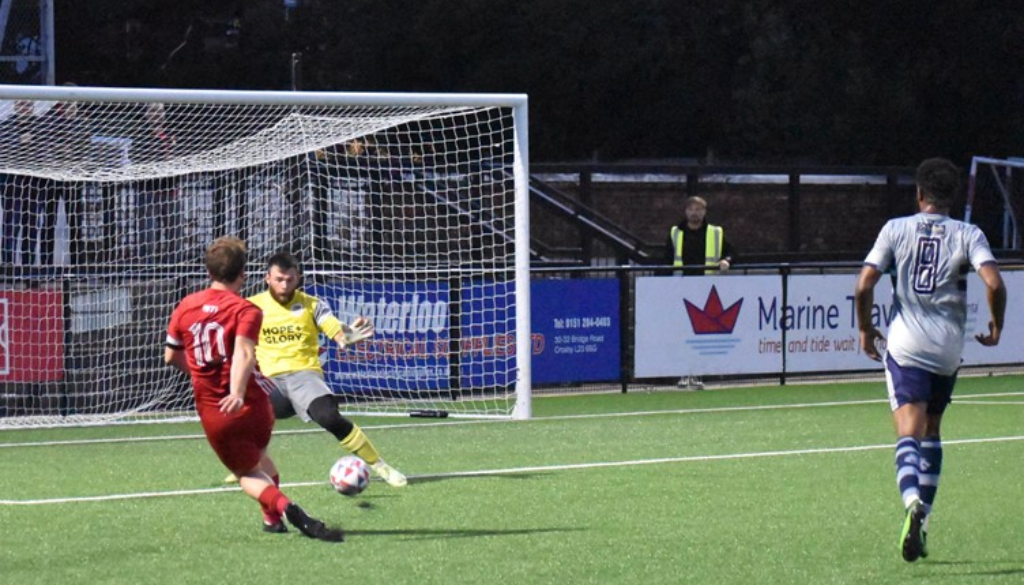 AFC Want To Be In The Ascendency
Thu 7th September 2023 | AFC Liverpool
By Jay Cooper
Last season, in the NWCFL Premier Division, AFC Liverpool essentially filled the role of "best of the rest". There was quite a gap between the top 5 (Vauxhall Motors, Avro, Wythenshawe Town, Bury AFC (as they were then known) and Northwich Victoria) and the remainder of the division by the time April rolled around, but, in 6th place, there were AFC Liverpool, sitting ahead of all the rest of their league compatriots and clocking in their best ever finish in the NWCFL.
A lot of that came from the exciting football that then-manager Matt Potter had the team playing, and that was a trend that, it's safe to assume, the board would have wanted to continue going into 2023/24. However, just as surely as the tide comes in, the winds of change blew across the NWCFL in the off-season. Newly-relegated Skelmersdale United, who were going through a turbulent summer and needed replacements in a few key staff positions, were able to poach Potter's services ahead of the new campaign, and force AFC to go on the hunt for a replacement.
In the end, the board made the shrewd appointment of Phil Stafford, who's previous managerial experience is fairly limited, as he is a former player and young by coaching standards, but he does have years of playing experience under his belt at the Marine Travel Arena for AFC. If last week's feature on Litherland REMYCA taught us anything, it's that opting to assign a former player who knows the club to the managers role can sometimes yield great dividends. I spoke to Phil earlier this week about the direction he wants to take the club in.
As 2022/23 had been such a successful season for the club, Phil was sure that there were elements of the way his new side played their game that he was keen to keep a hold of. "The first thing I wanted to do was to keep the current group together. We lost 4 or 5 good players to Skelmersdale when they left with the old manager, but I fully believe that we've kept the heartbeat of the team, and once we'd made sure that we'd done that, it came down to bringing in the players we had identified as targets after I'd taken the job, which we did."
However, as commendable as last time out was for AFC, there were flaws that Phil, as the new manager, wants to address. "This is still a fairly newly put together side, and we want to put our own stamp on things. The one thing from last season that definitely needed to improve was the away form. I think last season's team had the second-best home record in the league but one of the worst away records in the league. We've already had 2 away wins this season, which is a promising start, but it's definitely something we are looking to improve on."
When discussing home and away form with regards to AFC Liverpool, it must be remembered that the Little Reds are not the only occupants of the Marine Travel Arena. In case you haven't connected the dots, the other side that host their games in that ground are NPL Premier Division side Marine AFC. However, in the new managers' own words, "I think it's become our adopted home over the last few years. You only have to go to the ground to see how good the facilities are there. The home form last season probably shows that we love playing there and we will always try and make it a difficult place for opposition teams to come to."
Of course, it's not just about what the manager might want from his side on the pitch every week. The board of the club set their ambitions for Phil as a manager, and he is determined to meet them. "I was a player at AFC and captained the club for 2 seasons, so I would like to think that I know the board quite well. There is plenty going on behind the scenes to take the club to the next level, and that takes time, but the board at this club is one of the best and most respectable around, and their commitment to succeed is second to none."
So, how has that transpired? Phil and his team are currently 7 games into their new Premier Division season, and they amassed 12 points, with a results list consisting of 4 wins and 3 defeats. In the gaffer's words, "Overall, I'm happy with the start we have made to the season. We lost 1-0 to Kendal on the opening day, and they're flying right now. We also had 5 or 6 of the squad missing that day, so, looking back, it wasn't the worst start we could have made. It was also nice to go and turn Skem over in our first home game of the season. Since then, it's been about getting the new group to gel together, and I honestly feel that we are starting to see this happen. Each game we play we can see improvements. I think the group has come together a lot quicker than people might have thought they would and that's a testament to the lads."
That victory over Skem is one of a few hard-fought victories from the league this season that AFC have managed. Their most recent game, for example, was a 4-3 away victory against Squires Gate. These results make for good viewing, but with 3 losses also littered in amongst them, perhaps a consistency needs to be established. "This is a tough league, every side in the division are capable of beating each other on their day. So, I think it's important that we prepare ourselves in the best way we can for each game. We've had three wins on the spin from our last games, which is great, but, as I said, we just take each game as it comes and let's see where it takes us."
Last season, 'where it took them' was, as mentioned, 6th place, which is a record finish for the Little Reds in the NWCFL Premier Division. After the start they've had this time out, they sit 14th, which is admittedly not as good, but there's plenty of time for this team to establish themselves. "We have got our own ambitions within the group. I don't want to go on record and say that we will do this, or we will finish here. It's our own goals and expectations. If you look at our current point tally and ask me, are we happy? The answer would be yes. Do I think we should be on a few more points? Then again, the answer is yes. I'm optimistic for the season but I also know how tough this league is."
It is a tough league, which is a sentiment that has been echoed by seemingly every manager in the league as these early stages of the season have come and gone. For AFC Liverpool, to push the envelope that they wrote for themselves last season would be a phenomenal campaign, especially when you consider that the newly-introduced play-offs run from places 2 through 5 in the table. That said, if this is a goal that they can't quite make in their first season under Phil Stafford, then 2023/24 could act as an excellent foundation year for this partnership, which they could then build to the skies on.
Image credit: Twitter, @paulmoran62, 29/08/2023