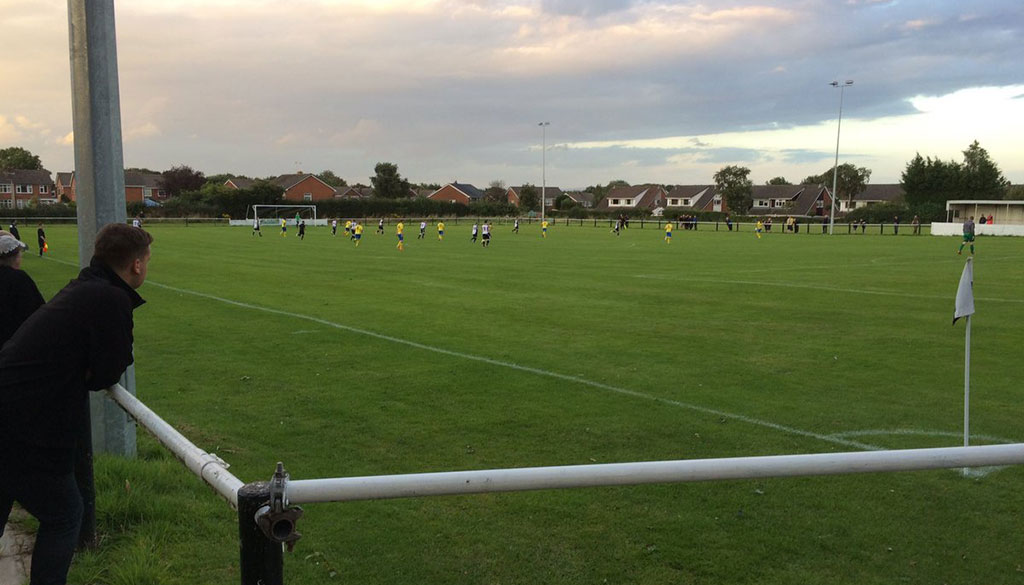 Full steam ahead for Barnton's ground transformation
Wed 26th June 2019 | Barnton
By Craig Kendall
Having just agreed a two-year ground share deal with 1874 Northwich, Barnton are looking to completely overhaul their ground at Townfield and are making great strides so far.
With help from 1874, once manager now Chairman Steve Lloyd is spearheading the changes at CW8 and he described how much their new co-habitants have helped the club, "A lot! The work that's been taking place probably in the last six months has been done with dual working parties between Barnton and 1874. It's worked really well together; we've got a good relationship. Initially, when I started the negotiations with 1874, it was two clubs with the same values when it comes to football so it's been seamless. The whole process has been seamless.
"Seven years ago, when Ian Ross was Chairman, Barnton was a Cheshire League Two team and it was pretty much a football pitch with some railings round it and a pair of dressing rooms. That was it. Ian started to get the ball rolling with various improvements around the ground then, when we arrived, we put in a 120-seater stand and added another 50 covered stand in. Since then, the work over the course of the last two to two-an-a-half years has just been immense.
"Next season we'll have brand new dressing rooms for home, away and officials, which will all be housed in the same area, more contained. Everywhere's been fenced in so it's all secure. Even round the ground we've now got an external fencing to the railings so the only bit that we've got to do is to finish off behind the goal. In front of the clubhouse we've put all new 4G down, which has been brilliant because, apart from anything else, aesthetically it looks much better.
"All we're trying to do is just create a good experience for anyone coming to watch grassroots football.
Once manager at Barnton, Lloyd has stepped back and let new manager James McShane do things on the field his own way, "I made the conscious decision that, with three months of the season before left, I'd get James McShane heavily involved. I deliberately stepped back because it was his first job. James is a lad that I really like and I think will become a really good Manager. I just wanted to make sure that he was given the freedom to express himself really.
"On the pitch I think collectively at Barnton we all feel that we could have achieved more last season but last year was a learning period for everybody. Next year expectations are a little bit higher. We're not going to brand out that we're going to win the League because there are some fantastic clubs in the League but we want to improve on what we got last year.
"We've got a good young Manager; he's ambitious. He surrounds himself with good people. Garry Moore, the Assistant Manager, and Liam Page are really good guys and it's the right group for us. It's the group that we wanted to put together and they feel that they can do better next season and we've agreed what that should look like. We as a Committee will do everything we can to support them.
With four clubs going up next season from both Division Ones, Lloyd believes it will be as competitive as ever, "Definitely! It was pretty competitive last year but a lot of the new clubs that came in – Rylands, Vauxhall, Wythenshawe – did really well and I think it's given everybody a bit of a wake-up call, to be honest. We wanted to make sure we got things right on the pitch last year. We brought in a full Junior section, which bedded in really well but next season we're going to put a little bit more focus on making sure that we've got it right on the pitch and everything's pointing towards that.
"We've got a really good structure in place now at Barnton. We've improved the club financially. The ground is looking fantastic and will do at the start of next season. We've got a full Junior section, which is twelve months bedded in. Now it's time for the first team to make us all proud and that's what we're all working towards.
Just six seasons ago Barnton were plying their trade in the Cheshire League, and their rise into the NWCFL has been superb, " It did get slightly restructured so we've had divisions coming in but, even so, it's been a meteoric rise for a small village team. We've now got the foundations in place to be able to build against that and, ultimately, we're realistic. I'm a realistic person. I am in business as well as in football. Barnton just wants to try and get back into the Prem and establish itself as somebody that can compete at Prem level. Only when we achieve that can we start looking at the next phase. "