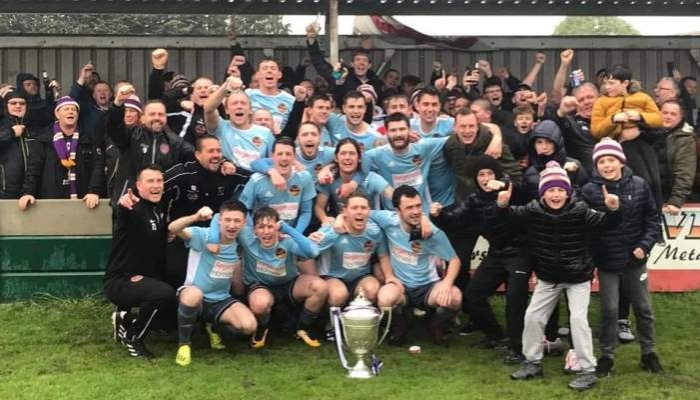 City of Liverpool - Premier Division Champions
Sun 27th April 2014 | City of Liverpool
By Ian Templeman
Just three years after joining our league in the summer of 2016, City of Liverpool will be leaving us this summer for the new pastures of the Evo-Stik League, after they clinched the Premier Division title this afternoon.
The Purps 2-0 win at Irlam, coupled with Bootle being held to a 1-1 draw at home to Northwich Victoria, saw them lift the title by two points, bouncing back from the setback of losing at Bootle on Easter Monday that handed the advantage to the Bucks.
Going into the game at Irlam, City of Liverpool knew that they had to win and hope for a Bootle slip up, and they gained an early advantage when Tom Peterson gave them the lead in the 12th minute.
The atmosphere was cranked up further when the Purps fans heard the news that Darrhyl Mason had headed Northwich Victoria into a 1-0 lead over Bootle in the 37th minute of the game at the TDP Solicitors Stadium, although a Liam Loughlin penalty levelled for the Bucks seven minutes into the second half
In stoppage time at Irlam, Craig Cairns added a second goal for City of Liverpool to seal a 2-0 win, and moments later news came through that the game at Bootle had ended 1-1 and the Purps celebrations could begin.
City of Liverpool manager Craig Robinson said:
"It's unbelievable, and hard to describe the emotions after the result on Monday.
"It's been a difficult week, I'm not going to lie. On Monday everyone was deflated including myself, it was one of the toughest times I'd had in football.
"But I always knew we'd never give up and before training on Thursday I said to the lads "We've got to believe. There's still one game to go, imagine how we'd feel if we don't turn up on Saturday, we slip up and then Bootle slip up".
"I was worried because the lads were deflated, but when they walked into the dressing room today there was a bit of excitement there again.
"It's difficult being at the top, we've been top since September, and everybody wants to beat you. It was Bootle's turn to handle that, and unfortunately for them and fortunately for us they slipped up.
"I have got to give all credit to Bootle and Joe Doran, and the form they have shown since Joe took over. They kept us on our toes and it's been brilliant for the league.
"20 wins in a row is fantastic at any level, I do feel for them and it will be disappointing for them that they slipped up right at the end.
"It was difficult during the game, obviously our fans were cheering when Northwich scored, but I had to compose the players on the pitch and tell them to keep doing what we were doing.
"We had a couple of injuries but we had to just concentrate on ourselves and that is what we did.
"This just lifts us up and we can look forward to next week now (the Macron Cup final) because we have done our main job, in getting promotion and winning the league".
City of Liverpool Chairman Paul Manning added:
"A lot of people have said to me 'can you believe that this has happened' and we do believe it has happened because this is exactly what we envisaged.
"It's absolutely fantastic and I have to give great credit to Craig Robinson who came in as a new manager who had never managed a team apart from a caretaker stint.
"He has transformed the club off the pitch in terms of how he manages the squad and runs the football side. It takes a lot of pressure off us, which means we can concentrate on running the club.
"We've never set any targets but we have said that the club can be as big as the city wants it to be, if the supporters keep coming and the support grows with being in a higher league.
"We need to a ground sorted, you can only ground share for so long before you hit a glass ceiling and we are probably quite close to that financial glass ceiling.
"So that is my focus, and in the meantime off the field we have to support Robbo in what he wants to do for us and hopefully we can hang on to him.
"Obviously we can look forward to Saturday now and the Macron Cup final, which is a big occasion. We have already won it once and we'd quite like the feeling of being one of only a few clubs who have won it twice".
Photo courtesy of Jessica McGrady.