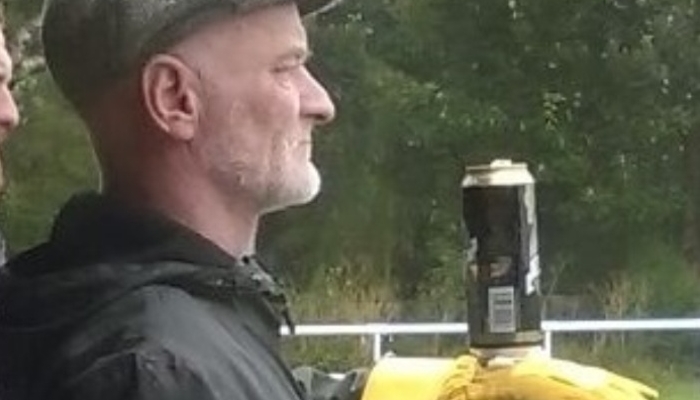 Finney remembered - from Daisy Hill to Bayern Munich
Thu 21st March 2019 | City of Liverpool
By Paul Manning
City of Liverpool have learned that one of their best known supporters Rob Finnerty, or Finney as he is commonly known, is seriously ill in hospital.
Finney has entertained the Purps with his antics since they started playing football and everybody is devastated to hear the news.
Finney made the headlines back in 2016, when on COLFC's first visit to Daisy Hill, he created his own version of "Kes" by standing with a can of Kestrel Lager on his hand.
It was a photograph that went viral on Twitter and even caused pop star Robbie Williams to comment "total respect".
The Purps created a banner of the moment and presented it to Finney in 2017 and last week his friends from Runcorn took the banner to the Allianz Arena, Munich for the Champions League tie, Bayern Munich v Liverpool.
Chairman Paul Manning said "I have spent many a long coach journey following Liverpool FC and City of Liverpool FC doubled up with laughter because of Finney, and we are all very upset to hear the news of his deterioration in health.
"He is genuinely loved by everybody and are prayers and thoughts are with him right now that he is as comfortable as possible.
"The Kes moment at Daisy Hill is always well remembered but Finney also brought Eccleshall High Street to a literal standstill as he sauntered along dressed head to toe as a pig tailed Purple Witch, complete with a walking stick.
"The locals simply could not believe what they were seeing, and he also dressed as Beyonce at the Reusch Cup Semi Final First Leg against Widnes, complete with dance moves.
"These are moments that will live long in the memory for anybody who was there, but to be honest there are so many memories that I could be here all day.
"He had a very irreverent sense of humour that could not fail to have you in stitches, and he is already sorely missed at City of Liverpool Football Club. We are praying for you mate."
The "Kes" photo from 2016 is shown below.