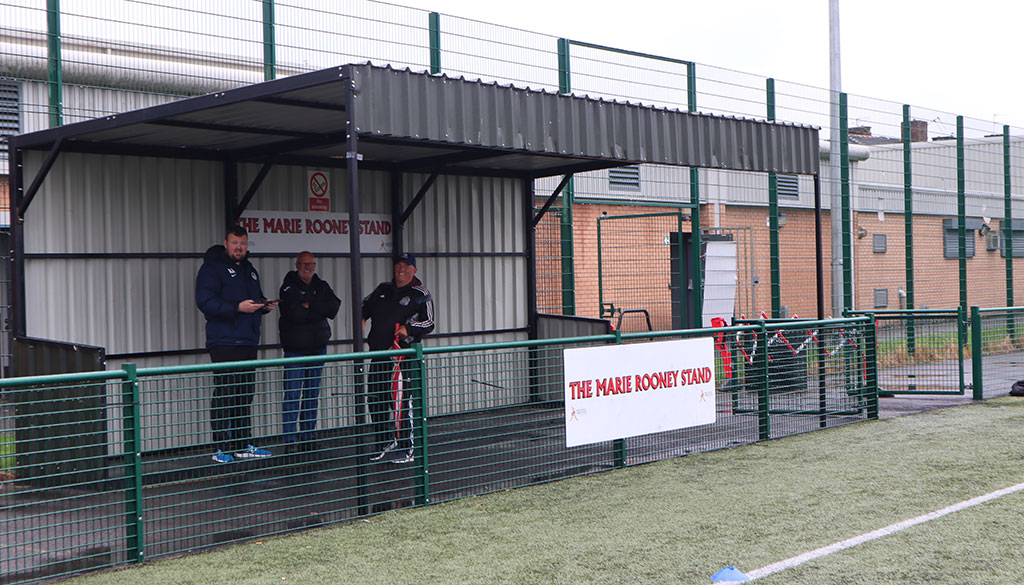 All well at Lower Breck
Tue 26th February 2019 | Lower Breck
By Ian Templeman
On and off the field, Lower Breck are adjusting well to their first season in the Hallmark Security League.
After a tremendous season last year, where they were runaway winners of the Liverpool County Premier League and won every cup competition they competed for, many were tipping Breck to hit the ground running when they made the step up in the summer.
However, an inconsistent start saw them drop off the pace early on, but in recent weeks form has picked up and they now sit third in the First Division North and are in the middle of a run of form that has seen them pick up eight wins in their last eleven games.
Secretary James Davies says that the team is now looking to finish the season strongly.
"We have settled quite well, apart from the opening few games of the campaign when we struggled to field a full strength side", said James.
"That continued until mid September with holidays and work all playing a part in our inconsistency, which did have an effect on us, but the teams we did put out were more than capable.
"The majority of the lads who started the season had played their part in the previous trophy winning campaign, and we brought in four new faces to start the season and have made some key signings along the way.
"We have consolidated our position now, and despite some poor away form in the latter months of 2018 we are happy with our League position as we look towards the run-in".
For a club that was only formed in 2010, Breck's progress through the leagues has been impressive, and James is keen to pay tribute to the many individuals and clubs who have helped them along on their journey to our league.
"We have enjoyed every aspect of the League both on and off the pitch and have forged some strong relationships with a large number of Clubs.
"We had some great help from a number of different people at various clubs with REMYCA and St Helens both deserving a mention.
"The Remy have always been an extremely sporting outfit and we respect them hugely as they offered advice from every angle while St Helens were extremely helpful from an administrative perspective.
"It was encouraging to see how forthcoming potential rivals were to help and this ethos seems to carry right through the League. We aim to learn from everyone whilst adding our own blend of entertaining football coupled with a genuine hospitality.
"We could not have come this far without the key help and support of our Venue, Anfield Sports & Community Centre.
"Centre Manager Marie Rooney had the same vision and tenacity as ourselves when it came to driving the push for promotion and there were many obstacles that lesser people would have balked at.
"With her support and the engagement of the whole team and the board at ASCC, we are able to look forward to match-days with confidence.
"They are forward thinking and collaborative having helped introduce us to other partners with whom we now work, alongside the Liverpool County FA who continue to support our endeavours".
One of the key elements that is driving the club forward is its commitment to the local community, and carrying out work which is all geared towards generating interest in the club and encouraging people to come down to games.
"Turning Lower Breck FC into an attractive footballing proposition, and a cut-price alternative to Premier League Football, is a work in progress", said James.
"But with one of the cheapest admissions in the League (£3, £1, Under 16's Free) we feel we are making inroads.
"We have received nothing but good feedback about our match-day experience and are in the process of linking up with a few local schools and community organisations which will broaden our appeal.
"We have given home season passes to the Walking Football Team members involved with Red Neighborhood from LFC, we have a growing away support bolstered by free coach travel to matches at distance, and our match-day volunteers are all local people with a genuine love of the game, and our Club.
"We also work closely with Alan Walsh from Anfield Boxing Club to support his 'No More Knives' Campaign which aims to educate and inform local young people into making the right choices.
"We recently partnered up with the Fans Supporting Food-banks organisation which has done amazing work locally to fight austerity, and will be making our first collection on Groundhop day, Sat 9th March, when we hope to welcome local MP Dan Carden to ASCC.
"Generally we are striving to improve our reputation within our community and hope to encourage more people to come and watch us".
As for the rest of the season, first team manager Gary Moore believes that the foundations have been laid for a strong finish that will set the club for further progress on the field next season.
"Apart from a few below-par performances, we have given a great account of ourselves and with a more consistent playing side we would have been a few points closer to the two sides currently above us in the League", said Gary.
"Just like any start to a season, you have aspirations to win a trophy with the League being the main target.
"Although cup runs started well, we were unable to progress to the latter stages of our domestic competitions, despite decent forays in the FA Vase and LCFA Senior Cup.
"We knew it would be tough to challenge and without the bonus of the play-offs, it was going to have to be a another big season if we were to challenge at the top.
"There have been some quality performances so far this season, with highlights being the 4-1 away win at Avro and a dominant 3-0 win at Carlisle, which tell us we are not far off where we need to be.
"Although we're not mathematically out of the promotion race, we know what the issues have been, and what we have to do to make sure 2019/20 is more successful.
"We strongly encourage movement from within the club structure and the idea that Reserve and Youth sides can provide a pathway to Non-League Football is one we are very keen to foster.
"This means that apart from unearthing a few gems, we can raise our profile as a Community Club that isn't afraid to blood the youngsters and offer them a fantastic opportunity to further their own careers.
"It has been an amazing introduction to Non-League football for everyone concerned with the Club as we realised our sporting ambitions, and we hope to use this experience as a catalyst to further success in the seasons ahead".