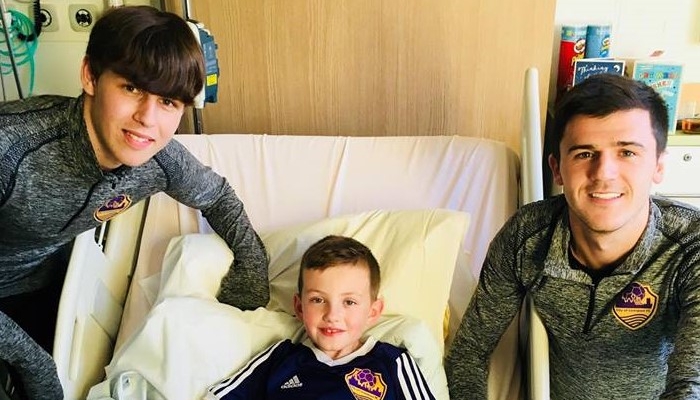 Surprise visit for big Purps fan
Thu 27th September 2018 | City of Liverpool
By Paul Manning
City of Liverpool first team players Jack Hazlehurst and Jamie McDonald made a surprise visit to Alder Hey Children's Hospital to see the club's #1 supporter Frankie Lever.
Frankie has recently had a corrective operation on a degenerative foot condition, and was a keen Thai boxer and footballer before his right foot began to be pulled out of position by an overly strong tendon near his ankle.
The condition is very rare and doctor's have now operated to hopefully pull everything back into place and get Frankie back to his Thai boxing, his football and back to the TDP Stadium to watch the Purps.
Jamie and Jack took Frankie a signed team picture and some other gifts to help keep him occupied during his stay and had a good talk to him about Tuesday's home victory over Litherland REMYCA, which Frankie had followed on Twitter.
Jamie said: "We love seeing Frankie at our matches and can't wait for him to be well enough to come back to our games".
Jack added: "He's a great little lad and it's not fair what has happened to him, so anything we can do to cheer him up a bit, we will do".
Manager Craig Robinson was also due to attend, but missed out due to a late work call-out.
"Frankie and his little mate Freddie have been into the dressing room a couple of times", said Craig.
"They helped us give our team talk and then the lads have gone out and won the games, so we want to see them back at our matches as soon as possible!"
Frankie's mum Emma said: "He had the biggest smile on his face when Jack and Jamie came in which was priceless. You have made one little boy very happy, especially with him missing the game last night!"
Purps' Chairman Paul Manning added: "Little Frankie is a great kid and despite everything he's going through still always has a smile on his face.
"We look forward to seeing him back at our games and wish him and his lovely family the very best of luck on the tough road ahead, but they can rest assured that the Purps will be with him every step of the way."