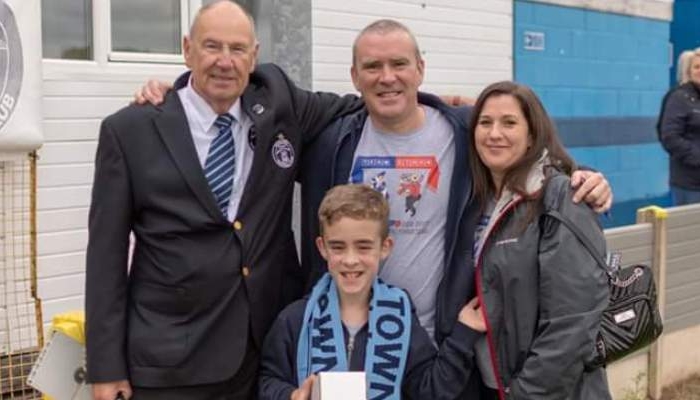 Runcorn Town's very special supporter
Thu 20th September 2018 | Runcorn Town
By Ian Templeman
Runcorn Town can now count on the support of a new fan after helping raise funds for an appeal in his name.

Ethan Campbell is 11 years old and has cerebral palsy which means he struggles with his walking and basic day to day things like holding a knife & fork properly.

Back in July his parents were told that to help Ethan with his walking, he is required to have two operations which may also help with the day to day problems but will definitely give him a better quality of life.

One of the operations will be funded by the NHS, but unfortunately the first procedure only receives NHS funding for children aged between 5 and 9 years of age.

The procedure is called SDR (Selective Dorsal Rhizotomy) surgery which is a treatment for children with cerebral palsy and is a procedure that treats muscle spasticity caused by abnormal communication among the brain, spinal cord, nerves and muscles.

The amount that needed to be raised was £21000, and as Runcorn Town's Alan Bennett explained, once the club heard about the appeal they were keen to help.

"On August Bank Holiday Monday, for the game against Ashton Athletic at the Pavilions, Ethan was our guest of honour", said Alan.
"He was presented to both teams before taking the field as mascot for the day. The generosity of both sets of supporters raised £164 for his fund, and a fantastic donation came from Ashton Athletic too.

"On top of this our players had a collection themselves after our game against Irlam in the FA Cup, and added another £130 to the fund.

"We then held a charity match in which players paid to play, and donations and a football card altogether raised a further £525.

"September 14th was a memorable day for the family, when the fund reached the magical figure of £22,000 in just eight weeks, meaning that discussions with Ethan's doctors and the NHS can be arranged very soon.

"Runcorn Town are delighted to support Ethan and his family through the operations and recouperations, and will be up dating our news feeds at regular intervals.

"We look forward to having Ethan leading the teams out later in the season again, and at home games supporting Town.

"Furthermore, through Runcorn Town's social media and the League's Facebook site I have started an appeal for pin badges for Ethan, and already one has arrived from a southern based ground hopper and a couple of local clubs.

"If anyone would like to contribute a badge to add to Ethan's collection, they can be posted to me at Runcorn Town FC c/o 34 Buttermere Grove, Beechwood, Runcorn WA7 2RF".
The picture below shows Ethan at Runcorn Town with Alan Bennett, his dad Gary and step mum Lisa.