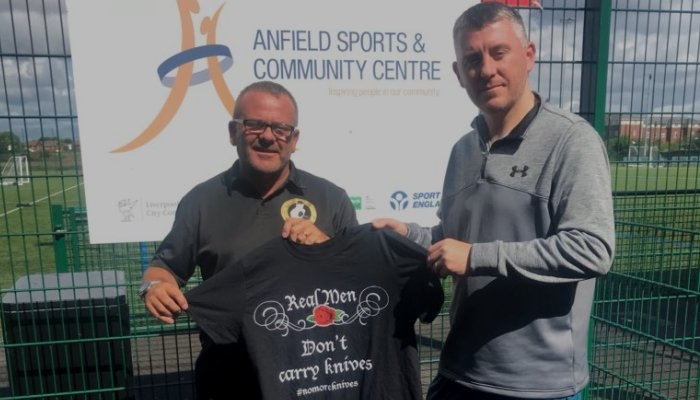 Breck back campaign against knife crime
Thu 30th August 2018 | Lower Breck
By Ian Templeman
Lower Breck FC have thrown their support behind a local initiative that is aimed at raising awareness of knife crime in Liverpool.
The campaign is headed by Alan Walsh, a youth worker and boxing coach at Anfield Boxing Club, who has started a Knife-Crime awareness campaign called "Real Men Don't Carry Knives", on the back of working with an education provider that offers advice and education to young people in the city.
Lower Breck Secretary James Davies explained that the club decided to get involved after meeting with Alan a few months ago.
"Shortly after development of our match-day venue began (at the Anfield Sports Community Centre), we met Alan, who asked for our help in raising awareness of his Knife-Crime Campaign which has been gathering pace throughout the summer", said James.
"He told us that Liverpool has seen a sharp rise in the incidence of knife crime recently and that the club have been personally affected by the young lives lost as a result of a growing culture of knife crime.
"Anfield Boxing Club work in partnership with Employability Solutions (a Social Enterprise working across Liverpool) to provide education, awareness and intervention to young people at risk of, or affected by knife crime.
"The project will provide access to a range of community based diversionary activities which seek to engage young people in positive activities keeping them safe from harm whilst educating them to make better life choices.
"It became apparent to us that we needed to help spread the word with Alan, in partnership with ASCC and a number of other different community organisations.
"We will be spreading the message far and wide as we travel to our away matches this season by wearing the Campaign T-Shirts during our warm-up, and have already encouraged a number of other local sides to jump on board by promoting the campaign on our social media channels".
Alan said he was delighted with the backing that the club have given to his campaign.
"Sport plays a massive part in our campaign as boxing and football helps engage large numbers of young people", he said.
"All sports teach discipline as well as giving young people something positive to be part of.
"The club has been a brilliant ambassador for the campaign. It's getting the message to people that we wouldn't normally have access to".
Alan Walsh is pictured left below, with one of the campaign T-shirts, along with Lower Breck FC Manager Gary Moore.
For more information about the campaign, you can contact Alan on Twitter @anfieldboxing or Instagram @anfieldboxingclub.