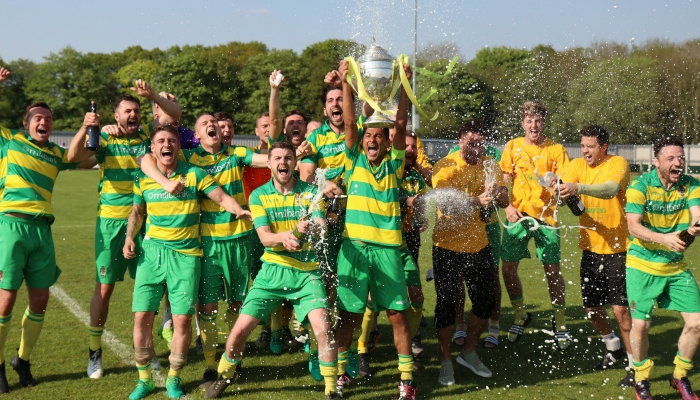 Runcorn Linnets - Premier Division champions 2017-18
Mon 7th May 2018 | Runcorn Linnets
By Ian Templeman
Runcorn Linnets signed off from the Hallmark Security League Premier Division by being presented with the championship trophy after the derby clash with Runcorn Town.
In front of a crowd of 890 at the Millbank Linnets Stadium, a last minute goal from Liam Turner pinched a 1-0 win and the three points for Town, who ended the season in third place.
But the result failed to dampen the mood for the already crowned champions Linnets, and moments after the final whistle, the squad were presented with the Premier Division championship trophy by League Chairman Paul Lawler.
After the game, Linnets manager Michael Ellison looked back at the title winning season.
"It's been a great season, and great to finally get over the line", he said.
"It means a lot for lads who have played in this side who have had so many near misses. It's great to get over the line with them, who like myself, have come so close before and to finally get there it really does mean a lot.
"What we've done when we had a poor performance, we've spoken to the lads and they have always responded. We've not lost back to back games since I took charge, and that's been key.
"Good sides, when they don't get a result they need, they react and the players here have done that. I can go back to games at the start of the season, when we lost at Ashton Athletic in the FA Cup, and lost at West Didsbury (4-0 in the league), and we got a response after each of those games.
"You're not going be at your best in every game, but when you're not, it's a case of putting it right as quick as you can and the lads have done that.
"They've won the league because they have been the best team, it's a simple as that, and I'm very proud of them.
"I'm pleased for the fans too, they have been fantastic, especially at night games, we've had some fantastic games under the lights here.
"The team have given them something to shout about, and they really have done that this year.
"They've got right behind them, and they've gone through all the near misses as well. They've been with us on the journey, and it's great to get over the line for them as well.
"So we'll enjoy tonight, pull ourselves all together for the presentation evening, and we've started looking forward to next season already".