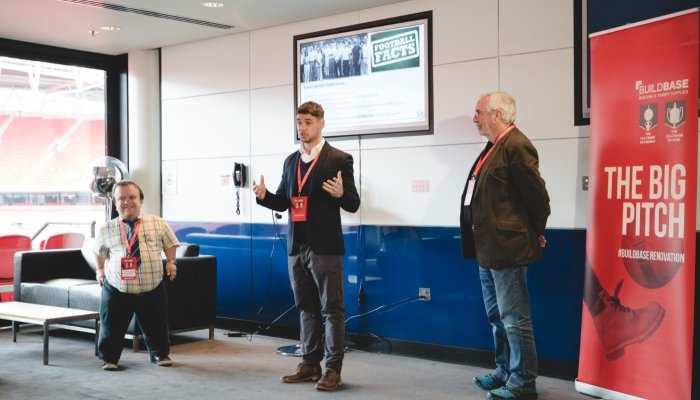 Bursary award for Cheadle Town
Thu 3rd May 2018 | Cheadle Town
By Karl Florczak
Cheadle Town are one of two non-league football clubs – the other being Needham Market FC – that have won a bursary from the 2018 Buildbase Club Renovation Programme.
Town and Needham Market (based in Suffolk) will share the £100k product bursary for club improvements after succeeding at a pitching event for the six finalists held at Wembley Stadium connected by EE.
The product bursary includes building, electrical and hire products which will be provided by local Buildbase branches working with Cheadle Town and Needham Market FC.
The judging panel from Buildbase and The FA selected Cheadle Town because the bursary will enable the club to open up its facilities to new girls', women's and disability teams as well as upgrading the clubhouse, changing rooms, showers and converting the shipping container that's located next to the Main Stand into an outdoor café.
Paul Roche, Managing Director at Buildbase said: "This is our second year awarding the product bursary to two non-league clubs and – from a total of almost 60 applications – we chose two richly-deserving winners that are investing both in their football clubs and the local community.
"Listening to them and all the shortlisted clubs was a reminder of the great work grass-roots football clubs do in often very challenging circumstances. We're glad to help another two clubs accelerate their plans for the future."
Cheadle Town Chairman Craig Brennan said, "We're delighted to win the £50,000 Buildbase Bursary. It will have a huge impact on Cheadle Town FC and our local area.
"The panel for Buildbase recognised how our vision for change would impact on everyone in the local community, especially at grassroots level.
"Alongside our plans for facility improvement, we also have exciting plans for girl's and women's football development which this funding will support. The facility improvements complement Cheadle Town Academy and our partnership with Cheadle College to help local young people in the area to develop their career in football or sports coaching."
"There will be improvements for the fan experience too and there are plans for a permanent café and improved changing and shower amenities.
"It's a very exciting time for the club and Buildbase will accelerate our plans by two to three years, as we will not have to rely on fundraising activities to make the improvements we need to become a modern club that reflects the needs of the community."
Members of the committee have also been invited to the FA Non-League Finals Day at Wembley Stadium where they will be part of an on-pitch presentation.
Last year, the Buildbase Club Renovation Programme provided £100,000 of building, electrical and hire products available for two clubs – Hanwell Town FC and Cleethorpes Town FC – both of which have made significant improvements to their facilities.
Cheadle Town officials Stuart Crawford, Craig Brennan and Brian Lindon are pictured below during the presentation at Wembley Stadium.