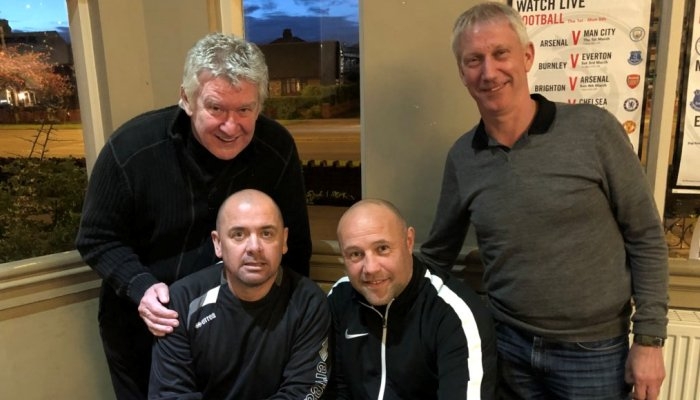 Gate Management team agree two-year deal
Thu 26th April 2018 | Squires Gate
By Mark Ashmore
Squires Gate have announced that Manager Andy Clarkson and Assistant Manager Terry Green have agreed a new two-year deal with the club.
The pair, who joined the club in October, have really impressed the clubs committee for several different reasons, not least the first team's rise in form in the Hallmark Security Premier Division.
When Andy and Terry took over, the club had picked up just seven points losing eleven of the opening fifteen games.
Since taking over, the Blackpool pair have lead the club to 17 wins in 28 games, loosing 7 and drawing 4 games. They have led Gate to two separate unbeaten runs, the first of which came at the start of their reign which saw Gate go six games unbeaten, winning five and drawing one.
The second unbeaten run came recently which saw Clarkson's men go ten games unbeaten, in which they beat some of the league's toughest sides such as Hanley Town, Ashton Athletic and Charnock Richard. During the run Gate kept five clean sheets which, if you've followed Gate for a couple of years, you'll know that clean sheets are a rarity.
Meeting last night, the club and management team outlined their ambitions and ideas for the forthcoming seasons for what we believe will be an exciting next chapter in this club's history.
Speaking on the new deal at the club, a delighted Andy Clarkson said: "We're really happy to have extended our deal at the club and to build on the good work that both ourselves and the club have started here.
"Myself and Terry are both excited to see what the future holds for us and Squires Gate as we look to push this club forward to the next step."
Just as excited about the new deal were Co-chairmen Tony Jo and John Maguire, who said: "Andy and Terry are just what this club needs. The two parties are a perfect fit for each other and we continue to strengthen our relationship week in week out.
"The atmosphere around the club is improving every week and that comes from the drive from the players and management team. We're looking forward to seeing what the guys can do next season and beyond."
Tony and John (standing) are pictured below with Terry and Andy.