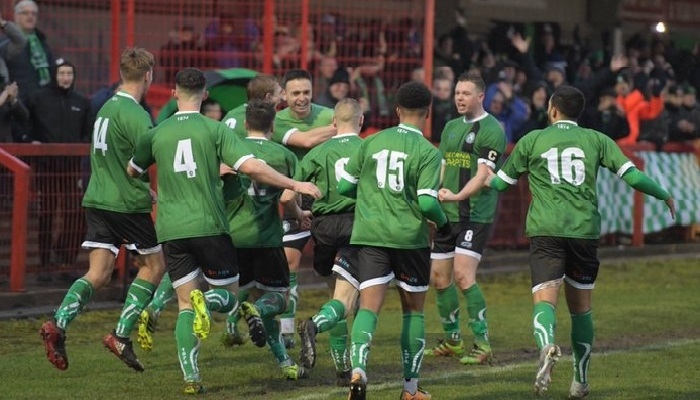 Buildbase FA Vase 6th Round - Leighton Town 0 1874 Northwich 1
Sat 24th February 2018 | Buildbase FA Vase
By Ian Templeman
The road to Wembley is getting ever closer for 1874 Northwich, after their hard fought 1-0 win at Leighton Town moved them into the last four of the competition.
A 25th minute penalty from Scott McGowan – his 25th goal of the season – was the highlight of a disciplined and composed performance from the Greens, who showed a level of guile, determination and organisation that proved to be too much for their opponents to overcome.
Once the lead was established, 1874 controlled the game for long spells, restricting their Spartan South Midlands League opponents to long range efforts on goal, and balls into the box from set pieces, all of which were dealt with comfortably by goalkeeper Greg Hall and his well-organised back line.
The Bedfordshire town of Leighton Buzzard may have meant little before today to the travelling army of 1874 supporters, who travelled down the M6 and M1 in huge numbers to follow their favourites.
But they will certainly remember it with affection now, after they witnessed another memorable day in the club's history, and at the same time created their own unique atmosphere throughout the 90 minutes to add to the sense of occasion.
1874 Northwich joint-manager Wayne Goodison said afterwards that they felt everything had gone to plan on the day.
"We had them watched last week and we knew a fair bit about them, what they would try and do and that was pretty much what they did", he said.
"Corners, set pieces and the general pattern was what we expected, so it was just for us to make sure that people knew their jobs when they went out and make sure they did it on the pitch, and they did.,
"It went much as we'd have hoped, although we were a bit disappointed with the quality of our play in the second half on the ball.
"But from the point of view of coming down here yesterday, preparing properly, going through things and following a bit of a plan, it was job done.
"I wouldn't say we ever felt comfortable, but we never felt we were going to get too troubled as long as we stuck to the task.
"Defensively we were good today, they just kept knocking long balls up to our back four, and we dealt with it.
"I think Greg (Hall) had one save in the first half when there was a shot from about 18 yards and he got down, you'd expect him to save it and he did.
"But in the second half he's just dealt with a few crosses and a couple of shots that had come in from bigger distances.
"When the goal came, we had settled into the game pretty well. We'd had a couple of decent spells when we were causing them problems. It was definitely a penalty, their lad had brought Jake down, and we'd had a good spell of play, so I think we deserved it at that point.
"In the second half we made two substitutions which were attacking substitutions because we wanted to go on and get another goal.
"With the players we have got we do try to get forward, and try to affect the game. They (Leighton) were huffing and puffing a bit, and we thought we could maybe go on and get another if we could get on the ball.
"The support we had was unbelievable. We got here about quarter past one and there were already people in the ground putting flags up, and then they were clapping the players coming out in the warm up.
"For us, we knew what it would be like today with our fans and I don't think they did, and I do think it caught them out a little bit.
"Our fans never shut up once all the way through, and that support really does help.
"For now, we'll see what the draw on Monday brings, have a look at it, park it and forget about it for a few weeks and concentrate on all the other competitions".
As a spectacle, the quarter final tie was no classic, and aside perhaps of the opening 15 minutes when Leighton Town began on the front foot and enjoyed slightly more possession, it always looked like 1874 would have enough to see the game out successfully.
The decisive goal arrived in the 25th minute after Jake Parker was brought down in the penalty area by a clumsy challenge from Leighton Town's Domenico Marisela, and the referee had no hesitation in pointing to the spot.
McGowan stepped to rifle the penalty into the bottom corner of the net, his seventh successful spot kick of the season.
From there on, it was a case of 1874 organisation and discipline against effort and endeavour from Leighton Town, with the Greens winning the battles as necessary to seal their place in the last four.