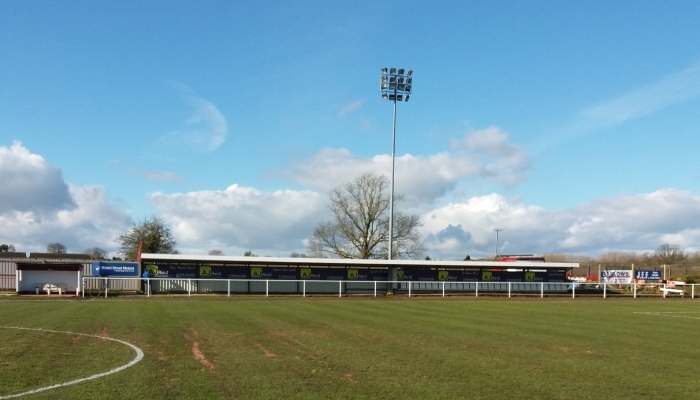 More developments at Whitchurch Alport
Wed 21st February 2018 | Whitchurch Alport
By Ian Templeman
Good form on the field is being matched by progress off it at Whitchurch Alport right now.
On the pitch, Alport are now unbeaten in 12 games, with Saturday's 1-1 draw at home to Alsager ending a run of 11 straight wins, and off the field too, there's been plenty going on as press officer, Martin Wild, explained.
"Lots of clubs have complimented us on the way that we've progressed, since we joined the league in July 2015," he said.
"What we're trying to do at Whitchurch Alport is to reinvest the money that has come from sponsorships and increased gate revenue, because we're trying to build a sustainable future here. In order to do that you have to spend wisely in key areas.
"Improvements to the ground is one such area, and so we're busy creating what we hope will be a lasting legacy for the football club."
Alport have turned Yockings Park from something resembling an ancient relic, into a smart ground that regularly houses more than 200 people. It's a welcoming place to go, and Martin revealed there are further plans in the pipeline to further improve the club's stadium.
"Longer term, the changing rooms are something that we'll need to look at so there is already a sum of money towards that, but the latest phase is to replace our perimeter fencing which is happening at the moment.
"This will not only improve the aesthetics of Yockings Park but will open up an additional revenue stream in terms of perimeter advertising.
"We noticed during our recent trip to St Helens what a great job they do regarding generating income into the football club, and pitchside advertising was one area where they particularly excel."
So, is that the end of it then at the Black Park Road Stadium?
"Our Chairman's got ants in his pants and won't sit still! But Ryan (Jardine) is a businessman and this is his hobby so he has assembled a core group – including a recently introduced Commercial Team – to keep driving Alport forward.
"We've just had new doors to the Cadstone's Clubhouse installed which has the club crest in the glass, and that's been a really smart addition, and we are also taking delivery of some portakabins soon that will definitely be put to good use.
"That might be a video analysing suite, a physio room, hospitality area or boardroom. There's a decent amount of space so we will try to utilise it in some or all of those areas. We've also just put in a new electricity supply so we don't have to rely on the generator all the time, and that will see car park lighting for the first time as well as lights for the training pitch."
Perhaps the best is yet to come? "I have to stay a bit tight lipped on this one," says Martin, who joined the club in the summer of 2016.
"Let's just say that if we can pull it off it will make people wonder how we've done it! We want to improve the matchday experience for everybody that comes along to the ground – the hoppers, the one-off's and of course our regulars. Having sampled matchdays at around 60% of Counties grounds, I think we compare very favourably with the better ones.
"But wherever there's an area for improvement, we've got some hard taskmasters here who usually make things happen. We all love it though, so it's nice to see the rewards."
The picture below shows the new perimeter fencing on the far side of the ground at Yockings Park.