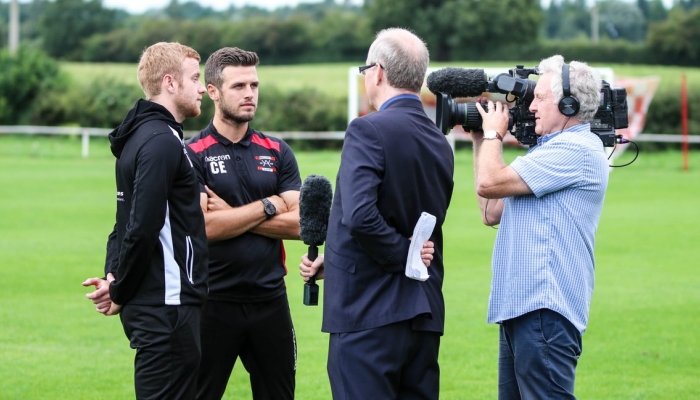 Alport Cup Fever Makes the news
Fri 4th August 2017 | Whitchurch Alport
By Martin Wild
As The FA Cup Extra Preliminary round approaches, the cup fever has gripped many, especially the clubs who are entering for the first time. One of which is Whitchurch Alport who have grabbed the attention of the BBC who have done a piece with them, which airs this evening (Friday).
Whitchurch Alport Football Club have been a busy lot this summer. For some, the season had barely ended before changing rooms were extended, a press facility was built – along with a new tea bar – gallons of paint were applied around their Yockings Park home, new nets and net supports went in and a few bob was spent on the playing surface too.
Alport' appear to be a club that just can't sit still and the improvements both on and off the pitch over the last 14 months or so has certainly been hard to ignore. Their twitter account is one of the most active at Step 6 and Alport's following has quadrupled and gets plenty of traffic whether there's a match on or not. Average gates climbed an astonishing 210% last term (their 236 average was the third highest in the country at Step 6) so there's lots to be positive about if you are attached to the club.
This week, the television cameras descended on SY13 when the club's press officer, Martin Wild, tried to drum up a bit of media support ahead of Alport's first ever FA Cup match at Walsall Wood tomorrow. "I sent out a speculative e-mail to Midlands Today last weekend which is our regional BBC news outlet," said Martin. "On Monday morning, their sports producer Nick Clitheroe rang me to say they'd been trying to get hold of us, so it was a very timely mail in that regard. The lads were down to train twice this week so Nick asked if he could bring along a cameraman and get some background on the club so that they could air the piece this evening (Friday, 4th ).
"I arranged for three stalwarts of the club – our President Peter Wainwright, Vice Chairman Johnny Allman, and matchday secretary Marc Haller - to be at the ground for 6 so Nick interviewed them and then took time to talk to our co-management team, Luke Goddard and Carl Everall. Both are very comfortable with the press so they've made my job really pleasurable and rewarding. The players put on a cracking session and there was a really good vibe about the place. "Like Luke said, players and managers will always come and go, so it was great to give Pete, Johnny and Marc their moment of glory as things haven't always been as rosy at Alport as they appear to be at the moment. We'll see if they get any airtime given that the piece will only last two minutes – despite the filming crew being with us for about 3 hours. They were hugely complimentary about us and said the piece would attract around 600 thousand viewers so our profile will increase significantly on the back of this.
A lot of people at the club work so hard for little recognition so it's really nice that we can hopefully make them all even more proud of who they represent with this unexpected coverage. Without our army of volunteers we'd never experience moments like these." Alport expect around a hundred fans to travel to the West Midlands tomorrow as their club makes its debut appearance in the world's oldest and most famous Cup competition.
The interviews can be viewed on BBC West Midland's Today news programme on Sky Channel 960 betweeb 6.30pm and 7pm for those who aren't in the Central TV region.