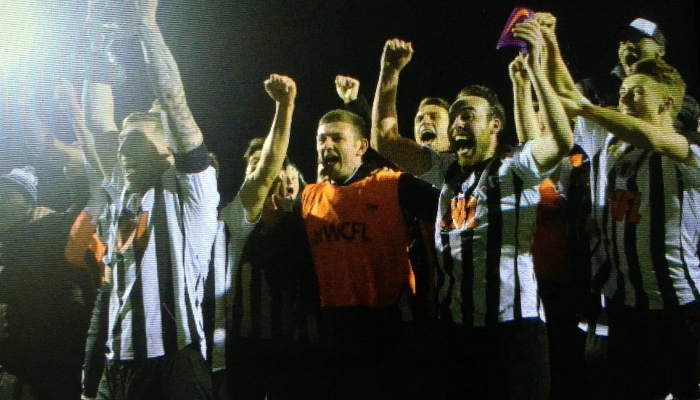 Atherton Collieries - Premier Division Champions
Mon 24th April 2017 | Atherton Collieries
By Ian Templeman
Congratulations to Atherton Collieries, who clinched the Hallmark Security League Premier Division title with a 1-0 win over Abbey Hey at the Kensite Stadium.
Founder members of our League in 1982, Colls have expereinced some tough times over the years, and only won promotion back to the Premier Division two years ago after a six year spell in Division One, but now they can look forward to competing in the Evo-Stik League Division One North next season.
Before the game began, Colls knew that they needed two points from their last two games to top the table, and in the end they picked up the trophy with one game to spare.
In front of an expectant crowd of 545 spectators, Colls had to work for their victory against a stubborn and determined Abbey Hey side, who proved to be tough opponents, but in the end a delightful flighted Mark Truffas free kick on 28 minutes, which curled over the Abbey Hey defensive wall and into the near side corner of the net, proved to be decisive.
Clear cut chances were generally few and far between over the course of the 90 minutes, but as the game wore on, it always looked like Colls, with the best defensive record in the division, would hold out for victory and so it proved.
After the final whistle, Colls captain Brad Cooke was presented with the Premier Division trophy by League Chairman Paul Lawler, and players, management and club officials began the celebrations.
Colls manager Michael Clegg: 'It's what we've been working for since June 15th last year. In pre-season we set out to have the best defence in the league, we really worked on that, and that is what has seen us through. Massive credit goes to everyone involved and it's a mega special moment.
'It's unbelievable to do this with all your mates and with so many people who have put so much work in.
'A lot of people have compared us to Jono and Bernard's Rammy (Ramsbottom United, who won the League title in 2012). They did similar to what we did in terms of team spirit and people who want to play for you, and that's the great thing about this team. I've got a group of lads who I believe in, and they believe in me, and our fans are like our family.
'We are all in this together, and we all want to play for one another.
'When people around the league talk about our team, some lads don't really get mentioned, but we are solid as a group and we don't have special individuals. They all buy into what we are about, and that's why we are where we are'.
Colls captain Brad Cooke: 'It's been a long hard year, and to get to 100 points is brilliant. Fair play to Bootle, Joe Doran is a top manager, they've got some great lads and they have pushed us all the way.
'We have had a few lows at various points in the season, and there have been questions asked about us, but if I was to pick one performance it would probably be Bootle at home (when Colls won 1-0). That really gave us confidence, it got our noses in front, and I think that was the day where we felt we were probably favourites to win it.
'The belief in the changing room is unbelievable. We have a very close knit group, and when you get a bond like that, you are going to do well.
'Last year we fell short, but I never thought we'd be going up into the Evo-Stik League just three years after Cleggy took over in the First Division'.
Colls Secretary Emil Anderson: 'I'm gobsmacked, I don't know what to say. What a three years it's been.
'You have to respect Bootle and the other teams around us, but we have won seven on the spin and 21 of our last 24 games. That's championship form, and we've won with a game to spare.
'I just can't believe it - the way the lads have played all season, a crowd of over 500 here to watch Atherton Collieries win the league, it's unbelievable'.