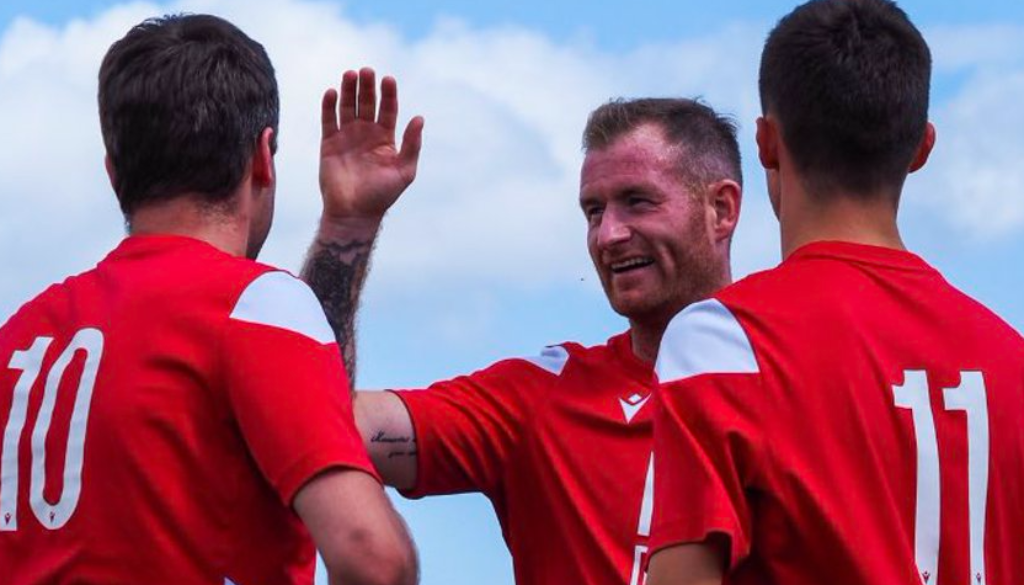 Chairman Rimmer's got REMY on the rise
Thu 31st August 2023 | Litherland REMYCA
By Jay Cooper
Just a little something about me, writing this – I first joined the NWCFL as League Journalist in December 2021, midway through the 2021/22 season, which saw the Premier Division largely dominated by Macclesfield, with this season's new boys Skelmersdale United doing their best to keep pace and eventually earning promotion alongside the Silkmen. That was at the top of the league. Down at the bottom, however, there was another team who seemed to be separate from the pack – that was Litherland REMYCA.
After a dreadful start to that campaign which saw them 10-15 points adrift of second-bottom Runcorn Town by Christmas, to hear Chairman Don Rimmer's own words (which I did when speaking to him earlier this week), a change was desperately needed. "We had an experienced manager who'd been around the block a few times over, but he was looking at a long-run plan – accept relegation and come back to rebuild over the next few years. I didn't want to accept that. In my opinion, you need to play at the highest level you can in the moment. So, I felt we needed to make that managerial change. We put it out into the public and got plenty of attractive applicants, but we felt that someone within the club might be the person to revive it.
"Colin (McDonald, the current manager) was a real character as a player, he doesn't suffer fools, and he had plenty of good contacts in Merseyside, so we decided to take that calculated risk. We kept it in house, and it took quite a few weeks to turn it around, but then we had that run we needed late on and ended up in the national points-per-game system. I think we finished 2nd or 3rd nationally to get the reprieve, and it really felt like we'd won something, given that we seemed dead and buried at one stage."
In a romantic twist of fate, after the departure of a former manager who was more focused on a long-term rebuild for the club, his replacement McDonald has proven himself more than capable of creating a feeling of progression in his season and a half since taking the reins. "Fair play to Colin in the time since, he's come through, and put together a good blend of youth and experience in our team. They're a competitive group, no big egos, they work hard, and they've produced results – credit to them for that. Once we found our feet the next season (2022/23), we were a match for everyone, even the teams you might regard as being big hitters."
So, after clawing their way out of the drop in 2021/22, how did the REMY fare in the next campaign? Again, to hear Rimmer tell it, "We flirted with relegation for a few seasons, to be fair. Last year, we had a poor start until we finally beat FC Isle of Man 3-2, and then won the next 6 after that. We went on a winning run right up until the new year, when we lost to (then-called) Bury AFC in a game I personally thought we deserved at least a point from. Later in the new year, we went on a really good 12-game run where we grabbed some important wins, and winning breeds confidence, and we managed to finish 10th."
It is very much worth remembering that the 2022/23 Premier Division was a 22-team league, after 2021/22 had been a 21-team league. This means that, in just one full season under McDonald, Litherland had shot 10 places up the table by the next April, and would finish the campaign 7 points clear of the bottom half. Quite the change of fortunes. So, priority one for Don Rimmer and the club has got to be not to fall back into old habits as we begin 2023/24, but to approach the new challenge of being considered as, at least, a solid mid-table side head on.
"Coming into this season we wanted to make sure we kept that personality, and we've kept most of our players over the summer, but this season is probably the toughest NWCFL Prem season we're going to have, with so many former NPL teams, and 46 games to fulfil. But we're looking to prove ourselves at this level. We've decided to try to almost split our season into bitesize chunks – we're going by 10-game sequences and examining how many points we expect to pick up in that time. We're maybe 4 or 5 short of where we want to be right now though. I think that comes from the fact that there's a few other teams in the league now that don't take us for granted anymore, and they bring their best. We've found we're being more respected and pressed in terms of play, to the point where there have been results where we've not been at it, and we've been outbattled.
"So, we're short of where we want to be right now, but it's still a reasonable start. We've played more games than anyone else in the league, so we're ahead of some of the other teams as it stands. But our squad have a confidence that we can go toe to toe with anyone around us and I'm glad that most of the other clubs appreciate that. They saw what we did last season and we've earned some respect."
You can't buy that kind of respect – certainly not at this level of the game, and the fact that teams are now bringing their best to the Litherland Sports Park has to be a pleasing result. And, from the opening weeks of the new campaign, it's not the only factor that Rimmer is happy about.
"The other positives that we can take are that we have a lot of players who are young and really promising. Our starting centre-backs at the minute have come from youth football and they're really talented lads - when you get scout requests for your games, you know you're doing something right. There are maybe 8-10 young lads who we've picked up from U23s sides. Merseyside has quite a few good grassroots teams, and it's about unearthing that talent in this area.
"We've also got the likes of Jamie Hay, who's in the top 10 for all-time NWCFL appearances, and Luke Denson, who's been promoted all the way to the NPL before. Colin has put a good mix together, and he's got the lads playing high-energy football, they're playing with intensity, and there's no egos. Their feet are on the ground and they're all very up for the job."
Circling back to that idea of paying respect in all your games, that is a sentiment that Don wants his REMY side to adopt for all their opponents, too – especially when the games that Litherland are involved in are your games of the weekend on paper. "The local derbies are always good fun. We've got a good respect with Lower Breck and we meet them in a few weeks. It's quite a Manchester-centric league this season – we've already made some of our longest travels to the likes of Kendal Town and FC Isle of Man.
"Obviously, we're looking forward to the big games against Bury FC, your other big crowds like West Didsbury and Chorlton, and we play AFC Liverpool around Christmas. But we also make sure that we pay respect to our opponents in all of our games - I'm heading up the club and I want us to play the game properly when we play. We've turned a corner in recent years, and we want to use it as a springboard and progress."
Progress on the pitch is all well and good, but, as is always the case with clubs at this level, there's so much more going on behind the scenes to grow the club in stature, as well as looking up the league table. "We're a very local club to north Liverpool, playing at the Litherland Sports Park, but we're a bit in the shadow of Marine on one side and Bootle on the other. We occasionally get squeezed for attendances, but we've got a hardcore group of great people. It's a very friendly community-based club. As well as our first team playing in the NWCFL, we've got 40+ teams playing at all levels. Our main aspirations are to move to our own facilities soon, and we've had some near misses on that front, but we know we will get there with it.
"A lot of our volunteers have previously played for the club, and some of them have been around for 25-30 years. They go back a long way with this team. A lot of people know who we are as well, we're well-known in the community as a Merseyside grassroots team. We had to courage to make the jump from step 7 in 2014 and we've built on that with promotion to step 5 now. All the time, though, it's a constant work in progress, and you can't take your foot off the pedal. You've got to keep at it and that's what we're about."
With the 2023/24 NWCFL Premier Division being as packed as it is with great teams and lots of matches, Rimmer's philosophy of 'playing at the highest level you can in the moment' might be tailor-made for the situation that his REMY side will find themselves in. "This season, we're looking at improving our finishing position from last season, 10th. That might seem unrealistic, and there are a lot of factors to consider – resources, finances, etc. But if we stick together and keep doing what we're doing, I fully believe we can manage it.
"We already knew this was going to be a gruelling season. There are 46 league games, so it's going to be Saturday, Tuesday, Saturday, Wednesday, and so on. There's a lot of factors to put in with squad depth and the like, and I'll be interested to see how it pans out. But we're up for the challenge, we want to be aiming for the stars with play-offs being a factor this year, but we're not going to be too over-confident with our predictions. We'll have to see how it plays out."
From 10 games played this season, Litherland REMYCA are currently sitting in 7th place in the league, which looks absolutely fantastic at first glance. However, as stated, they have currently played more league games than every other side in the division, and, just to provide an example, if currently 21st placed REMY rivals Lower Breck were to win all 5 of their current games in hand that they have on Colin McDonald's side, Breck would go 4 points ahead of REMY in the league. Ultimately, it's too early to determine how successful Litherland's season will turn out to be, but they're a club on the rise, if the last 2 seasons are anything to go by, so it's definitely worth watching this space.
Image credit: Twitter, @RemycaUtd, cover photo