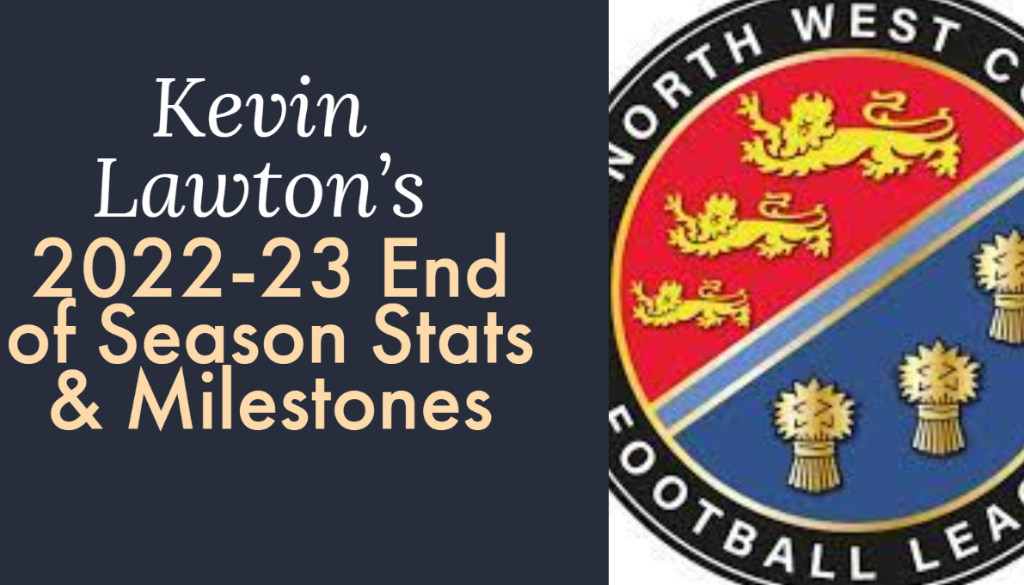 2022-23 End of Season Stats and Milestones Review - Premier Division
Tue 30th May 2023 | Statistics
By Kevin Lawton
League Statistician Kevin Lawton has taken an in-depth looks at this seasons Stats and Milestones around all three NWCFL Divisions and in a series of three articles, Kevin has taken a look at the end of season numbers.
Part One: The Premier Division
After a very long season, a total of 653 games were played, 462 in the league and 191 across the various cup competitions. These games led to 2,198 goals at an average of 3.37 per game.
Concentrating on the league games, Wythenshawe Town were the only team to break the 100 goals scored barrier, with an impressive 109, 23 more than Charnock Richard's 86 and 24 more than Champions, Vauxhall Motors. Avro had the most miserly defence, conceding just 31 goals.
The longest winning streak in the league went Wythenshawe Town with nine, followed by Vauxhall Motors on eight and Avro and Litherland REYCA on seven. Ashton Athletic, Charnock Richard, Lower Breck and Squires Gate managed just two on the bounce.
The longest unbeaten run went to Bury AFC with seventeen, Wythenshawe Town were close behind on sixteen and Vauxhall Motors on fifteen.
Avro were our 'Clean Sheet' Champions, with an amazing twenty, just under 50%. Close on their heels were Vauxhall Motors with nineteen. Ashton Athletic and Barnoldswick managed just two each.
Unsurprisingly, Bury AFC were top of the attendance charts with a total home crowd of 25,890, at an average of 1,232. Next up was FC isle of Man with 15,922 at an average of 758 followed by West Didsbury and Chorlton's 14,353, averaging 683. Eleven teams averaged more than 200 and just three teams were below 100, Litherland REMYCA (99), Burscough (96) and Ashton Athletic (94).
The highest league attendance was for the FC Isle of Man v Bury AFC game, 1,701 fans were there. The lowest figure was the 48 who attended the Burscough v Prestwich Heys game in November.
The most common result was a 2-1 home win, occurring 36 times, while the no score draw was played out 14 times. The most goals in one game were the eleven as FC isle of Man won at Burscough 7-4, followed by the ten at AFC Liverpool as they demolished Congleton 8-2.
Exactly one hundred penalties were scored, Burscough leading the way by despatching fourteen, though Penalty King Crown went to Jack McVey of the Isle of Man who scored nine times from the spot.
A total of twenty five league hat-tricks were netted, Ben Elliott of West Didsbury and Chorlton was the only player to score four in one league game. He was one of four players to net two triples, the others being Benito Lowe (Wythenshawe Town), Dean Ing (Longridge Town) and Matthew Bryan (Wythenshawe Town).
Three players started all 42 league games for their clubs: Joseph Smith (Ashton Athletic), Matthew Dudley (Northwich Victoria) and Andrew Jones (West Didsbury and Chorlton). Stephen Whitley (FC Isle of Man) started 40 and came on as a sub in the other 2, and Jawad Jebrin (Lower Breck) started 35 and came on as sub in the other 7.
Three Congleton Town players worth special mention are Ethan Hartshorn and Peter Williams who played in 63 games and George Sankey who featured in 61 – that's a long season.