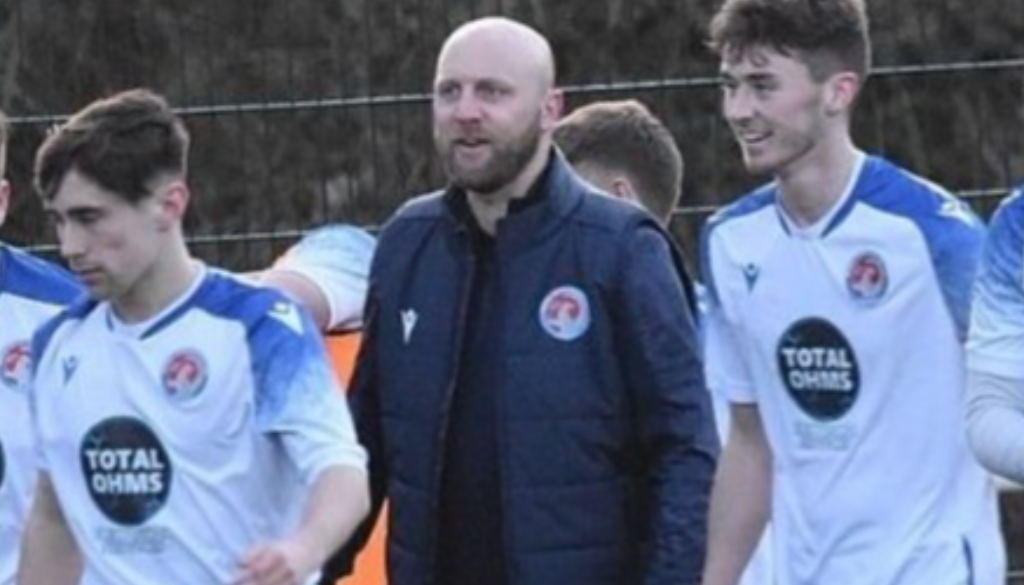 Cass looking for Progress and focus for new look Lairds
Thu 1st June 2023 | Cammell Laird 1907
By Gary Langley
A Month has passed since Cammell Laird 1907 appointed former Vauxhall Motors Reserves and Heswall coach Andy Cass to the role of First Team Manager and has not been hanging around in getting things in place ahead of what he hopes will be a defining season for the Iconic Wirral Club. The club narrowly avoided finishing in a relegation position last season and have rung in the changes as they look to build the club on and off the pitch. With the recent completion of the fine Club House at Kirklands and the appointment of Cass, the club are looking to lay the keel of something special at Lairds.
With a month on the clock, we started by asking Andy if he has had time to settle in and get started on the changes to the team and to get his pre-season sorted?
"Yes, I think we are getting there. Just being here in the first place to have this opportunity is a massive thing for me. I have been around the game in Wirral for many years and this, as you mentioned there is an Iconic and historic football club in the peninsula and when Lairds approach me at the end of last season about the managerial role I was delighted. It's a big opportunity for me and to have the backing of the club for them to appoint me and to seethe potential we think we can bring to the team is massive for us."
"It's well known that I have a strong belief in the talent that we have here, particularly on the Wirral and around Merseyside and I have been lucky enough to be able to get a lot of that talent into my team as a raw product and be able to assist in developing players into key players at local and regional clubs who have gone on to make names for themselves through their football. That's the template I will be looking at here at Lairds but also as a Management team, we feel that we can come in and use the foundations that are here to develop a side that do something."
"We have been down to the club to meet the committee and talk about our plans, we have also been sorting out logistics for a Reserve side and an Under 18's team in the West Cheshire Youth League. It has been great meeting key people at the club and we are looking forward to getting into pre-season, meeting the fans and hopefully new fans too as we look to remind the area what they have on their doorstep. We have a pre-season programme nearly finalised and we will be sharing that with the players and supporters soon."
We put it to Andy that by Lairds own high standards, they have perhaps struggled in recent times? Has he walked into a complete rebuilding job or is it evolution as opposed to revolution?
"The league table tells a story, yes, it is a strong division but only the season before we came close to winning the Macron Cup and the Edward Case Cup but finished in the bottom six in the table. The fundamental building blocks are here for a squad that can be built up but there is a rebuilding job to do and we will be looking at all of the existing players as well as bringing in additional players to evolve the squad. We want Lairds to be a better place to play football and to have a squad that will be competitive and hold it's own in what is a strong Division."
"We have good numbers of players coming along for pre-season training and we will be using our player contacts as well as the lure of playing semi-pro football with Lairds in the Counties to try and attract strong players from around the Wirral to enable us to hit the ground running by the time the season starts on 29th July."
Looking ahead to the new season, there wont be as many wholesale changes as there are perhaps in the Premier Division and to a lesser extent, Division One North. Does this help or hinder with your planning?
"Personally, I cannot really comment on others just yet, but closer to the start of the season we will do our research. A lot of clubs will be changing their squads and there will be some player movements and there will always be hidden factors such as budgets and players dropping down through the National League system looking for games. Anyone can beat anyone in this division, there will always be one or two teams who may get off to a good start but it all levels out over the course of a season. Our aim is to get a competitive squad of good quality local players wanting to play for the club and the name and to go out there and to stand up for themselves and challenge."
"I will always back myself in what I believe I can achieve and I surround myself with strong coaches and good characters to try and bring the best out of players. In this Division a bit of momentum can get you a long way, it has to be positive though.
Have the club set you any specific aims for the season or are the aims that are set done by yourself?
"I would say that the aims for us for this season are largely set by myself. At a club like Cammell Laird 1907, playing challenging and competitive football are there as standard and that's a given for how we will be looking to operate. This isn't just a 12 month project, we are here for what we hope is the long haul and will be looking to not just be successful with this group of players we are putting together but also to get the foundations ready for the next players looking to push through and get out on that Kirklands pitch ad challenge for the shirt. There are objectives internally but we will get the conditions right to try and achieve these, and maybe a bit more besides."
"It is important that we get things right on and off the pitch, this is a club who has played Northern Premier League Football in the last decade and has had Cup success as part of its heritage. We are wanting the Community to realise what is on it's doorstep. It has a football club it can be proud of at a facility where you can come and watch good football, have a drink and a bite to eat and meet up with likeminded people. Footballing aims are there but so are the aims to represent and be part of the community, not just for Rock Ferry and Prenton, but the entire Wirral peninsula and Merseyside."