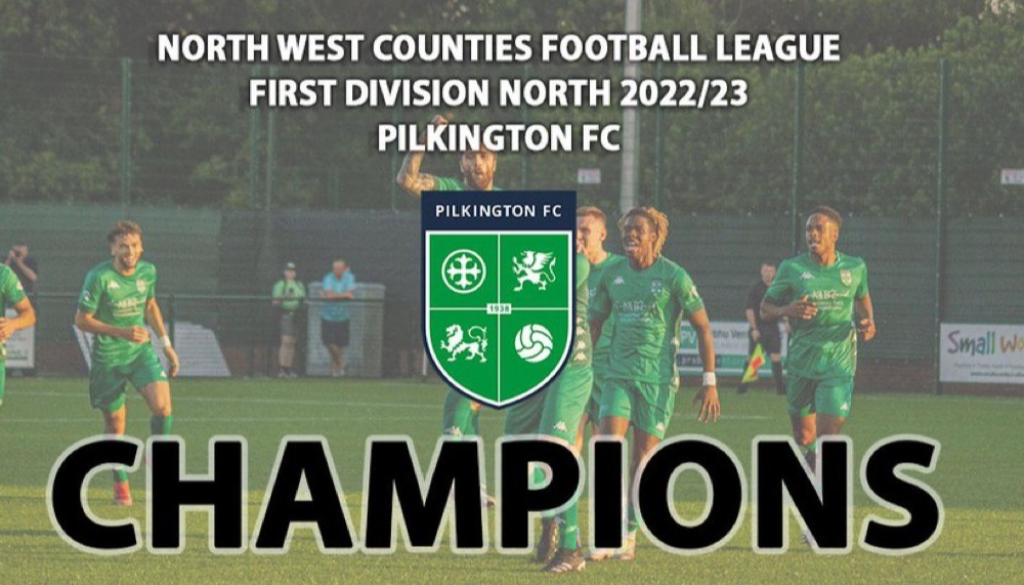 Pilkington win at Bacup to secure the 2022-23 Division One North Title
Thu 20th April 2023 | Pilkington
By Gary Langley
Well, it went right to the wire but what a grandstand finish we saw last night, and indeed over the last few weeks as Pilington FC travelled to Bacup Borough, needing a win to secure that Division One North Title. They did that in the stye of champions winning 0-4 on the night, assisted by a Callum Laird hat-trick in front of a decent crowd.
Despite being strong contenders for large parts of the season, Pilks' had been carefully shadowed by Chadderton FC who had topped the table themselves going into the evening after a superb run-in. However it was the side from St Helens who had just enough in the tank to storm over the line and they received their trophy from League Vice-Chairman Geoff WIlkinson, ably assisted by League Director Ian Williams on the night.
Pilkington's next game will be to face off with Division One South Champions, Wythenshawe Amateurs for the First Division Champions Cup Final at the Selco Builders Warehouse Community Stadium, this Saturday (22nd April) which has a 3pm Kick Off. Both of those clubs will be promoted to Step 5 for next season.
Congratulations to all at Pilkington FC and of course to Chadderton for a great finale to the Division One North Title race. Reactions to follow...