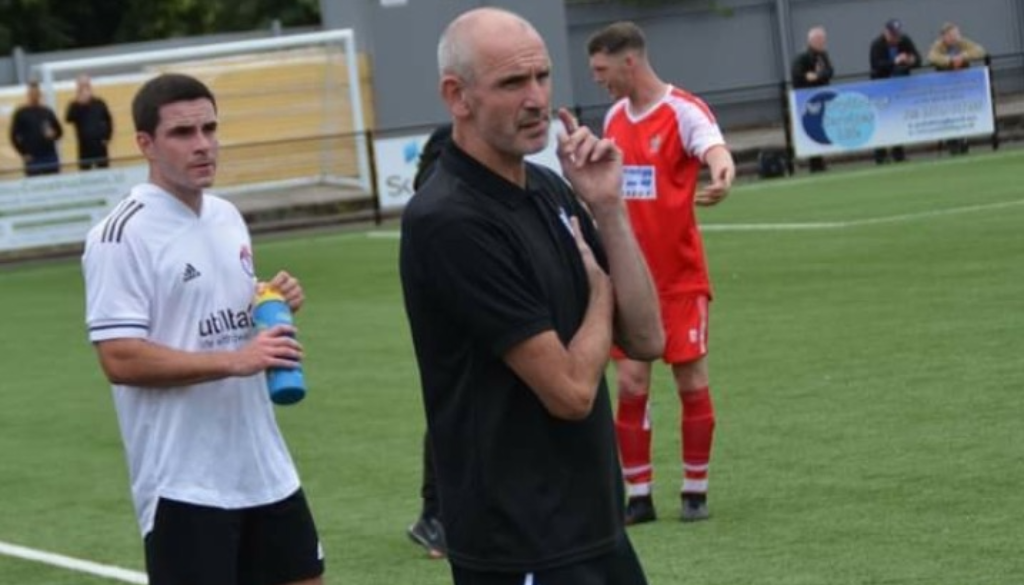 800 up for Martin Ryman at South but lots of work still to do
Sun 16th April 2023 | South Liverpool
By Gary Langley
South Liverpool's Manager, Martin Ryman celebrated a remarkable milestone over the weekend as he clocked up his 800th game in charge of South' at their 3-2 defeat at Ilkley Town. We see a number of manager clocking up good numbers in the NWCFL but Martin's achievement isn't just marked in games managed, its also about the era's that his time in charge have spanned as the club continue their progression back to its highly regarded status in the National League system. Martin has been at the club for over 40 years, starting for South Liverpool U11's in the Norris Green Junior League, winning the player of the season award in 1981! He has done a fair bit more at the club since that momentous achievement.
Martin's tenure at the club has seen eight Cup wins and seven league titles.
In league games he has played 634, won 355, drawn 112 and lost 167.
Cup games see 166 Played, 95 Won, 25 Drawn, 46 lost.
We caught up with Martin following his team's game at Ilkley and started by asking him if he every thought he would have anywhere near the longevity that he has had in Management, let alone the same club….
"Definitely not, when I look back to those day's I didn't know if I would last eight games, let alone 800. It was a tentative start but the club had placed their trust in me and it was a time where we were looking to stay on our feet and to build, it feels like a long time ago but it was an important time to take over but there was a job to do. The time at the club has flown though and these days im a bit older and hopefully a bit wiser but you have to stay relevant and keep that understanding of the game."
We asked Martin about how he feels he has developed as a Manager as well as how that has run in tandem with developments at the club?
"I remember my first few games in charge, including my first team talk. I was definitely tentative at the time, I was only 30 and the players in the dressing room were my team-mates, some of the players were older than me, some were better than me as a player but there I was delivering my team talk, looking to get the best out of the team that had just had a managerial change and needing to get the win. We even then had the aim to build back and to get back to the National League system but there was a lot of work to do. At that point we were one team, just the first team, we needed to develop and with the likes of Jimmy (Stanway, Secretary) and Mal (Flanaghan, Treasurer) and many of the Committee we still have today, we started to build up the teams and the wider structure of the club."
"Of course I look back at where we have come from and where we are now and have a lot of pride at where we are. I look at my South Liverpool Managerial reign as three phases, 10 Years in the Liverpool County Premier Division, then we did ten years in the West Cheshire League, going through all three divisions, and now of course the next phase being our return to the NLS."
Does Martin still enjoy the managerial role and does he still have targets?
"I maybe a bit older these days but I still get too low when we lose and maybe a bit too excited when we win but when they day comes that you can't get emotional about a result, then you may as well give up. I definitely have targets, I have my own as well as the expectation of the club and it's fans. The history of South Liverpool goes back in many ways to 1935 and there have been links back through our various states in recent decades that all stem back to that club which is why we are proud of that heritage. My dad was manager here for eight years from 1991 and managed the reserves in the late 70's and early 80's. I have been in charge of the team for just under a quarter of that time and I would like to think I have done ok. Yes, I have won divisions and trophies at the club, we have been strong in the Regional Feeder Leagues as they are currently known but at Step six I haven't won anything yet."
"I still enjoy the role and always will until that emotion of a win, defeat or a draw dries up and I don't expect that to be anytime soon. I recall when I first started out having Brian Williams as my assistant for the first couple of years and then Kenny Deakin with me and it's a journey that as a coaching staff we all do together. There's hasn't been a time where I have made a key decision without involving the coaches and that continues today with Steve (Ward) and Dave (Cringle)."
You touched on trophies there Martin, you've netted a few over the years in the region, do you have an achievement that you are most proud of?
"Getting the club back into the NLS is my proudest moment, we had a good run in the West Cheshire at a difficult time, especially with the pandemic and everything else going on, so to maintain that run at a difficult time for football and get us into that top 5 in the Division to get us into a promotion position was a proud moment. Another achievement I really put a lot of pride in is a 5th place finish in the West Cheshire League Premier Division. We lost a lot of players almost en-masse that campaign and we had to get a lot of players in quickly but also to maintain the challenge and we did so. It could have been a lot worse but we turned a challenging situation into a respectable finish and get the building block in for the sides that have got us to where we are now."
Any advice for new managers just getting into the game?
"Don't do it as it takes over your life!! No seriously, it's a big step and a big change but when I first started out we didn't have mobile phones, it was all ringing people on the phone and answering machines and you couldn't get blown out by text messages. With the modern communication devices you have to think on your feet and you can be glued to your phone! If you get the opportunity, learn the trade and do it. You need to put a bit of personality into it, see the player as the person and know when to put an arm around a player."
Martin, Saturday saw South play their final game of the season and a strong mid-table finish. What was your thoughts on how the season went for South and what do you consider your successes this campaign?
"My first thoughts are about the bad start we had, we only took three points from the first eighteen available, and ultimately that's cost us a higher finish. However we have scored the same amount of goals as Pilkington in the Division so far this season, joint highest scorers but have just been a bit naïve at the back and our discipline has also cost us (literally) this season. On paper it's a mid-table finish but behind the scenes we have become a better team, our average age in the 2021-22 season was 33 years of age, in the 2022-23 season it is down to 23 years of age which is a big drop. We brought in 4-5 players at the same time and they just clicked for us, players like Ethan Van Aston. Elliott Owen and a few others who I could mention have brought fresh legs in but really worked well with the more experienced players here at the club and have brought a fresh dynamic. Its that dynamic that we will use to hopefully push on next season and that's the plan overall. We can't afford to just stay in mid-table, we need to have a go at pushing on."
You mention there about pushing on, when does the preparation for next season start then?
"Well, I'm not joking when I say that I have a notepad in front of me that I have started this morning. I have already got a couple of pre-season games in place that will be a good test for us and the clubs involved. I need to sit down with players that I have in mind to try and bring in to the club and see if we can get them in and buy in to next seasons objectives. I also need to sit down with the existing squad and secure them for next season. Behind the scenes there are a couple of things going on around the club as we look to build for the years ahead and we have some awards to give out and pre-season training to arrange. There's not really a closed season these days."