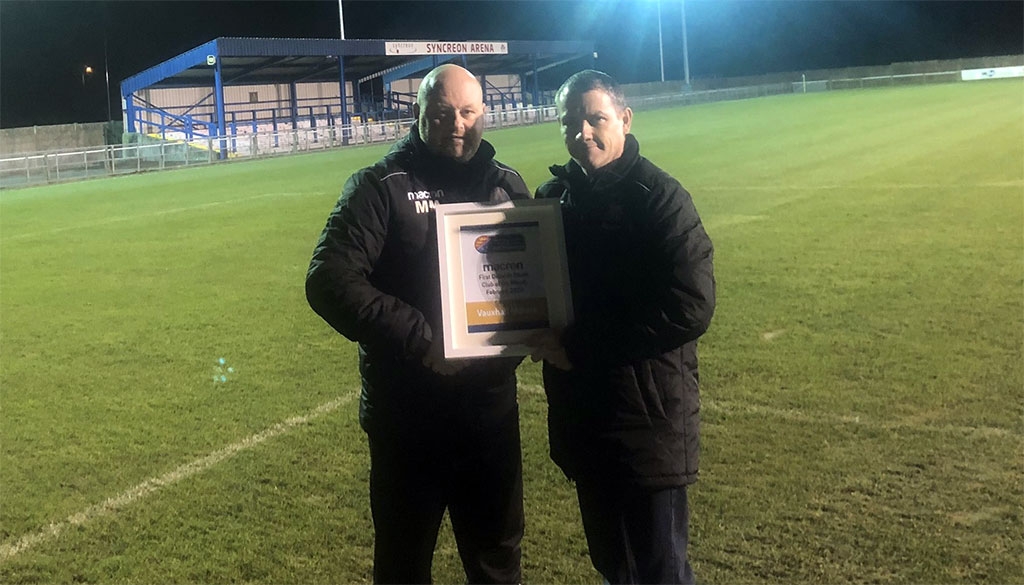 Vauxhall Motors Manager Mick McGraa "Buzzing" following title win
Tue 11th April 2023 | Vauxhall Motors
By Gary Langley
It what has been a roller coaster ride of a season, the NWCFL Premier Division Title went pretty much right to the wire and saw Vauxhall Motors get across that line first to seal the Premier Division Title with their emphatic 4-1 defeat of AFC Liverpool on Monday.
That win put them out of reach of Avro, Wythenshawe Town and Bury AFC, all of whom at one point or another over the last few months looked strong contenders to take the title. It's only over the last two to three weeks that Vauxhall Motors have just edged ahead in the title race having been long time leaders of the division on and off throughout the season after a blistering start.
We caught up with Mick today to get his reaction to events…
What a great win on Monday, were the lads completely up for it or perhaps a bit nervous going into the day?
"Nerves were definitely there as it was a weird situation to be in, when we heard Avro result on the Saturday night previous we knew that there was a situation that could see us take the title on Monday. If anything the lads were perhaps over-hyped, we were nervous and when we got in at half time and we heard about scores elsewhere it seemed to relax us as we know we couldn't do anything apart go about our business and secure the points at home. To be honest I didn't watch the last 10 mins of our game, our coaching staff were in the dugouts all on various twitter feeds and websites looking at results elsewhere, it was unbelievable but we knew it was possibly on. It's not sunk in yet though, I'm still buzzing."
How long ago were you aware that you would be contenders for the title?
"Its been low key all season really, everyone's aim at the start of the season is to win the league, we had to be realistic. Our initial aim was to improve on our eighth place finish from last season and get into top five and see where we went from there. That aim changed quite quickly when we lost only one out of twenty games and had that unreal start. At the end of January I knew we were in the mix and then low and behold, we start losing a couple of games, we pick it back up and then we get the Club of the Month Award for February (the worst thing you can give out as its jinxed!) but we managed to steady it towards the end and we knew we would be in contention come the end."
How did if feel when that final whistle went?
"It was fairly tense as we still hadn't won it, we were looking at the results elsewhere, we all shook hands and then supporters and visitors were all on phones and then after a few mins later there was a roar and someone said its over!! To be honest the emotion first and foremost is relief, this is such a tough league and we had two away games still to go and two to three very good teams fighting us to the last for it."
Is there a big celebration planned?
"The lads are talking about going away to be fair, the Isle of Man is on the list, but we will do something after the West Didsbury game."
You seemed to have had a settled squad for most of the season, has that helped?
"I think its been perfect for us, not many teams in this league can afford to have a big squad, and we are no different. We signed one player in September in Connor Harwood and we didn't sign anyone else until February. We have had the same core from the start of the season but brough in a few extra players at the right time when we looked like we were challenging. We have a good backroom staff, excellent coaches and performance guys and around the setup we knew we were equipped to have a go at it from the outset."
When do you start preparing for the next season?
"We've purposely not spoke about it one bit, the Chairman and Secretary have asked but we will wait until after the West Didsbury game. A word of note as well, I spoke with West Didsbury & Chorlton today to ask if they were ok with us receiving the trophy there and they have been really good about it, a good football club with good people."
You're no stranger to the NPL from your days at Lairds and Colwyn Bay, is the aim to go again in the next step and be competitive or is it about survival?
"We want to be competitive, we haven't gone through everything we have done this season just to go up and make the numbers up. We are going to go up and challenge and I think our current squad will compete. It will be similar to what we did when we got promoted out of Division One to the NWCFL Premier (division), we will have a look at it, see what needs to be done, see what we need to do to compete and if possible we will see if we have the backing to have a go for it. It's a notoriously strong Division though, some clubs have gone up recently and you think they would be really strong in there but it can be a great leveller."
Mick, thank you very much for your time, Congratulations and good luck in the NPL.