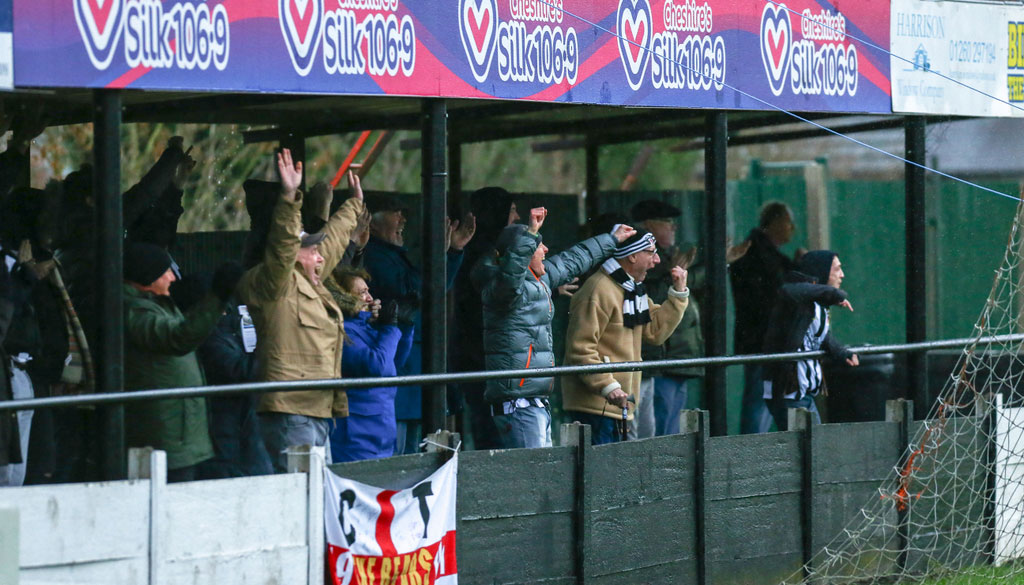 Congleton Town's Richard Duffy Immensely Proud following Vase exit
Fri 7th April 2023 | Congleton Town
By Gary Langley
It has been a week for reflection for Congleton Town Manager Richard Duffy following The Bears dramatic penalty shoot-out loss to Newport Pagnell Town in the Isuzu FA Vase on Saturday. The Club came within a crossbar width of Wembley but missed out by the narrowest of margins. That was the first of three cup semi-finals for the club across three hectic weeks as the club still have the Macron Cup and Cheshire Cup in their sights. There's also a league programme to finish!
We spoke with Richard this week to gauge his thoughts on last Saturday's events as well as the season as a whole, starting with seeing if he has had a chance to sit down and reflect on events….
"Yes and no… I didn't have too much time to dwell on it as we had a game up at Barnoldwick on Tuesday night and that probably came at the right time for us, we had to dust ourselves off and get back to the reality of a long trip up the road in the rain. The Vase game hasn't been too far from our thoughts though, there is the highs of the immense pride that I feel in the lads and the journey we have been on, compared with the lows of the immense disappointment we all felt on the day. I could not have asked from any more from the team, from the supporters and from everyone involved at the club. To get so close and to rise to the occasion is something special, we just didn't quite get the result over the line."
All things considered, is the overriding emotion one of pride as that's what immediately comes through?
"I think when we look at the day overall then yes absolutely. I really thought before the game that we would win it, I feel the same before every game, even earlier in the season when we went to AFC Fylde, I felt that we were in with a shout. We have a good squad and a close-knit unit with a positive character about it and we work hard as a unit. When the equaliser went in I felt from that point onwards that we were the team that were looking to win the game whilst Newport seemed content to hold on for penalties. We had a couple of chances to get there, I really thought Tom's header was going to go in but its those small margins that just worked against us and then we went into the unpredictable penalties. When you think of what could have been then it is still quite fresh."
"As I say, it was immensely disappointing as far as a result goes but when you look around the club on the day, everything from getting the ground ready, the media, hospitality, the ticketing and the supporters who made such a great noise – we looked the part."
You've mentioned the Barnoldswick game on Tuesday but you have a massive couple of weeks ahead, how easy will it be to get the players heads up for two Cup finals and a strong league finish? Is there enough in the team emotionally and physically to get you over the finish line?
"We will get there but it's going to require a lot of effort from the team and the entire squad. The emotional toll is evident, we got beat in our first game after the weekend and I believe Newport Pagnell also got beat 1-3 the other evening too. The Barlick game was good for us by way of preparing for this weekends Macron Cup semi-final away at Kendal Town, it was a good run out and whilst the midweek result didn't go our way, it gave us a chance to refocus our attentions on the challenges that we face and we still have a lot to play for."
"Our schedule is quite busy, we play pretty much every 2-3 days until the end of the regular season on the 22nd, it's mentally tough and physically ridiculous but we will use the full squad. I do not have a massive squad, you find that players who aren't playing are keen to maybe move on and look for game time, so we keep a relatively small group. Most players that we have, have played in many of our games so far but we will probably look to rotate some players around and use a couple of the players who have come up from the reserve team to continue to give them an opportunity. In reality, we will look to be as fresh as we can for the cup games as they are massive for us, League-wise it doesn't make much difference if you finish 6th, 7th or 8th now but we will still look to be as strong as we can in those games and use all players we have available to us."
You have played Kendal twice this season, losing 2-1 in Cumbria but winning the home game. Does the fact that this is a cup game level the odds a bit? Would you say you fancy your chances?
"Obviously I fancy our chances, as I say, I do in every game but we know we are facing a tough challenge. Kendal are very good at home and we have been patchy when we have been away this season. I recall the game up there and we were very close to getting something from that, it was closer than the scoreline suggests and we played well on the day but just didn't get the reward that the effort warranted. It should be a good occasion and a decent game of football to watch."
Have you had the opportunity to cast your eyes to the end of the season as yet? You have had a long campaign but at what point do you start to lock in the good from this season and build for the next?
"Well, funnily enough we have started pre-season planning this week. A few clubs have been on to us looking to get games in for the late summer and these are the things that we, as many other clubs will be doing at this time of the year. We are in a good place but we will need to add a few faces to the group and are in a good place to keep building on and off the park. The cups have caught us out a bit and we have fallen behind on fixtures and psychologically its difficult when you have time to take a look like we did a few weeks back and see you have five games in hand on the leading clubs but be 20 points behind, to get yourselves in the mindset to attack that difference is difficult, but we will look to balance things out next season and still try and win every competition we enter."
When all is said and done, would you say that you have already been successful this season by reaching three semi-finals, having the community all rallying behind the club and going for that top 6 finish or does having a trophy in your hand represent what you would call success?
"It's an interesting point about classing what we have done already as success but I suppose it depends what side of the fence you are on? I want to win trophies and get promotions and we have an opportunity still to win the Macron Cup and Cheshire Cup. It would be good to win silverware, but looking at the bigger picture, we are averaging 360+ gates of late and when we first arrived here our gates were around 80-100. We have a good atmosphere here and we want to keep going and turn some of the casual visitors in to regulars. Trophies and promotions hopefully to come, but we are working on the much bigger picture here too".
Many thanks for your time Richard and we wish you well for the rest of the season.