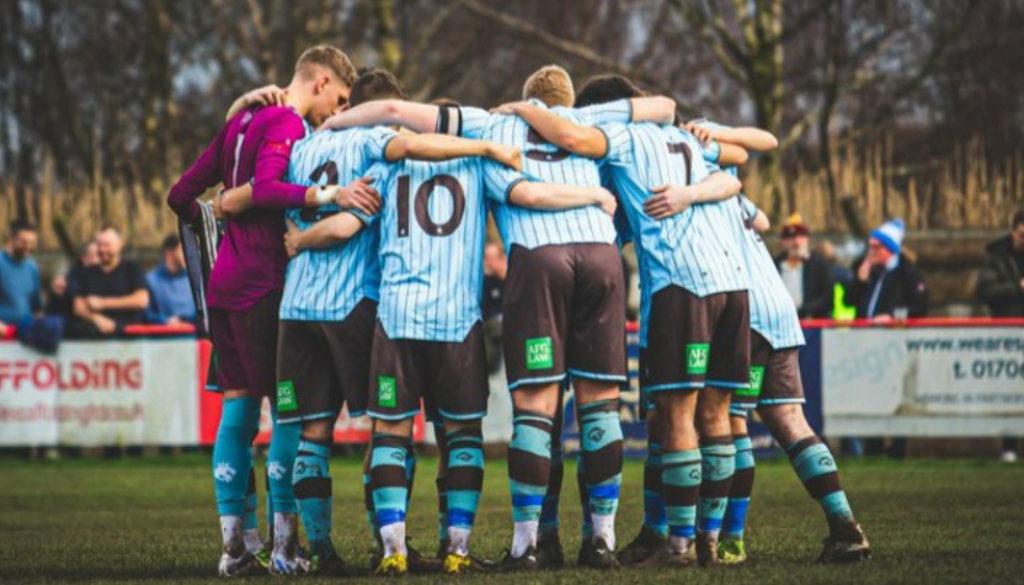 Bury AFC are Shaking the System - feature article
Fri 24th March 2023 | Bury AFC
By Jay Cooper
Off-field complications are an often undocumented problem that football clubs have to deal with, and when those football clubs don't have a bottomless pit of money to keep them going in times of woe, there can be serious problems. This is a reality that fans of the old Bury FC know all too well.
The two-time FA Cup winners were dissolved in 2019 due to the incompetence of those in charge of the club, and it grabbed headlines that a club with such history went the way of the dodo in such unglamourous fashion. However, as was the case with Wimbledon before them and Macclesfield after them, from the ashes rose the phoenix club that became Bury AFC.
Based in Bury (obviously), but without the keys to the old club's ground, that being Gigg Lane, Bury AFC took refuge in Radcliffe FC's Neuven Stadium, and they have remained there since as ground sharers, whilst their venture back into the English football pyramid began. In the 2020/21 season, Bury AFC, under the management of Andy Welsh, played their first competitive games in official league action, and these games were played in the NWCFL First Division North.
Unfortunately, the return of football to the area after the dissolution of the original club would be curtailed due to real world events. The pandemic that shan't be named put paid to NWCFL football in the 2020/21 season, and due to the way that promotion was decided in that time – a points-per-game system based on the last 2 half-seasons of football – Bury AFC were denied immediate progress up the divisions, having only been present for one of the two campaigns that were cut short.
Not to worry – if at first you don't succeed, try and try again. And Bury AFC did. In the 2021/22 season, again in the NWCFL First Division North, the Shakers (who did retain their old nickname) smashed their way through the competition, and were officially crowned as the league champions in late March 2022, before a phenomenal crowd of over 1,800 people, by pummelling the league's bottom side, St Helens Town, 4-0. Bring on the Premier Division, right?
Well, not quite. As previously mentioned, Bury AFC as a phoenix club did not have access to the club's old ground, Gigg Lane, in the same way that, for example, Macclesfield FC did have access to the leasing.com Stadium. The reason for this is because the stadium was owned by the Bury FC Supporters' Society – a totally separate entity from the football club of Bury AFC. Between the 2021/22 and 2022/23 seasons, a vote was held to determine whether or not these two separate entities would merge into one, be officially called "Bury FC" again, and play at Gigg Lane. Despite the best efforts of the Shakers Community Society, who own Bury AFC, the merger was not to be at this time, and the two entities continued as separate. Remember all this information – it will become important later.
For now, though, lets return to the pitch, and to say that Bury AFC, as a newly-promoted club to the NWCFL Premier Division, have exceeded what might have been expected of them would be an understatement. And that doesn't just apply to their league form. In fact, it would be fair to say that there have been two defining features of the Shakers' first foray into the Premier Division – phenomenal cup runs, and match postponements.
Whilst the latter of those two factors may sound detrimental, they really haven't been, but firstly, we'll focus on their domestic cup successes. As a NWCFL Prem side, the Shakers were forced to begin their FA Cup campaign at the earliest possible time – the extra preliminary round. Well, Bury AFC see your challenge and laugh in its general direction, as they didn't yield a single goal to either Hallam or Widnes across 3 matches. Their duct was finally broken by North Shields in the First Qualifying Round, but that meant little on the night, as, in front of a BBC Red Button audience, Bury AFC ran out as 2-1 winners.
A phenomenal second-leg game against Lancaster City, which ended 5-3 to the Shakers, saw them matched up with Clitheroe in the Third Qualifying Round, and, again after 2 legs, Bury AFC came out on top, winning the replay 2-0 at home after a 1-1 away draw. It would be the Fourth Qualifying Round where they finally bit off more than they could chew, as National League side York City undid Bury AFC in a 2-1 win at the Neuven in mid-October. Despite this loss, you can't take it away from AFC that they managed to outdo 4 teams from higher up in the football league pyramid and were fingertips from the First Round Proper. However, this wouldn't be their only FA competition success from the 2022/23 season.
As detailed in a feature article last week, the White Army went deep into the FA Vase this season, knocking off Bishop Auckland, Hallam (again), Abbey Hey, Holker Old Boys and Tring Athletic, before finally falling to fellow NWCFL Premier Division side Congleton Town at the quarter final stage, in match that took place only 2 weeks ago at the time of writing. Speaking to manager Andy Welsh about this loss, he told me that, in his head, "the Vase exit was a moment, we were disappointed that we went out on penalties, but we put in a really good performance. We could've snatched it in the last moment at Congleton… …but we didn't do it, it was a moment, it doesn't define us as a team. We congratulate ourselves on how far we did go, and we use that experience to build on for the rest of the season."
All this circles back to the other factor I mentioned that has been consistent throughout their league campaign – fixture postponements. All this cup success, be that in the Cup or Vase, led to league matches being rearranged left and right. And, given that AFC groundshare with Radcliffe, who have their own league campaign to embark on, the pitch doesn't half get beaten up by consistent usage. Despite the best efforts of the groundsmen and women, this isn't the Premier League, with its almost fake grass and underfloor heating to combat the inevitably dreadful north-western weather during the winter months.
Again, Andy Welsh had his own thoughts on his sides motivation when it came to all these game rearrangements. "I think motivation comes from the individual, but, again, going back to the environment and the culture that you build – we'll be in on Monday, again, training, ready for the next match. The motivation is that we want to win as many games as possible, and that you don't want to be sat on a beach (in the summer) without a medal round your neck. We want to put smiles on faces at the end of the season, so there's lots there to be motivated as individuals, but certainly as a group, collectively."
All of this led to Bury AFC, having played 30 league games before last weekend, sitting in 5th place in the Premier Division, on 65 points – 11 points shy of table-topping Avro, and with 6 games in hand on their fellow Greater Manchester side. Why is this particular time so significant? Well, AFC were coming off the aforementioned defeat to Congleton in the FA Vase, and their scheduled match for the weekend was to be an away trip to Prestwich Heys – 6th in the table, a local rival to Bury AFC, and having beaten Avro in their own back yard the weekend prior. A tougher challenge you couldn't ask for.
Interestingly, in the first half of this derby encounter, Bury AFC were somehow both unfortunate to not be in the lead, and lucky that they weren't behind by the break. A chance for Lewis Gilboy was as close as they came in the first 45, after he rounded 'keeper Jordan Hadlow and fired towards an empty net, but Heys skipper Aaron Chalmers retreated enough to hook the ball away before it reached the goal line.
The early stages of the 2nd half finally yielded the opening goal, and it went the way of the Shakers, with Ben Wharton latching onto a ball in from the by-line on the left flank and driving home under Hadlow on the half-volley. Heys didn't roll over, however, and knocked and knocked until 6 minutes from time, with Matty Davies firing into the near corner from the right side of the box. With the game neatly poised at 1-1 going into added time, Heys' goalscorer, Davies, was sent off for a second rash challenge, and the resulting free kick, from about 35 yards out, saw Kris Holt latch onto a deep cross and head home the winner for Bury AFC with the clock ticking over into the 94th minute.
It was what might be their most significant last-minute winner of the season, and that's saying something, given that AFC have had many to choose from throughout this campaign. Welsh said of his players' performance on the day that they were "full of grit, full of determination – everything you want. On a day like this, with the weather and the pitch being heavy, you've got to stand up and be counted, and there were times where we had to ride our luck today. In the end, I thought it was a very good team performance. I think we really believed, and we wanted it more."
Now, whilst we are speaking of what is wanted at the club, this provides a tenuous link back to an earlier point – the merger vote from the mid-2022 off-season. I told you this would come back up, and it does here, because a second merger vote is a seemingly permanent feature of the rumour mill. We are not aware at this time as to if or when this second vote will take place, and whilst it might be huge for the future of Bury AFC, it could also be distracting to the current on-field success that the club is having.
When I spoke to Andy Welsh, he told me that keeping the players focused on what they were doing on the pitch was his priority. "We've just got to focus on what's going on. We're here, we've got a job to do – to win games and get the team as high up the table as we can. Last year, we had an excellent season, won the league. This year, we've still got a lot to do, but we've had an excellent season. To have played York (City) in the (FA Cup) 4th Round Qualifier; to get to the quarter finals of a national competition (FA Vase) - it's brilliant. But we're winners, we want to keep winning and keep pushing on. We can only control what we're doing in training and on the pitch."
Well, at the time of writing, we don't know when this second vote will happen, if at all, and we certainly don't know whether or not it will result in the merger of Bury AFC with the Bury FC Supporters' Society. But, whether they continue in their existence as Bury AFC or Bury FC, one thing we can definitely expect from this side is success. They have a NWCFL First Division North title to their name already; they have been flag-flyers for the NWCFL in both FA national competitions available to clubs in the league this season; and they are currently 11 points behind the NWCFL Prem leaders, with 6 games in hand. And, after such a gritty, hard-fought victory against their local rivals at such a crucial time in the season, just you try and slow them down – good luck.
Image credit: Twitter, @OfficialBuryAFC, 21.03.2023