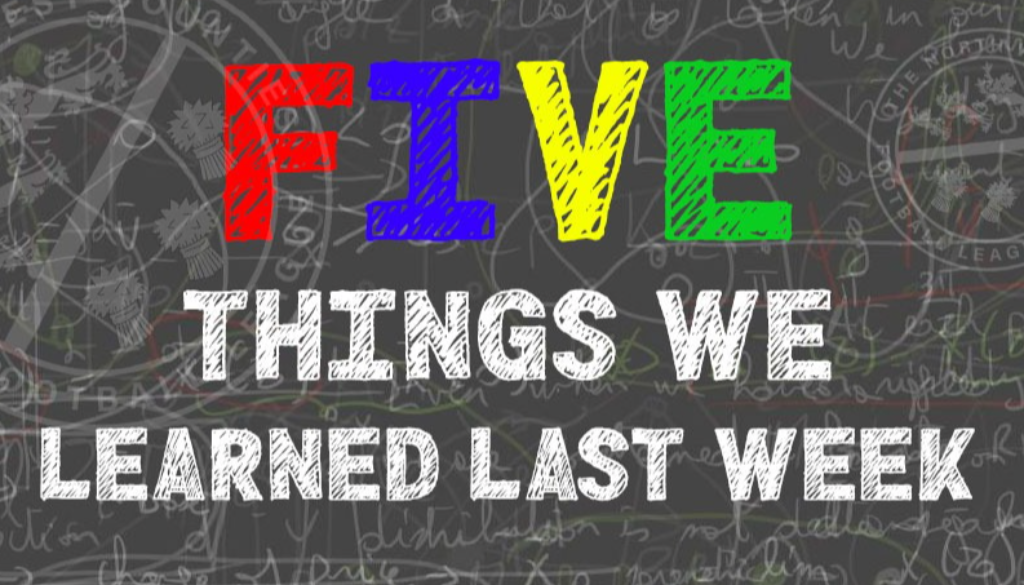 Five Things We Learned - Gameweek 31
Wed 1st March 2023 | Five Things
By Jay Cooper
1. We're getting there with the Edward Case Cup
The final 8 in the Edward Case Cup went toe to toe this weekend, and we now know who will feature in the semi-finals of the competition. Bacup Borough scored a minor upset by pipping NWCFL First Division North runaway leaders Pilkington to the post on penalties after a match that finished 2-2. Meanwhile Chadderton endured a more comfortable afternoon in their 4-1 dismissal of Abbey Hey at the Phoenix Fire Stadium.
South Liverpool playing host to Abbey Hulton United brought us our second penalty shootout of the week after a 1-1 draw, this time with the visitors advancing into the semis, and finally, Ellesmere Rangers did the unthinkable and beat NWCFL First Division South leaders Stockport Town in their own back yard, and did it by winning 3-1, no less.
2. Plenty of Prem shutouts
This weekend saw curious case of clean sheet fever in the NWCFL Premier Division, with all 22 teams in league action on Saturday. From those 22 teams, 16 of them were involved in a game that saw one side or another manage to go the whole 90 without conceding.
The only matches from the weekend that would satisfy a "both teams to score" betting slip from the entire division across the weekend were Kendal Town 3-1 AFC Liverpool; Longridge Town 2-2 Winsford United; and Padiham 1-2 Charnock Richard. A home win, a draw, and an away win - that is pretty satisfying, if you ask me.
3. No worse time for a banana peel for the Motormen
Avro's relatively recent ascendency to the top of the NWCFL Premier Division has not been without merit, but one of the key factors was that they had played twice more than Vauxhall Motors, who have spent most of the season at the top of the tree. However, going back to the weekend of February 18th, one of those games in hand came and went with Vauxhall unable to take full advantage. They faced Charnock Richard whilst Avro were busy in Macron Cup action, losing to Kendal Town on penalties.
However, the Motormen could only manage a 1-1 draw with Charnock, but what's worse is the fact that this draw was one of their better results in February, having only won once in the league this month, and having sustained losses to Prestwich Heys, Northwich Victoria and, most recently, Congleton Town. There's 3 points in it at the top now, and there's one game in hand left for the Motormen to use to their benefit - fasten your seatbelts.
4. Fight at the foot of the First Division North
Unlike the Premier Division, there was no full class roster in NWCFL action this weekend, but the games that did take place yielded some eyebrow-raising results from the base of the division. Firstly, Cleator Moor Celtic, currently propping up the rest of the league, snapped an almost month-long losing run with a hard-fought 2-2 draw on the road against FC St Helens.
However, both Runcorn Town and Nelson would go one better. Town bounced back from a 6-1 midweek crushing at the hands of Bacup Borough, themselves too close to the drop for comfort, by grinding out a 1-0 win over Daisy Hill; and Nelson went away to Steenton and returned 3 points better off after a 4-1 battering of their hosts.
5. Ellesmere's away day excitement
Last week is spoke about Stockport Town's remarkable unbeaten home record in the NWCFL First Division South this season, but in the first entry on this week's list, I made mention of Ellesmere Rangers walking away with a win from Stockport Sports Village in the Edward Case Cup. Maybe that result shouldn't have been much of a surprise after all, given that they almost act as the other side of this particular coin.
In home action in the league this season, Rangers have managed a mere 5 wins from 13 matches, which hardly sounds like play-off chasing form. Yet, there they are, only 4 points from 5th place. It's their stellar away record that has had them flying as high as they are this season, with an impressive 9 wins from 16 outings. If they're able to turn more of their losses (5) into draws (2) going forwards, don't bet against them giving Cheadle Town a hard time for that final play-off place by season's end.