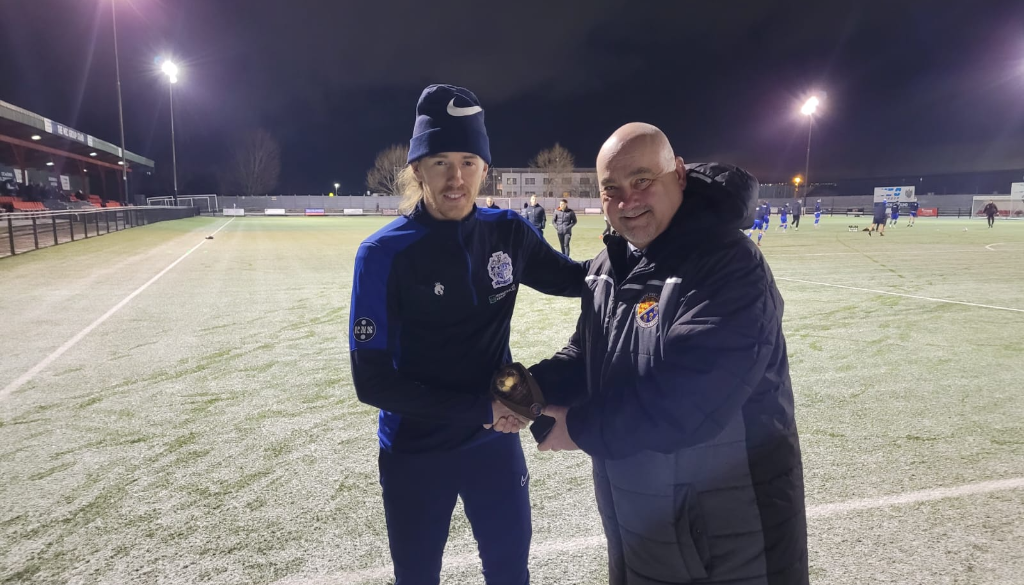 Harry Brazel Premier Division Player of the Month
Tue 14th February 2023 | Bury AFC
By Martin Fallon
Harry Brazel of Bury AFC has been presented with his Player of the Month award for December 2022.
League Director and Head of Discipline Ian Williams visited Harry at a recent home game to present him with his award.
This is what was said about him when the announcement was made.
PREMIER DIVISION - HARRY BRAZEL (BURY AFC)
Harry Brazel is the Premier Division Player of the Month, winning this award for the second time after picking it up for Runcorn Town in December 2018. He also becomes the fifth different Bury AFC player to win it.
Harry is tenacious midfielder, who is having a fantastic season in the Premier Division. His box to box running and controlling play helps to clear the ball in defence and build up play for attacks.
Although he hasn't provided a lot of assists this month he has certainly been involved in the build up to most of goals this season let alone the month. His only goal this month was a sublime 18 yard looping acrobatic diving header in the game against Barnoldswick to open the scoring in a game that looked to be heading towards a stalemate. This was his 3rd goal of the season.
Well done Harry!