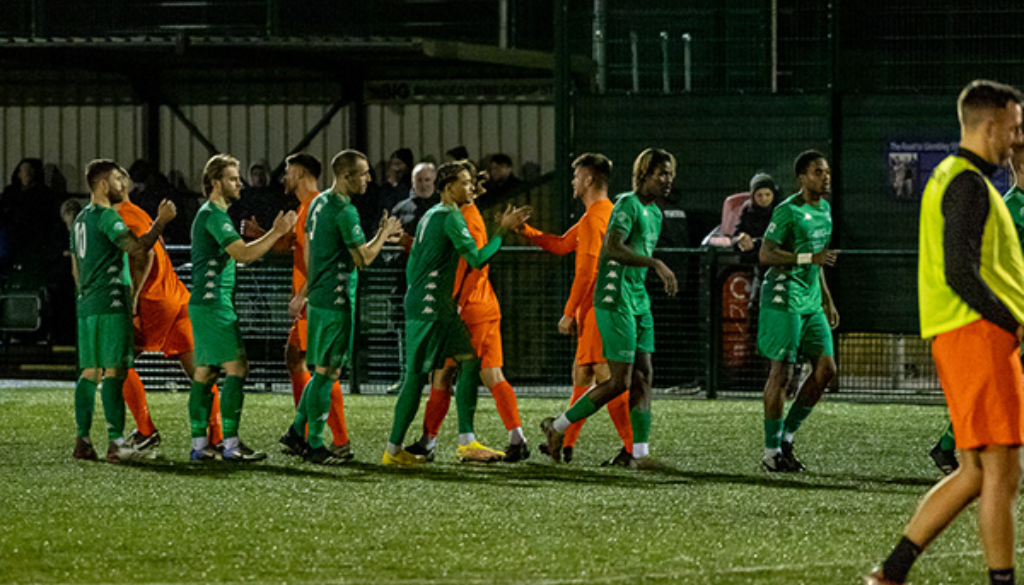 The Euxton Villains of Pilks' Peace - feature article
Fri 11th November 2022 | Pilkington
By Jay Cooper
A few weeks ago, I visited Ericstan Park to see first-hand just what has helped NWCFL Prem side Wythenshawe Town to such an incredible start to the season. Last week's foray took me slightly further afield from Manchester, but the aim was the same – to explore how two NWCFL First Division One sides, Pilkington and Euxton Villa, have got off to their own phenomenal opening to the season.
Ahead of this fixture, the Pilks had won 9 out of 10 league games, only slightly slipping to a 1-1 draw with Steeton away from home. You'll be able to piece together then, that their record at their home in Ruskin Sports Village, was all victories. Their goal record, for both home and away fixtures, was just as impressive, sitting at +24 ahead of this game on Wednesday, November 2nd. Known as the Day of the Dead in some cultures, and the visitors on this particular evening might have been more eager than most to deal a killing blow to Pilkington's run of form.
That team would be Euxton Villa. The PR-postcode side are total newcomers to the NWCFL but couldn't have dreamt for a better start to the campaign. Their hosts for this game had been sitting pretty at the top of the league since we got underway this campaign, but Villa had largely kept pace. Having also only played 10 league games, fewer than the other teams that surrounded them in the play-off places, they've stumbled to defeat twice so far this season, against Chadderton (fellow promotion hopefuls) and Atherton LR – this game being their most recent before the Pilks clash.
Euxton Villa's secretary, Hugh MacKinnon, was quoted earlier in the season as saying that "We're definitely ready, and the guys are up for it. The expectations might be slightly lower because of the step up, maybe we're not expected to be challenging at for promotion though we're not ruling anything out, but mid-table consolidation is our primary objective, and we'll go from there" - so much for not being expected to challenge for promotion!
A win for the home side in this clash would have seen them 7 points clear of 2nd place, and with a game in hand on 2 of their nearest challengers from below the automatic promotion line. A win for the visitors would have pushed them back to 2nd in the table, re-ignited their hopes to take top spot and seen them a mere 3 points behind their hosts, really breathing down their necks and waiting for a slip up.
Sometimes a clash between 2 teams at the top of the league can be a dull affair, certainly at mainstream level. The teams can sit back and try and wear one another out and eventually take just a point – the goal records of both these sides suggested otherwise. Pilkington had seen 55 goals fly in, both for and against, in all competitions so far, and Euxton Villa had seen 60. A mouth-watering clash indeed.
The game began like a house on fire. A free kick from a good position for Pilks' Burno de Almeida Severino cannoned off the centre of the crossbar after just 4 minutes, and Villa's Nathan Parish responded in kind 20 minutes later, hitting the bar himself with a close-range header.
Euxton Villa had most of the ball in the first half and had it in their hosts' half for most of the time it was in their possession but couldn't find a way through until a costly Pilks error on the stroke of half time.
Gary Kenny carelessly gave possession away to Matthew Westwell, who flicked it right past him and had no more green shirts between himself and the goal, but Kenny recovered enough to chop him down and stop the attack. The referee, Mr Lee Budworth, rightly called a foul, and showed a straight red to Kenny for denying a clear goalscoring opportunity.
The second half was a different game, and a quieter one in terms of key moments, but one did come when Villa's Lewis Swarbrick tripped an advancing Severino, and the grounded man's teammates felt that Swarbrick should be given his marching orders, same as Kenny was, for a last man challenge. The referee instead showed a yellow card and noted that the offside flag had already been raised before the infringement.
The vital moment came with just 6 minutes of normal time remaining. After some good pass-and-move football from a corner, a delivery from the right flank was met by Ethan Darr, who outjumped Milton in the Pilkington goal and found the net from about 3 yards.
Pilks actually went on to finish the game with 9 men, as Chris Lomax was sinbinned for getting in the referee's ear, and there wasn't enough time for him to come back on before the final whistle, which, when it came, confirmed a priceless 1-0 win for the visitors.
Post match, both gaffers offered up their thoughts. Stephen Palfrey of Pilkington suggested that "we were a little sloppy in possession, but in the second half we were better, we kind of controlled the game but it was a lapse of concentration in the last couple of minutes.
"We worked hard in the summer to get the right players in, they've set some very high standards - we even had an extra training session because we drew last Saturday. The lads wanted that, and it shows their standards. If they can keep those standards, then we can really go a long way."
As for Villa's Matty Atherton, his main takeaways were that his side "were excellent. We knew how good a side Pilkington were going to be. We had a game plan that the lads followed to the letter and took the opportunity when it came - we showed a lot of heart and courage to throw our bodies at it.
"What we've got is a group of lads who are committed, they've seen the project we're trying to build, we've got a great club, great volunteers, and we've brought that feel of community with us. We've come into a new league, so we've got that little bounce and we're getting the point now where we have to dig a little deeper and find a little more, and it's lovely to see the lads step up again. There's no real secret to it - just hard work, determination and commitment."
Since then, both sides have played another game each, with Euxton crashing back down to reality with a 4-1 defeat away to nearby Garstang, whereas Pilkington got back on track thanks to a 1-0 win away at Nelson.
In the aftermath of this one, both managers were quick to refute any ideas on potential promotions come next spring, but it's safe to assume the fans might be sleeping soundly at night dreaming of their side getting their hands on the First Division North trophy. And why not? Pilkington are still in top spot at the time of writing, and Euxton Villa have more than proven that they can go at this level - we might be in for a hot title race in 2023.
Image credit: James Giblin Photography, Pilkington FC VS Euxton Villa