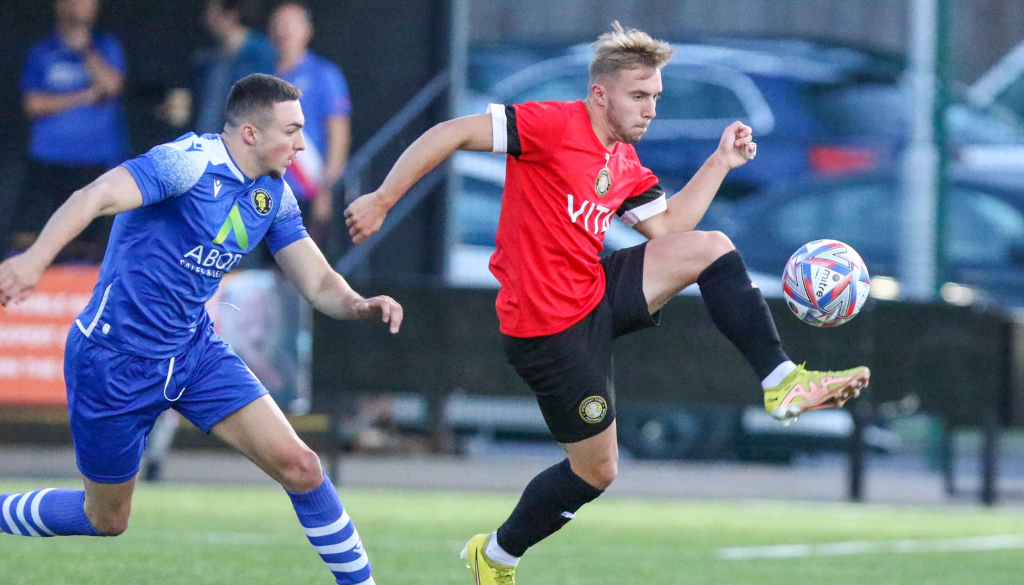 Goals on and off the pitch for Stockport Town - Feature Article
Wed 7th September 2022 | Stockport Town
By Jay Cooper
With the NWCFL season well underway, and 2 feature articles focusing on Premier Division teams having been published thus far, it seems right to venture into the extended NWCFL system and shine a light on what's going on further down the pyramid. This week's excursion took me to Stockport Sports Village to visit one of the most exciting teams to watch in Division One South so far this campaign - Stockport Town.
The Lions started the season in a strong but relatively unremarkable fashion, winning 1-0 against Barnton before losing 1-0 against Wythy Amateurs. The goals began to creep in by gameweek 3, with a comfortable 3-1 win over Cheadle Town and a 3-0 win over Cammel Laird, both games coming away from home.
Good, solid results, but nothing particularly headline-grabbing. And then, last season's promotion hopefuls Abbey Hey came knocking. Town showed no mercy to Terry Hinks' side, with goals from McLaughlin, Green and Hind in amongst a brace from Scott McGowan and a hat-trick from Will Calligan contributing to a phenomenal 8-0 victory.
As if that wasn't enough for Town, they then followed up that dominating performance with a blistering back-and-forth against Cheadle Heath Nomads. There would be no clean sheet in this one, with 3 goals getting past Schofield in goal, but Stockport scored 5 of their own to pick up all three points.
With 13 goals in their last 2 games, Town fans would have been salivating the idea of their next outing, but unfortunately, their scheduled Saturday game against Ashville was not to be. Postponement could have been seen as a threat to the Lions momentum, but what it did provide was a well-earned rest for some of the players. Perhaps a chance to better focus and prepare for another game featuring plenty of goals. So who was up next? Coincidentally, that would be Rocester - the leakiest defence in D1S, and the only team in the division without a point on the board this season.
My idea that the fans would be looking forward to the next game turned out to be a correct one after speaking to some of them pre-game. Sponsors Nigel and Graham, who are affiliated with the club due to the clubs affiliation with Castletown from the Isle of Man, spoke about how they were hoping for a "good, end to end, thrilling game", and how pleased they were that "Bully (the manager, Paul Turnbull) is doing really well with his squad choices, fielding a solid formation, and, as long as they're all together, we would hope for a very strong win."
Also in amongst the supporters that had travelled week in and out so far this campaign was manager Paul Turnbull's mum, wife and daughter. Score predictions were as follows: Mum - 2-1 Town; Wife - 3-0 Town; and Daughter - 3-1 Town. Spoiler alert - one of those predictions would be correct.
The game didn't take long to get going, with Kai Johnston receiving a face full of Rocester's goalkeeper Mansfield's fist in an attempt to punch the ball clear. Johnston got up with the strength and character he carried for the rest of the game.
It would only take 6 minutes for Town to break the deadlock, with Dan McLaughlin heading back across the face into the far corner from a free kick that Mansfield had failed to make his own.
The second goal would come 10 minutes later, with McLaughlin continuing to show his striker's instincts, as Mansfield continued to unsuccessfully command the ball when it came towards him. A low, drilled effort from range by Walsh was parried half away by the Rocester keeper, directly into the path of McLaughlin, who kindly took his chance.
It would be 3-0 before the half hour mark. McLaughlin would complete a first-half hat-trick whilst Erling Haaland presumably watched on in envy. Another ball in behind, which continually caught Rocester off guard, to Will Shawcross down the right flank allowed for a ball across the box to McLaughlin. The finish was academic.
Both Town and McLaughlin could've had a 4th before the break. Another cross into the box for another free header for McLaughlin, this time from Calligan down the left, resulted in the crossbar being rattled. It was more hard luck than carelessness that kept Town from adding to their total on this occasion, but that wouldn't be the case in the second half.
After the game, Paul Turnbull said "I'm a little disappointed we didn't finish the game off in the second half. We had the chances, 3 or 4 really good ones. We've come away with a 3-0 win, but I'm a little frustrated we didn't come away with 7 or 8."
Having watched the game - yes, that's totally fair. The Lions began to play on their confidence and didn't give Rocester a second to breathe on the ball. They really sqeezed their opponents out of the game. Chances for substitute Hind were flippant but went unconverted, captain Tom Morris became the second player to hit the bar with a header from a corner, a 4th goal was ruled out for offside from a second successive corner, and Calligan's pace after he was moved further up the pitch caused all sorts of trouble for the visitors, but there wouldn't be any more goals in the game.
Despite being underwhelmed by there being no goals in the second half, Turnbull was still full of praise for his side. "We're scoring goals, and I've got lads on the bench who are dying for minutes and knocking on the door. They're training really well, but the lads who are playing at the minute are creating chances and scoring goals, so it's hard to fault them at the moment.
The lads are doing their job. I'm asking them to put the ball in the box and, you saw today, we scored 2 from crosses. We've got lads like Scott McGowan, Dan McLaughlin, Kyle Foley, Will Shawcross, who are all really exciting players. I want 10 leaders out there too, and we've got good, experienced players to do that."
After their victory over Rocester, the Lions have now scored 16 goals in their last 3 NWCFL outings. Their goal-getting style of play is turning them into one of the most exciting teams to watch in the entire NWCFL system, and their goals away from the pitch are focused and to be admired. When asked what he wants from the end of this season, Turnull had a one-word answer - "promotion". Far be it from me to bet against them.
Picture credit: Stockport Town official gallery via Twitter
Thanks again to Stockport Town for your hospitality!