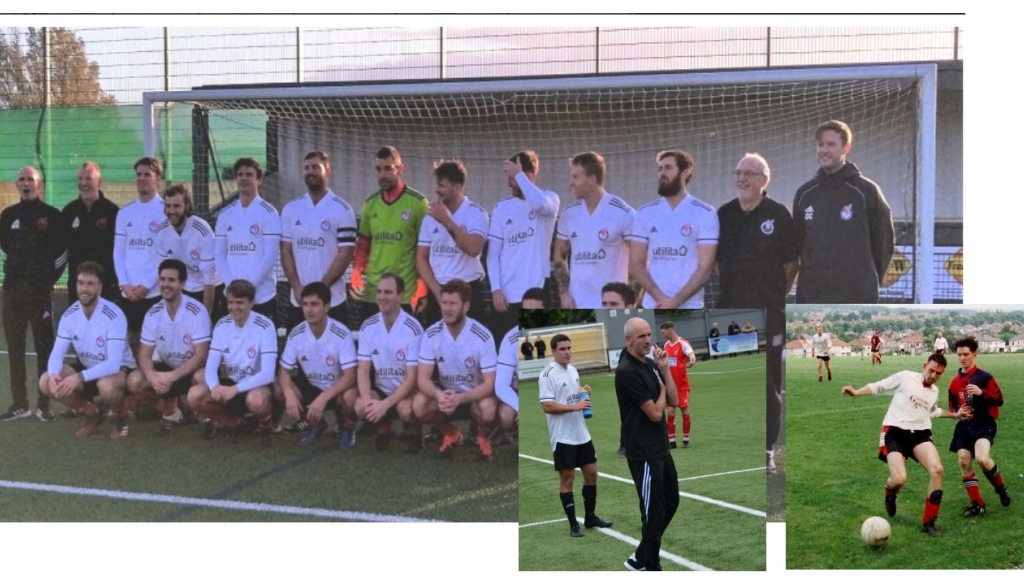 Ryman looking for South to stay Stationary in mid-table
Fri 25th February 2022 | South Liverpool
By Gary Langley
South Liverpool FC and their Manager, Martin Ryman were new to the NWCFL last summer, however neither are strangers to non-league with South being a big name on the non-league scene until dropping out of the NLS into regional football in 1991 and Gaffer, Ryman has clocked up nearly 20 years in the Dugout at the Liverpool club. This season has seen them in and around mid-table with occasional runs of form seeing them fluctuate between 10th and 15th since being admitted into the NWCFL from the West Cheshire League last summer. However, after lengthy periods of success in the regional feeder leagues, they see this season still as one which has great value.
We spoke to Martin Ryman this week about how the Liverpool side have found their return to the NLS and what their aims are as we approach the final ten games.
Martin, 29 games in, just under ten to go, 10th in the table, how do you rate South's season so far?
"Enjoyable! That's the first word that comes to mind to be honest. After all of the planning, preparation and work put in to get promoted, to actually be back in the NLS and the North West Counties and plying our trade is enjoyable. We have found the standard to be tougher than what we are used to but that's the joy of taking the step up. We have dropped about 50 points so far and we are not used to this but we are ok at the moment but of course we would like to be higher up the table."
You've been in non-league for many years, but this is your first concerted go at managing at Step 6, has the standard surprised you or been what you expected?
"There's a bit of both in that, I personally was aware that the league was of a higher standard and we have found things such as the clubs being more clinical in their finishing and being unforgiving in with defensive mistakes to be a challenge. We have been successful for quite a long period of time and we were used to that winning mentality, when we had our last training session with the lads before starting the season, the lads fancied the clubs chances to come up and go to win this league, however I was more reserved having seen plenty of games at this level and experienced pre-season games against the types of player and clubs the NWCFL has as members.
We have found our way into it and every game we are learning and have got more streetwise as the season has progressed. The need to stay switched on though from minute one to that final whistle is a must in this league, we have found ourselves ahead quite a few times but a couple of lapses in games has seen us drop between four and eight points which at this stage of the season is the difference between mid-table and pushing for those play-offs."
That said Martin, what were your initial ambitions when you came into the NWCFL?
"Personally ive watched plenty of Step 5/6 games and many of our players have played at this level before, however that momentum from successful campaigns could have taken us anywhere, but you do come up against teams who are savvy, vocal and clinical and that's been for us to learn again. At Step 7 you come in, you play the games on its strengths and the better side generally wins. In the Counties, the better side doesn't always win the games, you can win games with hard work, graft, industry and a bit of mind games.
I said at the outset that there is around 108 points to play for and for me its about finding our feet, staying clear of relegation and learning. I personally would be happy with 54 points, whether we will get that at the moment, that may be a stretch but it's still achieveable and if we can get 3-4 wins from our remaining games, that would give us a respectable tally on our return and we can look back and see where we are come May. What I would add as well is that we were the best equipped team in Liverpool to make the step up, I don't think any other team in the city at the time we applied would have been equipped enough on and off the field to do what we have done. There are good teams in the City, but a promtion attempt and the work it involves to compete at this level is a big task and I think we have acquitted ourselves well, we look the part."
You kept a large chunk of the squad that got you in the position to apply to the NWCFL, do you feel that they have adapted well?
"The plan was always to give the players who won us five out of the last seven League titles a go. They have needed to find their feet quickly and in some games we have done really well, however at the half way stage we were on 23 points and we were looking over our shoulder a bit, we will continue to be looking over our shoulder until we are mathematically safe - or not as the case may be. There have been a couple of bad runs of games for us including one where we won 2 from eleven games and at times we have had to dig deep. Just as the club have had to learn quickly, the players have as well and they will all be better for the experience, however we will always keep our options open should competition for places become available."
Have any clubs in particular impressed you this season?
"Every club that we have faced so far has impressed me, the overall level of professionalism is good, the volunteers are all friendly and we have made friends along the way. It's been nice to visit established clubs and we always learn from every game, home and away. Of course Bury AFC were impressive in their midweek game, very hospitable, knew how to run a matchday and loads of volunteers there, however there are other clubs with fewer people about both in the stands and volunteering that are just as impressive. It's what the NLS is about and which is why it was important for us to get back and be part of it.
South Liverpool are a historical name in non-league football and many will be aware of the history of applying for the league and winning the Welsh Cup etc, do you feel any additional pressure from history in managing South back in the National League system?
[pauses] "Yes"
"I think when i first took over at the age of 30, twenty years ago you feel the pressure of managing South, even in the County Feeder Leagues, there's an expectation. There's an extra pressure now that we are back in the NLS as some will remember us in the Northern Premier League facing the likes of Scarborough, Mossley, Rhyl, Boston etc every week and making that comparison. Some of those people may have thought we were gone and many of those have joined a number of the younger fans in finding us again. We have never been anywhere, we have always been about, we just had to protect the club by dropping out of the NLS, perhaps for longer than originally planned, however that history is about and you see that at games with fans that were at Holly Park in the 80's still being about and there are people on our Committee that are still there from that era."
With just under ten games left, what are your own realistic ambitions for the end of the season between now and then?
"I'll take that 54 point target that i mentioned earlier but if we can't reach that and still finish high 40's and away from any bother of relegation I would be happy - well, not happy but satisfied with what we would have achieved this season. We still have work to do, there are up to 27 points to play for and a couple of cups to have a go at. You can't win games of football on if's but's and maybe's, we have to go out and finish the job."
Many thanks to Martin for his time.