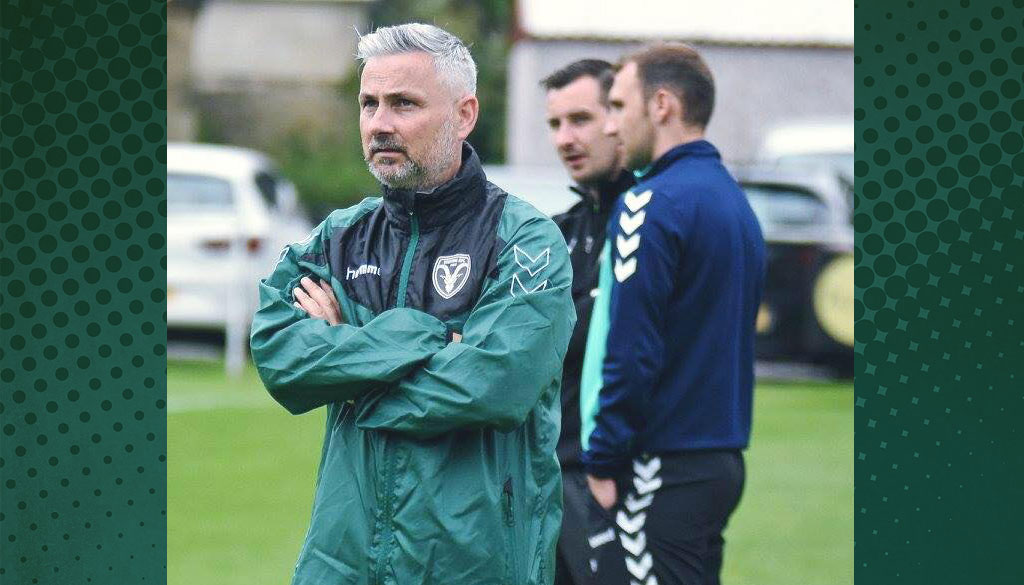 Preparing to Return - Steeton AFC
Thu 1st April 2021 | Steeton
By Gary Langley
Preparing to return - Steeton AFC
As many clubs start to blow the cobwebs off and start getting their respective 'Bands back together' we have caught up this week with Roy Mason at Steeton AFC. The gaffer has been at the club for nigh on 20 Years and knows what makes the club tick. He has seen the club progress from the grassroots to semi-pro era and the pandemic struck just as Steeton were hitting some form! We spoke with him to find out how things are over at Steeton and how the club are looking to get back into action and prepare for the 2021-22 season.
First up Roy, how have you been keeping through the lockdowns and tiers?
From a personal perspective it has been tough as it has been for everyone. As a Manager of a football team, football in effect is a huge part of your life and you are always thinking about it in one way, shape or form. The two lockdowns have been different for our perspective, the first lockdown came and it actually seemed to work in our favour as we were pushing on with the new ground project at Marley and the delay actually gave us time to look at that and get some of the processes done that it required. It also gave us a chance to reflect and almost a mental detox, a chance to recharge the batteries, whilst of course doing what we needed to, to stay safe and protect ourselves and loved ones from the pandemic.
The Second lockdown was more of a challenge, the reality of the situation was really starting to bite with the new variant and it was proving just as difficult to see how the season would pan out, despite some obvious signs that it was going to be difficult to get it over the line. As a club, it was important to keep in touch with everyone, we had built up a good squad for this campain with young, hungry (for success) players and not journeymen who were looking to see out their careers, everyone at the club had a good feeling about what we could achieve. We brought in Stewart Airdrie from Barnoldswick who had great expertise and was a great fit at the club. When everything ground to a halt we had to reflect and be philosphical.
Have you been able to keep in touch with all of your players and coaching staff throught the pandemic?
Yes as Coaching Staff we have spoken every day as we are a group of friends so it has been important for us all as a group to keep that contact going and to catch up with things, be that pro football, the issues of the day or just general goings on. We have constantly been in touch with the players via things like Zoom and Whatsapp chats and they have been in good spirits. We initially gave them fitness plans and did the group quizzes and so on but as things continued to be difficult by way of lockdown and tier restictions, those chats got a little bit quieter and maybe a bit more serious in tone. The level of contact reflects the general feeling of the moment really and as things have started to get more positive, the Whatsapp group has perked up and the players, coaches and committee alike are all starting to get vocal and we cant wait to safely meet up and get going again.
How have you been in yourself? Have you been able to keep active throughout?
I've been ok, it's very important to keep active and whilst keeping active has been important I have taken the opportunity to indulge a personal interest in mid-century furniture and antiques, which has been really enjoyable. I also took that to the next level by ending up with an appearance on the BBC TV Programme "Bidding Room" where I was able to sell a piece of furniture. Ive maintained my focus and continually set personal goals whilst still working one day in the office and the rest of the week from home. My 'day job' is in the footwear industry and I have had to travel for my work extensively for nearly 25 years and this lockdown has changed my working methods extesnsively, so adapting to that has been a challenge.
What were your feelings at the time when the season was paused againat the turn of the year? Were you feeling a tad peturbed, as you were 7th in the table and hitting form at that time?
If i'm honest i was a little disappointed but equally not surprised. I am in a similar camp to managers such as Brent Peters at Bacup who I spoke to regularly, who felt that the season should have not started until there was a clear route to getting it completed as it was apparent at the time that this was not going to go away quickly and there was no Vaccine available at the time the decisions were made.
We started training for the 2020-21 season in the August and that was perhaps a couple of weeks earlier than we wanted to but like other clubs, we all had players who wanted to play football and to prepare for the season, so we started at that point o ensure that players would be ready and perhaps with half an eye on the fact that players may have moved about to clubs that had started earlier, just to play, not necesarily to benefit their own development.
Overall, some will have similar reservations about the new season with regards to start dates but there is a long way to go between now and July. That said, the North West Counties League have been brilliant with us throughout by way of keeping us informed with developments and lines of thinking. Everyone from the FA down through the leagues and clubs have had some difficult decisions to make but lets not lose sight of the fact we are in a Global Pandemic.
Looking at the overall way the 20-21 season went, are you disappointed about the cancellation or are you sympathetic to the bigger picture?
I have always been philosophical about things especially as my wife works for the NHS and our Club Captain is a Doctor at Airedale Hospital, so we were getting the real picture very soberly coming through with what was going on at the time. It's a very hard person who suggests that we should have played on at all costs when folk are in hospital fighting for their lives due at the height of a pandemic. As i mentioned earlier, a lot of my 'Day Job' involves travel and that involved regular visits to China and the far-east who were struggling before we had even heard of the scale of what was approaching and we were all a bit naive at the time to doubt how big this thing was going to be. I was able to make some business decisions early on to try and adapt to the Covid era but when you look at how peoples lives have been effected, we could have no complaints about the way the season ended, even if it was likely at the outset that there was going to be problems. Once a decision was made to commence the season, we had to have a go to see where it could lead.
Have the players been ok with it and have you lost any as a result?
Fingers Crossed we will have all players back with us when we get to gether at the weekend, the players are a good lot and understand what is going on and they will be back to try again at what we started last season with the ambition and desire to make an impact. Some of them have had work to go to so they have been ok but it's the clubs Committee that have potentially been hit hardest. Many of our committee are retired and the football matchday has been their life, their regular social contact with the world and that has been taken away from many of them. We have been keeping in touch with all of our volunteers, including our kit-man who lives on his own and has had very little social contact with people. He, like us all, is looking forward to getting going again.
You have just moved to the Marley facility, did the pandemic put the use of that facility at risk or has everything been ok on that front? We ask as a small number of clubs around the North, not just the NWCFL have had some issues keeping access to their grounds because of financial contracts.
No problems at all, I cannot speak highly enough of Bradford Council, they have been with us every step of the way and have regularly been in touch with us. There has been a Covid testing station on the Marley Car Park since the start of the pandemic which is there to this day and our hospitality suite is being used as an NHS meeting room but as a Community facility Marley has really come into it's own and shown its value to the wider Keighley area. We have had regular access to the facility, we have our own set of keys, so have been able to get in to have a free hand on getting the last jobs done that we needed to for football and been able to keep things ticking over.
What are you plans for getting back into action Roy? Have you got training camps on? 250 Friendlies?
We get back together on Saturday which is going to be great to see everyone. We are all excited about getting to catch up and kick a ball about. First things first for us, we will look at getting the ball rolling again as a group of athletes and then we will see what our options are. There is a provisional commitment to The Yorkshire Cup that is being created in the area, so when that is all confirmed, ratified etc we will be looking to take part in that. Being an NWCFL side we dont get to play too many Yorkshire derbies, none with the exception of Golcar, so the chance to come up against some familar faces and teams will be decent, it also gives us a chance to play our next-door neighbours and former NWCFL side, Silsden. We havent faced them in a game since the early 2000's and given the proximity of the town's thats unheard of, we are that close the local rail station is called "Steeton and Silsden" to give non-locals a perspective!
We will be cautious though by way of how often we play, with the league potentially not starting until mid-late July we could end up with a four month pre-season schedule and be burned out by January. There is also a cost involved for match officials and logistics and whilst our sponsors have been great with us, we want our commercial partners to come back with us season after season so have rolled over 20-21 Sponsorship commitments to the 21-22 season, so we have had our commercial income for the new campaign already. Dont get me wrong, if any sponsor, commercial, private or in-house want's to stick their hand in their pocket again, thats great but we run our commercial actvities as a partnership and understand that businesses and individuals are under the same pressures as we are.
We are just looking forward to getting back together as a club, to see old friends and to kick a ball about again. When we get playing competitively again, we will be ready!
A big thank you to Roy for his time and we wish him and everyone at Steeton well for their preparation for the new season.